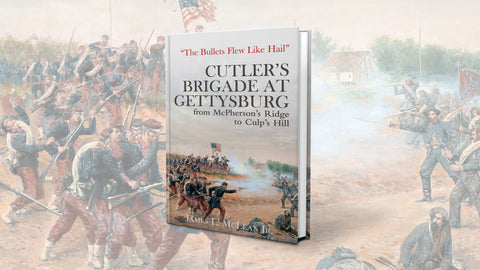 This Overshadowed Union Brigade Made Critical Contributions at Gettysburg
Although often overshadowed by the exploits of its Iron Brigade comrades in the 1st Division, 1st Corps, Army of the Potomac, the men of Brig. Gen. Lysander Cutler's brigade turned in a first-rate performance at the Civil War's most celebrated battle. The first infantry brigade to arrive on the battlefield north and east of Gettysburg that John Buford had selected the fateful morning of July 1, 1863, Cutler's command quickly found itself in a fierce fight with Joseph R. Davis' Brigade that ended with the Confederates trounced. They then helped repulse attacks by Robert Rodes' Division and beat back attacks by Alfred Scales' Brigade before being compelled to retreat to the high ground south of Gettysburg. Despite the heavy losses Cutler's command suffered on July 1, the men of the 7th Indiana, 76th New York, 14th Brooklyn (84th New York), 95th New York, 147th New York, and 56th Pennsylvania had enough fight left in them to make significant contributions to the defense of Culp's Hill on July 2-3. When the guns fell silent at Gettysburg, four of the men who led Cutler's regiments into battle on July 1 had been killed or wounded, and the brigade was one of only five that had suffered more than 1,000 casualties during the battle.
The Bullets Flew Like Hail is the third revised edition of James L. McLean Jr.'s study of Cutler's command at Gettysburg. (The first appeared in 1987—four years after McLean began his much-loved Civil War publisher Butternut and Blue—the second in 1994.) For Gettysburg enthusiasts, especially those with an interest in "microhistory," there is a lot to like here. McLean's clear writing and fine attention to detail make the movements of Cutler's units and the course of the fighting easy to follow, as do the plentiful, superbly crafted maps. His scholarship and the adeptness with which he addresses such issues as claims by 6th Wisconsin partisans regarding the defeat of Davis' command at the Railroad Cut are likewise remarkable. So, too, is his account of the ordeal of 14th Brooklyn Private John Jochum after being wounded in the fight for the Railroad Cut, which offers a compelling reminder that the blocks on the book's maps were composed of human beings for whom the great actions chronicled had personal, painful, and enduring consequences.
"The Bullets Flew Like Hail"
Cutler's Brigade at Gettysburg From McPherson's Ridge to Culp's Hill
By James L. McLean Jr., Savas Beatie, 2023
If you buy something through our site, we might earn a commission.