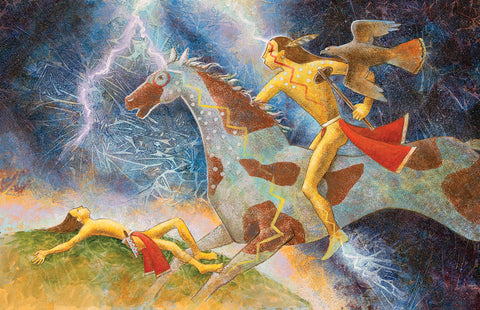 This Lakota Artist Brings to Life Sioux Legends
Writer, illustrator and former public school art teacher S.D. Nelson has devoted his talents to teaching young people about Lakota history, culture and traditions through such award-winning children's books as Sitting Bull: Lakota Warrior and Defender of His People , Red Cloud: A Lakota Story of War and Surrender and the Lakota Story series, including Black Elk's Vision , Gift Horse and The Star People (Abrams Publishers) . His latest offering is the 2021 double biography Crazy Horse and Custer: Born Enemies.
S.D. Nelson, putting up meat the traditional way), An enrolled member of the Standing Rock Sioux Tribe. (S.D. Nelson)
Nelson draws inspiration from his own family heritage. His grandmother and mother were born and raised on the Standing Rock Indian Reservation, which straddles the central border of North and South Dakota. An enrolled member of the Standing Rock Sioux Tribe, Nelson has lived most of his life off the reservation and works out of a home studio in Flagstaff, Ariz. But, as the author puts it, "My blood roots run deep." He learned about Lakota traditions from his mother's family.
Nelson's great-grandfather William Presley Zahn poses with his wife, Kezewin (Nelson's great-grandmother), and their children at the Standing Rock Indian Reservation circa 1899. The girl at far rightis Nelson's grandmother Josephine Zahn Pleets. (S.D. Nelson)
"As a boy I discovered that the prairies of Dakota are only earth and sky," Nelson says. "All is buffalo grass and clouds, forever. It is a land of brutal beauty, where terrible battles were fought—hand to hand—and where at twilight the song of Sister Meadowlark will make your heart cry. My mother, Christine (Elk Tooth Woman) told me coyote stories about the Trickster. I learned that the stars were the spirits of my ancestors, that my great-great-grandfather Mahpiya Kiny'An (Flying Cloud) still rode his snorting horse along the White Road of the Milky Way.
"If I looked carefully, Mom said, I would see the Great Bear and the Star That Does Not Turn (the North Star). She told me the Life Force, or the Great Mystery, is named Wakan Tanka, that all of creation—the four-legged beings, the tall standing trees, even the wind—has a spirit and is alive."
Nelson depicts The End of Custer. The artist's great- grandfather Zahn was a foot soldier for Custer during the 1874 Black Hills Expedition. (S.D. Nelson)
An illustration of the horse dance ceremony from his 2010 Abrams book Black Elk's Vision: A Lakota Story. (S.D. Nelson)
Western Writers of America and other organizations have recognized his beautifully illustrated and narrated books with multiple awards. Long before he discovered writing, however, Nelson loved art. He traces that passion back to 1957–58, when his mother took private oil-painting lessons from a German artist.
"I was a 7-year-old kid with a front-row seat to the whole process of easel painting," Nelson recalls. "I watched with fascination as she mixed colors on an artist's palette and spread paint on a blank canvas, turning a flat surface into the illusion of cloud-filled skies, mountains, pine forests reflected in lakes and still lifes of fruit and flowers. The magical process of illustration inspired this young boy."
In Victory at the Little Bighorn triumphant Plains Indians sport some of the spoils of their June 1876 defeat of Lt. Col. George Custer and the 7th
U.S. Cavalry, including horses, the uniform jackets of dead bluecoats and a regimental guidon. (S.D. Nelson)
In his acrylic- on-board Sundancers—Wiwanyang Wacipi Nelson depicts a traditional Sun Dance ceremony. This illustration also appears in Crazy Horse and Custer: Born Enemies. (S.D. Nelson)
That led in turn to an art degree from Minnesota State University Moorhead, followed by a career teaching art at public schools in North Dakota and Arizona.
These days Nelson, who relies on personal experience and research before tackling a subject, doesn't just illustrate books. His original works grace the collections of Montana's Little Bighorn Battlefield National Monument, the National Museum of the American Indian in Washington, D.C., the North Dakota Heritage Center & State Museum in Bismarck, among other museums and galleries. His illustrations have appeared in magazines and other writers' books, and he provided the cover illustration for the Black Lodge Singers' Grammy-nominated CD More Kids' Pow-Wow Songs.
Traditional Lakota ledger art informs Nelson's artistic style. He renders most of his illustrations with acrylic paint on primed rigid particle board. "I brush, splatter, spray, drip and sponge," he explains. When does he know a painting is finished? Hopefully, that's when his schoolteacher training kicks in.
"I can tell you it is easier for an art teacher to see when his student's painting is finished," Nelson admits. "I have often told students, 'Stop. Your painting is finished. Don't overwork it.' Artists must be mindful of when their brushstrokes have completed their work. Knowing when to stop is a challenge. The process of writing helps the artist become a better illustrator, and illustrating improves one's writing. I believe one should not overstate their message. When you have crossed the finish line, stop running."
this article first appeared in wild west magazine