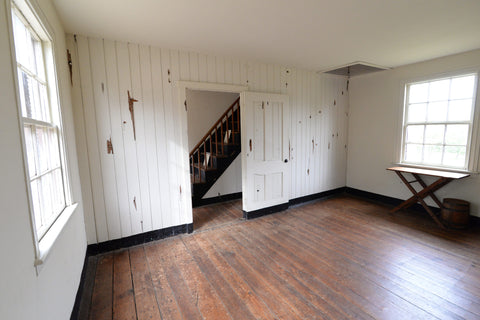 This House Survived the Civil War — Barely
In December 1862, just more than 5,000 people lived in Fredericksburg, Virginia, including John Innis and his wife, Martha. Their small frame house, built in stages between 1856 and 1861, actually belonged to John's mother, Martha Stephens. This is an interior photo of the historic structure.
Today, the Innis House is owned by the National Park Service and is one of the few homes left from the wartime period. You may have walked right by it if you visited the battlefield, as it sits right next to the Sunken Road, the stone wall-lined roadway at the base of Marye's Heights Confederate troops used so effectively as a trench.
The home was caught in the crossfire of battle and torn by shot and shell. When the NPS began restoring the house after its 1969 purchase, they removed postwar wallpaper that revealed 58 impact strikes in the wooden downstairs wall. By examining the angle of the holes, NPS historians determined that Confederate soldiers on Marye's Heights and in the Sunken Road fired into the home, as well as at attacking Union troops .
The Innis home is only open on certain occasions, but this image of the battered interior testifies to the fury of the Battle of Fredericksburg.
historynet magazines
Our 9 best-selling history titles feature in-depth storytelling and iconic imagery to engage and inform on the people, the wars, and the events that shaped America and the world.