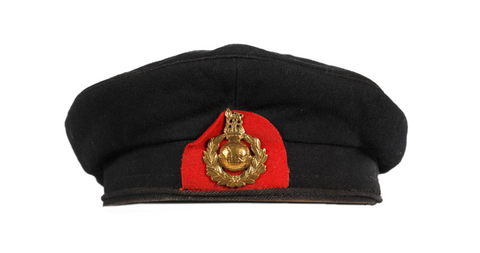 This British Military Cap Was So Ugly It Drove One Man to Suicide
Throughout the course of military history, soldiers have accustomed themselves, at times with grim humor, to wearing impractical and sometimes unattractive kit and articles of clothing. But is it possible for a uniform item to be so ugly that it is totally unbearable?
That is what happened in the case of the Brodrick cap, a doomed piece of headgear also known as the Universal Forage Cap, whose hideousness became the stuff of legend after it was first introduced to unsuspecting British soldiers in 1902.
The peakless cloth cap was intended to introduce uniformity in forage caps, which soldiers wore as alternatives to stiff shakos and helmets. It derived its name from William St. John Brodrick, the first earl of Midleton, who served as secretary of state for war — and who later swore he had nothing to do with the despised cap's creation. Rumors hold that the Brodrick cap's design was actually fielded by King Edward VII, then Prince of Wales.
GET HISTORY'S GREATEST TALES—RIGHT IN YOUR INBOX
Subscribe to our Historynet Now! newsletter for the best of the past, delivered every Wednesday.
The Universally despised Universal Forage Cap
Whoever came up with the idea could fairly take credit for curling the British soldier's proverbial stiff upper lip. The odd-looking, flat-topped hat riled men of all ranks and social backgrounds. Frequently compared to a pancake, it was referred to as a "monstrosity" and even mocked with a cartoon in the satire magazine Punch.
One soldier who had sustained a facial injury during the Boer War is alleged to have committed suicide because he was in despair over how the cap brought extra attention to his scars.  
"We thoroughly detested this new cap, which the majority of men said made them look like a lot of bloody German sailors," according to Frank Richards of the Second Royal Welsh Fusiliers, in his autobiographical book "Old Soldier Sahib."
The cap was so reviled by soldiers that they "resorted to all sorts of pretexts to avoid wearing it," according to a postmortem for the cap published upon its withdrawal in 1907. Nonetheless, photographs exist of grim-looking military men sporting Brodrick caps — leaving one to wonder whether being photographed in the cap caused them to frown more than usual.  
Thanks to British soldiers' irrepressible sense of fashion — or at least dignity — the Brodrick had a short lifespan, spreading throughout the army for only a few years after 1902 before dying on the vine in 1905. It was officially rendered obsolete in 1907. Only the Royal Marines went against the tide, persevering in the Brodrick until 1922 because of its arguably nautical appearance.
An epitaph for the Brodrick published by The Green Howards Museum in the U.K. immortalizes how the resistance of British soldiers prevailed against the cap that was "inflicted" upon them: "The issue of this cap represents an interesting instance of how authorities can make an unpopular decision, and of how the quiet opposition of those on whom it is inflicted can promote change."
historynet magazines
Our 9 best-selling history titles feature in-depth storytelling and iconic imagery to engage and inform on the people, the wars, and the events that shaped America and the world. Sale! Save $7.99 on your subscription today!