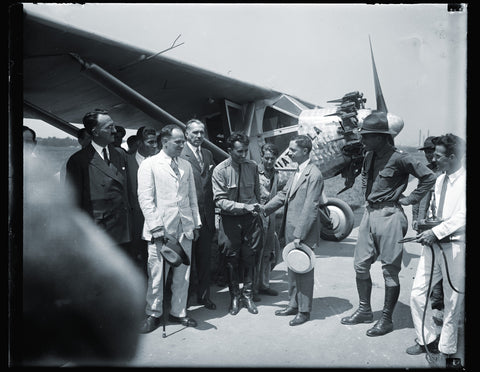 These Guatemalan flyers were inspired by Lindbergh's goodwill tour
Miguel Granados was a colonel in Guatemala's air corps who, accompanied by Lieutenant Carlos Merlen, flew a Ryan Brougham from Guatemala to Washington's Bolling Field, arriving on July 31, 1929 — when this photo was taken. The six- day, 2,832-mile flight to Washington included stops in Havana, Cuba, and Jacksonville, Florida. The inspiration for the journey came from Charles Lindbergh's Guatemala visit during his goodwill tour of Mexico and Central America in the Spirit of St. Louis the year before.
On their way to Washington, the Guatemalan flyers spent four days in Havana, where they waited to deliver a goodwill message to President Gerardo Machado, who had left for a weekend in the country. At their next stop in Jacksonville, the chamber of commerce threw a banquet in their honor. With the ground obscured by fog for most of the flight from Florida to Washington, Granados and Merlen — who were navigating with an ordinary road map—were forced to circle above Fayetteville, North Carolina, for half an hour before they could figure out where they were.
After reaching Washington, the two men presented a goodwill message from Guatemala's President Lazaro Chacon to President Herbert Hoover at the White House. Then, according to an article in the New York Times , "The two fliers will spend the next two days visiting Mount Vernon and sightseeing in Washington, and will take off again Saturday, weather permitting, for a two- stop flight to Mexico City, where they plan to present greetings from President Chacon to President Portes Gil before returning to their home capital."