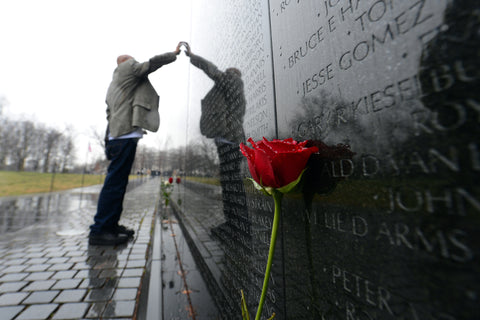 There Is Now a Face for Every Name on the Vietnam War Wall
The names on the Vietnam Veterans Memorial, better known as The Wall, will no longer stand alone.
There is now a face to every name inscribed on the Vietnam Veterans Memorial in Washington, D.C., thanks to volunteer researchers. The Wall of Faces gallery, an initiative of the Vietnam Veterans Memorial Fund, is now finally complete after more than two decades of research, the VVMF has announced.
The effort to collect at least one photograph of each of the 58,281 Vietnam War service members whose names are inscribed on the Wall began in 2001.
According to VVMF president and CEO Jim Knotts, the quest for photos was intended "to ensure that visitors to The Wall understand that behind each name is a face — a person with a story of a family and friends who were forever changed by their loss."
GET HISTORY 'S GREATEST TALES—RIGHT IN YOUR INBOX
Subscribe to our Historynet Now! newsletter for the best of the past, delivered every Wednesday.
Close
Thank you for subscribing!
Email
Submit
A Victory for volunteers and the public
Volunteer researcher Janna Hoehn, interviewed by Vietnam magazine in March, spearheaded the effort to collect the last 18 names needed to complete the Wall of Faces earlier this year.
"His life mattered. Even if a veteran's family is gone, we still need to honor him," Hoehn had said in her interview. "Whether or not there is any family whatsoever, each man's life was important and we want to honor him."
The mission is now complete.
"I am thrilled beyond words that the project is completed," Hoehn said. "I am grateful for each and every volunteer, each newspaper that agreed to do a story for a little lady from Hawaii. I am proud of my work with this project and will never forget this time in my life."
Other volunteers who played a key role include Andrew Johnson, a Wisconsin newspaper publisher; David Hine, who first discovered the effort from a VVMF newsletter.
Recommended for you
How The Faces of the Fallen Have Touched Lives
The idea behind adding faces to the names on The Wall was that even a simple image of a human face not only preserves the memory of the dead but touches the lives of people today. In some cases, the researchers found, the project did even more. Hine, for example, was able to reconnect a son with his father.
"My most memorable story came from contacting a daughter-in-law of a fallen service member only to find out that her husband had never seen a photo of his father," Hine said. "I was able to obtain a high school photo and then a military photo and provide it not only to the Wall of Faces but to the family as well."
For Reckinger, he was able to reconnect a veteran with a fallen comrade whose face might have been lost to time as old memories faded. He did so after a chance encounter at a VVMF event that brings a smaller replica of The Wall to communities across America.
"While at a The Wall That Heals stop, a local veteran asked me to find his friend's name on The Wall. I asked if he wanted to see his picture," Reckinger said. "After looking at his friend on the Wall of Faces, he had one sentence for me: 'I forgot what he looked like.'"
More High-Quality Photos Needed
Although the Wall of Faces now has a photo for each name, the VVMF continues to search for additional, higher-quality images and stories.
"We are still looking for better-quality photos for several thousand of the men," Hoehn told Vietnam magazine. "Some photos that have been submitted are obituary photos, high school yearbook photos or Polaroids from Vietnam. "
If you're looking to see where better photos are needed, you can do a search online through the Wall of Faces. It will reveal banners at the bottom of existing photos indicating whether higher quality pictures are needed. You can also visit the mobile exhibit.
"The Wall That Heals has a large-screen TV and slideshow," Hoehn said. "We are hoping for better photos of many of them."
In addition to more photos, the VVMF invites the public to share stories and memories on the online memorial to add to the legacy of fallen service members.
historynet magazines
Our 9 best-selling history titles feature in-depth storytelling and iconic imagery to engage and inform on the people, the wars, and the events that shaped America and the world.