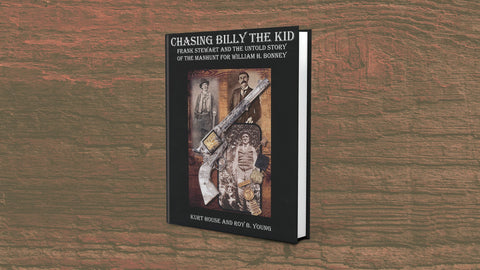 The Unsung Lawman Who Helped Catch Billy the Kid
Billy the Kid—"unquestionably New Mexico's best-known citizen, past or present," note authors Kurt House and Roy B. Young—is a name that flavors this book and so many others the way chile verde does Southwestern cuisine. But Chasing Billy the Kid is far more than another Kid book or, for that matter, another book featuring Pat Garrett, the lawman best known for chasing Billy, catching him at Stinking Spring in December 1880 and shooting him down in Fort Sumner in July 1881. House and Young, both members of the Wild West History Association (WWHA), argue that unsung lawman Frank Stewart co-led the posse that caught Billy and gang at Stinking Spring. Furthermore, they contend, that recognition was stolen from Stewart "by glory-seeking associates Garrett, Charlie Siringo and certain lesser lights" in the hunt for the infamous outlaw also known as William H. Bonney, Kid Antrim and Henry McCarty.
This impressive book came to fruition because House, a firearms expert and collector, acquired a factory-engraved, pearl-handled Colt revolver once presented to Stewart by a grateful hotel owner in Las Vegas, New Mexico Territory. House wanted to learn more about the man behind that prized Colt, so he and WWHA compatriot Young went about the challenging five-year task of discovering as much as possible about Stewart's long and eventful life. For starters they learned "Frank Stewart" was an alias of German immigrant John Wallace Green, who was born Oct. 23, 1852, and immigrated to the United States with his parents in 1858. Why he took an alias is uncertain, but perhaps he'd wanted to keep his identity secret while working as a stock detective. Stewart received accolades for his prominent role in the pursuit and capture of the Kid, but that gratitude faded fast. His name was all but forgotten for 140 years, despite having served New Mexicans in many different roles, as detailed by the authors. Among other occupations, Stewart worked as a railroad detective, a deputy sheriff and a ranch foreman. He was also arrested for horse theft in 1887 and lived to tell the tale. He married at age 48 in September 1903. By then he'd returned to using his given name. Green died at age 83 on May 11, 1935, and lies in an unmarked grave.
With this 423-page tome the authors may have succeeded in restoring John Green/Frank Stewart to his rightful place in Western history. While the book serves well as the first biography of a fascinating Westerner, it also includes a wealth of information about the Kid and nuggets of information (much new) about a cast of Lincoln County War characters, including Secret Service Agent Azariah Faxon Wild and Billy's pals Charlie Bowdre and Billie Wilson. In a valuable 45-page appendix the authors have something to say about many of the people involved in the lives of the Kid and Stewart/Green. Another interesting appendix covers the guns used by participants in the Lincoln County War. The book is loaded with photographs and documents, many from the vast collection of the late Bob McCubbin, to whom the authors dedicate the volume.
Chasing Billy the Kid
Frank Stewart and the Untold Story of the Manhunt for William H. Bonney
By Kurt House and Roy B. Young, Three Rivers Publishing,
2022
If you buy something through our site, we might earn a commission.