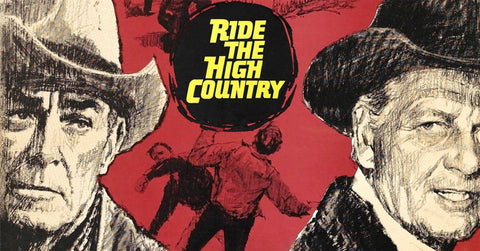 The Magnificent 6 Western Movies, According to Wild West
Got something stuck
in your craw, or do you
just feel like jawing?
Shoot us an email at
wildwest@historynet.com.
Be sure to include
your name and hometown.
Ride the High Country (1962, on DVD and Blu-ray): Randolph Scott, in his cinematic swan song, and Joel McCrea play aging lawmen who ride the high country (mostly Inyo National Forest, in California's beautiful Owens Valley) to transport bullion at a time when the Western frontier is dying. There's a shifting line between good and evil here, along with memorable secondary characters—a young, smart-alecky would-be outlaw (Ron Starr); a runaway bride (Mariette Hartley); her holier-than-thou father (R.G. Armstrong); a mean drunk groom (James Drury), who is one of the wonderfully lowlife Hammond brothers (L.Q. Jones, Warren Oates, John Anderson and John Davis Chandler are the others); and a drunk judge with a few sober words about marriage (Edgar Buchanan). The ending (in which one of the heroes dies and the other says, "See you later") can't be topped in any other Western film. I consider it director Sam Peckinpah's best, though The Ballad of Cable Hogue (1970) and The Wild Bunch (1969) are close behind.
The Tall T (1957, on DVD and Blu-ray): Everything about this film, adapted by Burt Kennedy from an Elmore Leonard short story and directed by Budd Boetticher, is spot-on except the title—no "Tall T" is ever mentioned. Lean and lanky Randolph Scott, a middle-aged rancher struggling to finally be his own boss, stars as the hero, but he must share the spotlight with a ruthless outlaw trio (spoiler alert: off-screen they toss a young boy down a well) headed by Richard Boone, who keeps the hero alive because he likes the rancher's quiet dignity and sense of honor. The two younger gang members (Skip Homeier and Henry Silva) are more prone to violence, all for the love of money, though they also have a passing fancy for their captive, held for ransom, played by Maureen O'Sullivan. Unforgettable character actor Arthur Hunnicutt appears, albeit briefly, as a stagecoach driver. This is one of seven gritty, to-the-point Scott vehicles filmed by Boetticher between 1956 and '60. Standing nearly as tall as the mysterious "T" are three others—Seven Men From Now (1956), Ride Lonesome (1959) and Comanche Station (1960).
Four outstanding John Wayne pictures—Stagecoach (1939), Red River (1948), The Searchers (1956) and The Man Who Shot Liberty Valance (1962)—barely missed this highly subjective list
The Magnificent Seven (1960, on DVD and Blu-ray): A remake of Japanese director Akira Kurosawa's excellent Seven Samurai (1954), this gathering of would-be heroes—yes, seven of them—employ six-shooters, rifles and at least one effective knife instead of swords as they ride south of the border to defend a Mexican farming village from a band of bandidos led by a brutal chieftain (Eli Wallach). Yul Brynner, who plays the leader of the seven gunfighters, was already a Hollywood star. Four of the others would soon rise to fame on the big and little screens—Steve McQueen, Charles Bronson, James Coburn and Robert Vaughn. Only No. 6, Brad Dexter, proved forgettable, while No. 7, Horst Buchholz, who played the hotheaded kid of the group, could annoy at times. The rousing theme music by Elmer Bernstein adds to a picture that is mostly action but includes catchy dialogue, some memorized by me as a child in 1960 and by my son as a child 40 years later ("We deal in lead, friend," heading the list).
The Big Country (1958, on DVD and Blu-ray): Everything about it seemed big when my father took me to see it on the big screen in 1958, and it almost seems as big today. What vistas (some shot at Red Rock Canyon in California's Mojave Desert)! What stars (Gregory Peck, Charlton Heston, Carroll Baker, Jean Simmons, the Oscar-winning Burl Ives, Charles Bickford, Alfonso Bedoya, Chuck Connors)! What direction (by legendary filmmaker William Wyler)! What a score (composed by Jerome Moross)! What length (166 minutes)! Peck plays a retired sea captain turned tenderfoot in the Wild West who eventually makes good (and ends up with Simmons instead of Baker) amid feuding cattle barons. When I watched it at the theater the first time, I had no idea Wyler intended the Western to be an allegory for the Cold War (diplomacy beats fighting). I also didn't dwell on a bit of dialogue between Rufus Hannassey (Ives) and son Buck (Connors)—Rufus: "You want me, Pa?" Buck: "Before you was born I did." That was probably just as well, but I do wonder now what my father had thought.
Support Your Local Sheriff! (1969, on DVD and Blu-ray): This Western spoof makes it on my list, because sometimes laughter and not flying bullets (although there are some of those, plus one wild shot from an old cannon) are the best medicine, because it stars my favorite actor (James Garner, think the classic Maverick TV series and the short-lived Western series Nichols, if anyone else remembers it), and because my son loved the film (almost as much as The Magnificent Seven and Butch Cassidy and the Sundance Kid, which would have been No. 7 on this list had there been a No. 7). This parody of a town-taming sheriff (Garner), directed by Burt Kennedy, also features a special sidekick (Jack Elam in a lovable role); a somewhat kooky love interest (Joan Hackett); a suitably grumpy outlaw gang leader (Walter Brennan); and his kill-happy son (Bruce Dern). Garner and Elam returned for the 1971 sequel, Support Your Local Gunfighter.
High Noon (1952, on DVD and Blu-ray): Gary Cooper won an Oscar for his role as Marshal Will Kane, the paragon of a dedicated lawman. Though the townspeople of Hadleyville usher the newlywed marshal and his Quaker bride (played by the graceful Grace Kelly) out of town for his own good, he returns to fight a quartet of vengeful badmen. Kane does his duty without the town's help (although his violence-abhorring bride finally lends a hand, with a gun in it no less) and then throws his badge in the dirt (a gesture iconic Western film star John Wayne said at the time he didn't approve).
Four outstanding Wayne pictures—Stagecoach (1939), Red River (1948), The Searchers (1956) and The Man Who Shot Liberty Valance (1962)—barely missed this highly subjective list. Other near misses include Shane (1953), Once Upon a Time in the West (1968), Will Penny (1968), Unforgiven (1992) and a couple dozen more. WW