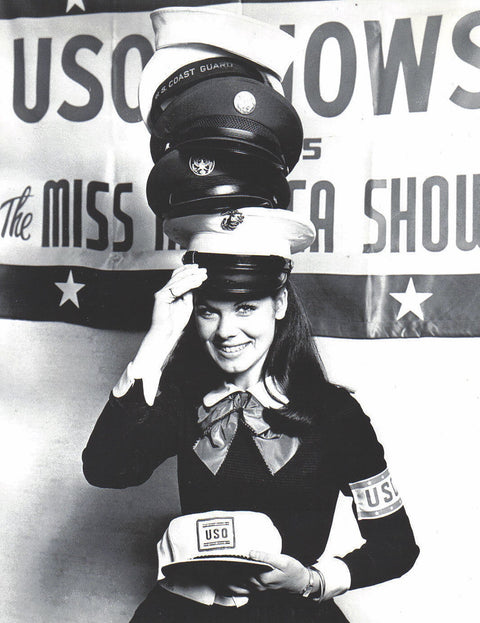 The Last Miss America in Vietnam Remembers Her Life-Changing War Journey
I've always believed that "with time, all truth is revealed." Fifty years have provided a time to remember, reflect, and reconsider my USO experiences touring Vietnam and Thailand for 21 days in August 1972. As Miss America 1972, I traveled the length and breadth of the United States, accumulating about 250,000 miles. When pageant officials invited me to headline a Miss America USO Tour to Southeast Asia, I enthusiastically accepted. Not only was this an opportunity to fulfill a lifelong dream, but was also a significant way to conclude my year's reign.
My WWII Navy veteran father instilled in me the ideals of service and sacrifice. He once told me, "War forever changes you. Always honor and respect those who have served our country in the military!" I took dad's words to heart. During my college years at Ohio University, I joined Angel Flight, a women's support group for the Air Force, and rose to the rank of [ROTC] Cadet Lt. Colonel.
Burned in Effigy
After being named Miss America, I approached pageant officials to adopt a platform for my year of service. I was motivated to support our military and suggested I lead a campaign among local and state Miss America participants to wear a pewter wristband inscribed with the name of a POW/MIA. I hoped media coverage would focus on supporting U.S. troops to counter the pervasive antiwar protests.
I discovered that my Miss America mission was as unpopular as the war. My appearances met with controversy, including: being burned in effigy, having objects thrown at me during parades, protests outside my hotel room, and death threats. I quickly learned that when you take a stand on an issue, you had better be prepared to defend it!
I believe the Miss America title provided a platform to reinforce what is right and good about America and its people. The USO Tour was an opportunity to thank our troops for their service.
The Miss America Organization's (MAO) director, George Cavalier, wrote and produced the show, "Something's Coming On." For the first time, MAO and USO decided to send two troupes: one to Vietnam and Thailand and another to Europe. We spent two weeks rehearsing and prerecording the show in New York City. We would perform live, but having the show's music prerecorded meant we did not need live music.We could thus be transported by small aircraft or helicopters and reach remote areas where service members hadn't seen American women in months.
Our 21-day adventure began Aug. 6, 1972. I was joined by six 1971 state representatives: Miss Louisiana, Avis Ann Cochran; Miss Maine, Allyn Warner; Miss New Mexico, Michele Cornali; Miss South Carolina, Pam Inabinet; Miss Utah, Janis Gentry; Miss Virginia, Linda Jean Moyer, along with our traveling companion, Mrs. Irene Bryant.
My mother flew in from Columbus, Ohio, to bid us farewell. Although visibly anxious about us traveling to a combat zone, she remained supportive and wished us well. As I departed, my mother handed me a travel diary and suggested I record each day's activities. I recorded the locations visited, what we did, who we met, and my impressions.
Finding the Diary 50 Years Later
Fifty years later, my journey began again when the travel diary emerged among other 1972 memorabilia. On Aug. 6, 2022, I transcribed what I wrote in my diary detailing Day 1: "'en route' New York City to San Francisco International Airport to Travis AFB to Elmendorf AFB (Anchorage, AK) to Tokyo, Japan, to Saigon, Vietnam."
Each day for 21 days, I sent the SE Asia Troupe ladies an email with that day's diary transcription and pictures. Memories flooded back. They told me how that trip also impacted them for a lifetime—above all their visits to hospitals, mess halls, or lounges where we would "meet and greet" service members, sign autographs, take pictures, and listen to their stories and experiences.
One of the ladies recalled a difficult visit to the 95th Evac Hospital (China Beach), where we sat by the beds of wounded soldiers, many in critical condition. We held their hands, signed autographs, and tried to give them a glimmer of hope and a glimpse of home. One young soldier, a double amputee, told us he was to be married but didn't know why his fiancée wanted to marry only half of a man!
Recalling that visit, my colleague remarked, "I was so young and had never really traveled much. I remember thinking the fellows looked like just kids out of high school. I'll never forget the look in their glazed eyes. It was as if their souls had been amputated!"
Almost Shot Down by a SAM
Reconnecting was a big part of this 50-year journey; making contact with the six troupe ladies was the priority. I also wanted to find service members who had been part of our support team and others we met. This sleuthing was no easy task. Making those connections was essential to verify my diary entries and help identify pictures. Finding our security officer, Lt. Joe Shogan, was a significant step.
Joe revealed his assignment presented more risk than anticipated. He was concerned for our safety and questioned many locations on our itinerary. Joe's instincts were realized Aug. 18 on a "Handshake Tour" near the Mekong Delta that included: Hau Nghia Province, Tan An (Long An Province), Ham Tam, Tay Ninh, Phu Cuong, and Xuan Loc, all of which had recently seen enemy action. No performances were scheduled in these very remote areas. There would simply be a "meet and greet" before we moved on.
At our first stop in the Province of Hau Nghia, we were shown damage from a recent mortar attack and how the shrapnel tore through a colonel's quarters and hit him. No one was there when we arrived in Tan An due to "contact" from "a major road being cut-off by the Viet Cong (VC)." Our next stop, Ham Tan, looked like a tropical paradise. Ironically, we were told that the surrounding mountains and dense jungle were favorite hiding places for the VC!
According to this transcript from my diary:
" Off again, on our way to Xuan Loc. I was getting a bit sleepy, and the day seemed like it would never end. I closed my eyes to catch forty winks when suddenly our helicopter was diving down toward the water below! I was sitting in the gunner's seat wearing headphones and heard something about a 'Sammy?' My first thought was that we had been hit and were going to crash. I offered a prayer to Jesus and a few 'Hail Marys!' It was strange, but for a brief moment, it crossed my mind, is this it? Will my legacy be the Miss America killed in Vietnam?…
As the chopper stabilized and everyone regained their composure, I asked what had happened and was informed that the V.C. had launched a heat-seeking missile at our helicopter. Fortunately, our gunner saw the plume of smoke and immediately warned the pilot, who engaged in a diversionary maneuver. Once again, I am convinced about divine protection!"
We learned the importance of listening and following instructions, briefs, and orientations, especially when wearing helmets and flak jackets.
While in the mountain area of Pleiku, there was a threat of incoming fire. I was washing my hair when suddenly my chaperone banged on the door and yelled for me to get out and get my gear on. In my zeal to follow orders, I climbed out of the shower dripping with water and suds, and hit the floor wearing my helmet and flak jacket, albeit nothing else!
An Eye-Opening Experience
Although we were based in Saigon, our tour took us near the DMZ to Phu Bai and Da Nang. In the Gulf of Tonkin we visited or entertained on the USS Midway, USS America, USS Hancock, and the destroyer Worden IV. In Vietnam, our tour took us to Gia Dinh, Corpus Christi Bay, Monkey Mountain, China Beach, Marble Mountains, Pleiku, Long Binh, Hau Nghia, Tan An, Ham Tan, Xuan Loc, Phu Cuong, Tay Ninh, Can Tho, Tan Son Nhut AB, and Saigon.
On Aug. 25, we boarded a MAC (Military Airlift Command) flight en route to the USA via Clark AFB in the Philippines, Hawaii, Travis AFB, San Francisco, and Philadelphia, where a limo met us to transport the troupe back to Atlantic City, N.J.
In two weeks, a new Miss America would be crowned, and we were to perform on the live broadcast for the pageant. According to my diary:
"Thoughts swirl in my head as I contemplate the full ramifications of what these last 21-days represent. I must confess that what I experienced and witnessed on this tour differed from what I had expected. So many factors to consider, process, and interpret. It will be interesting to see how history handles the truths of the Vietnam War and this time in our American history!"
Before I went to Vietnam, I was naïve in believing the rhetoric and political spin that attempted to justify why we were there and what we hoped to accomplish. Being in Vietnam and Thailand opened my eyes. I experienced it firsthand and had been one-on-one with our military men and women, many of whom didn't want to be there but fulfilled their duty. I heard the opinions of officers and high-ranking officials who debated if the war was "winnable."
I walked the streets of Saigon and learned many Vietnamese considered it the "American War" and not the "Vietnam War," while others shared their hopes that U.S. troop involvement would result in their country becoming "united, prosperous, and anti-communist." It was a confusing and challenging time that ended with tragic and disappointing results in 1975 as an abrupt pull-out from Saigon occurred.
My experiences validated my father's words about war changing people. For me, that change resulted in appreciation for the resiliency of the human spirit and a humble awareness of mortality.
By retelling my story in this article and my forthcoming book, "The Last Miss America in Vietnam," I hope to honor the brave men and women who served our country. Their commitment and sacrifices need to be dignified and remembered now and for future generations. God bless America!
this article first appeared in vietnam magazine