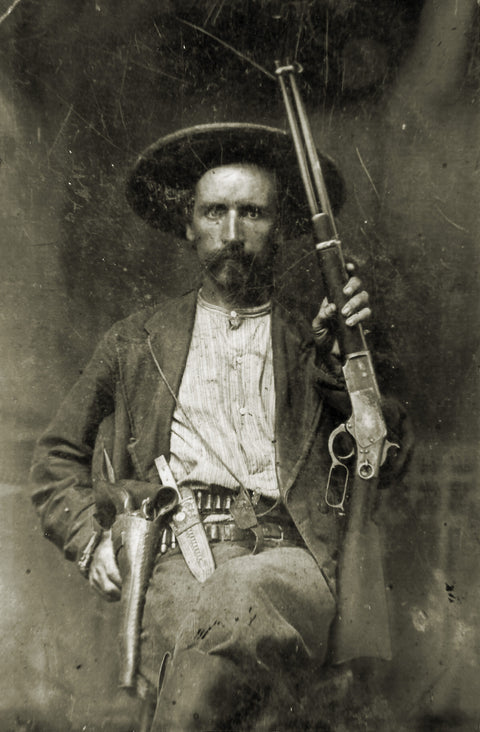 The Guns That Won the West
The year 1873 saw the introduction of two game-changing firearms—the Winchester Model 1873 lever-action rifle and the Colt M1873 Single Action Army (aka "Peacemaker") revolver. What set them apart from the array of available arms was that they were among the first chambered for center-fire metallic cartridges to be used in tandem.
Each firearm initially used its own proprietary round. The Model 1873 was chambered for the .44-40 Winchester cartridge, which went on to become one of the most popular rounds in firearms history. Purpose-built for the U.S. Cavalry, the Peacemaker was initially designed with a 7½-inch barrel, for accuracy at longer ranges, and chambered for use with the hard-hitting .45 Colt round. Not to rest on its own laurels, Colt then offered civilian versions of its revolver chambered for Winchester's increasingly popular .44-40 cartridge, as well as the latter's .38-40 and .32-20 rounds, thus sparing anyone who owned both firearms from having to carry two different calibers of ammunition. As attested by the images on the following pages, everyone from lawmen and outlaws to everyday cowhands and shepherds to headline entertainers were soon snapping up both manufacturers' Model 1873s.
Another aspect that set apart the 1873s was shrewd marketing, including testimonials from famed Westerners of the era. Winchester and Colt each advertised its guns through such motivated Western dealers as E.C. Meacham, of St. Louis, and Carlos Gove, of Denver. Winchester's 1875 catalog featured praise from Wild West showman Buffalo Bill Cody, who wrote the company on behalf of prospective buyers, "For hunting, I pronounce your improved Winchester the boss." Writer Ned Buntline, whose florid dime novels birthed many of the legends associated with Buffalo Bill, tirelessly hyped both the Winchester '73 and the Colt Single Action Army. For much of his career Texas Ranger Frank Hamer, the man who in 1934 brought outlaws Bonnie Parker and Clyde Barrow to ground, carried a Colt Peacemaker he dubbed "Old Lucky." Bill Tilghman, the famed U.S. marshal out of Oklahoma, was known to carry both a Winchester '73 and a Peacemaker, as did notorious outlaws Billy the Kid and Pearl Hart, though clearly not to either manufacturer's detriment.
Winchester produced a whopping 720,000 Model 1873 rifles through 1923, while Colt rolled out more than 357,000 first-generation Single Action Army revolvers through 1940. By then both companies had claimed the title "The Gun That Won the West" for their respective Models 1873. The Peacemaker is still in production, and modern-day replicas of both firearms remain popular among present-day cowboy action shooters. They've certainly earned their reputation.
In this 1888 cabinet photo of vaunted Texas Ranger Company D nearly every member is armed with Winchester '73 carbines and Colt Peacemaker revolvers, though Private Ernest Rogers (standing third from right) is brandishing a Colt Burgess carbine, and Private Walter Jones (standing at far right) has an 1877 Colt double-action Lightning revolver in his belt.
This factory-refinished rifle should be familiar to film buffs as title gun from the classic Western 'Winchester '73' (see below). Rock Island auctioned off this beauty in 2005 for a relative bargain $37,500.
Not all Western outlaws were created male. In this turn-of-the-century portrait Canadian-born stage robber Pearl Hart (née Taylor), wearing men's garb and toting a Winchester '73 with a Colt in her belt, strikes a jaunty pose with a close-cropped coif. On May 30, 1898, a financially desperate Hart and a male partner held up the Globe-to-Florence stage in Arizona Territory, though a sympathetic jury found her not guilty.
This .44-40 Colt Single Action Army with a 7 ½-inch barrel was the very gun Pat Garrett, the sheriff of Lincoln County, New Mexico Territory, used to kill Billy the Kid on July 14, 1881. That's Garrett's widow Apolinaria "Pauline" Garrett, posing with the Peacemaker in 1934. Later sold by her estate, the infamous firearm bounced from one collector to another before fetching more than $6 million at a 2021 Bonhams auction.
The circa-1879 2-by-3-inch tintype of a slouchy, bucktoothed Henry McCarty is best known as the only authenticated image of the outlaw better known as Billy the Kid. The tintype has since become famous for having sold at auction in 2011 for $2.3 million. Billy is armed with a Winchester '73 carbine and a Colt Peacemaker with stories of their own.
Buffalo Bill Cody poses in the great indoors in 1899 with a Winchester '73 rifle for one of countless promotional images taken of him in Western costume. The Wild West showman was the recipient of scores of presentation firearms from manufacturers angling for his celebrity endorsement. Winchester alone gifted him with several special-order Model '73s, which Cody duly touted as "just the thing" for big game. In fact, the .44-40 Winchester round was not as effective for long-range shots as follow-on rounds available by the time he sat for this portrait.
Silent-era Western film legend William S. "Two-gun Bill" Hart poses with a trademark pair of Colt Peacemakers with 5 ½-inch barrels. Unlike many of his fellow actors, Hart built a reputation for authenticity in costuming and on-screen action, having boned up on Western history and befriended lawmen Wyatt Earp and Bat Masterson, among others. The actor's home and 260-acre ranch in Newhall, Calif., are preserved as a park and museum housing his personal belongings and art collection.
The name of this flop-hatted cowboy from Minnesota is lost to history, but he's posing with a Winchester '73 and a Colt in what appears to be a spanking new set of buckskins.
In this mid-1890s portrait Naiche, the youngest son of Cochise and last hereditary chief of the Chiricahua Apaches, poses in captivity at Fort Sill, Indian Territory, with a Winchester '73. His stony expression is understandable, given that scarcely a decade earlier his tribe had roamed free.
Each of the iconic Model 1873s had starring, or at least co-starring, roles in Western movies. The Peacemaker's best-remembered brush with Hollywood fame came during filming of the 1953 George Stevens film 'Shane,' renowned for its sobering portrayal of violence. In this tense scene the title gunfighter (played by Alan Ladd) puts on a Fourth of July shooting exhibition for Joey Starrett (Brandon deWilde), the son of a homesteader for whom Shane works. The tension on the set may have been genuine, as Ladd wasn't comfortable around firearms, and the exacting Stevens shot more than 100 takes before yelling, "Cut! Print!"
The Winchester '73 not only shared billing with Western screen idol James Stewart, it scored the title role in this 1950 Anthony Mann Western. Film posters like the version above included the Winchester marketing slogan "The Gun That Won the West," and Universal Pictures held a contest to find any surviving "One of One Thousand" Model 1873s, like the prize one depicted front and center. (Only 136 were ever made.)
The action kicks off in Dodge City, Kan., on July 4, 1876, when Lin McAdam (Stewart) wins a One of One Thousand in a shooting contest against his blackhearted brother, Matthew (Stephen McNally), alias "Dutch Henry Brown." The rifle goes through many owners before winding up back in Lin's hands along with showgirl Lola Manners (Shelley Winters). The prop department used several Model 1873s during filming, including the starring rifle and two backups Winchester refinished and engraved for the production.
this article first appeared in wild west magazine