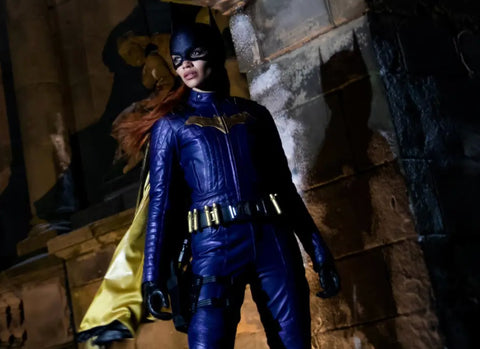 The Best Movies Never to Make It to Screens — and the Worst
It's a disappearance that feels worthy of a blockbuster summer release. One moment, $90 million … the next, nothing. That certainly was the case with Warner Bros. abruptly announcing that their "Batgirl" film (starring Michael Keaton, J.K. Simmons and Leslie Grace as the title feline) will not be released to any platform.
Why?
Initial stories quoted sources as saying that screenings found the film to be "irredeemable."
That was an odd sentiment for two reasons: One, the film was unfinished. Two, Hollywood puts out films without redeeming quality all the time. Adaptations of DC Comics that reached theaters include "Green Lantern," "Catwoman," "Jonah Hex" and "Steel" (Shaquille O'Neal made it after "Kazaam"). Needless to say, they were all critical and commercial disasters.
Recommended for you
Could "Batgirl" really be worse than "Superman IV: The Quest for Peace"? Or 1997's "Batman & Robin"? Or 2016's "Suicide Squad," which has already been rebooted as " The Suicide Squad"?
Incidentally, reports now suggest that the "Batgirl" burial is a less a matter of Warner's lofty cinematic standards than a new leadership team calculating how much money needed to be spent to complete and market the film … and deciding it makes more sense to bury it as a tax write-off.
Here are some of the other classic examples of unreleased — and often uncompleted — films. (Though we don't really know if they're classics, of course, since we didn't get to see them.)
The (Potentially) Good ****
"Leningrad: The 900 Days"
Sergio Leone was an exacting filmmaker. He became a global sensation with 1964's "A Fistful of Dollars." (On which he billed himself as "Bob Robertson" in America, so he wouldn't have a foreign name.) By 1989, he'd only made five more movies, the last 1984's "Once Upon a Time in America." All making his desire to film the epic struggle for the Soviet city during World War II incredibly intriguing.
Reportedly he raised a staggering $100 million for the production; composer Ennio Morricone and Robert De Niro (who played Noodles in "America") were on board. The entire project was abruptly derailed by Leone's heart attack and death at just 60 in 1989.
"Napoleon"
How do you follow 1968's "2001: A Space Odyssey"? For Stanley Kubrick, the answer was a French emperor.
The studio balked, however — there probably would have always been hesitance when faced with a director calling for 50,000 extras to stage battles accurately , and the death blow was the commercial disappointment of 1970's "Waterloo." "A Clockwork Orange" was made instead.
While you can't actually see "Napoleon," you can get a sense of it in the book Stanley Kubrick's Napoleon. The Greatest Film Never Made, including the screenplay and a positively Kubrickian amount of research.
"Greed" (full version)
No director wants their film to be cut by the studio, but sometimes they should have a hunch it's going to happen. That was definitely the case in 1924, when Erich von Stroheim turned in an adaptation of the Frank Norris novel "McTeague" that allegedly ran over nine hours. The film was then hacked down to less than two. (This stripped version was a box office failure, perhaps not surprising considering TCM's description: "In this silent film, lust for gold tears apart a dentist and his wife.")
Despite it all, "Greed" has gradually been accepted as a masterpiece. Over the years a roughly four version has been assembled, though it's believed the majority of the footage was melted down long ago.
GET HISTORY 'S GREATEST TALES—RIGHT IN YOUR INBOX
Subscribe to our Historynet Now! newsletter for the best of the past, delivered every Wednesday.
Close
Thank you for subscribing!
Email
Submit
The (Likely) Bad ****
"10 Things I Hate About Life"
1999's "10 Things I Hate About You" was a sizable hit (and helped establish Heath Ledger as a star). It was unsurprising director Gil Junger would eventually try to revisit that success. This led to "10 Things I Hate About Life."
Or, at least, it almost did. With the premise "Two teens unexpectedly fall in love, just before they are about to kill themselves," it was unlikely to match the earnings of that earlier film. It never got the chance to do that, however.
Apparently a month of footage was shot at end of 2012, then the film imploded, for alleged reasons ranging from the pregnancy of star Evan Rachel Wood causing her to be unwilling to work again to her assertion that the producers had simply run out of money. Bizarrely, a trailer for this film exists, even if the movie itself never will.
"The Audition"
De Niro. DiCaprio. Pitt. Scorsese. (Acting and directing.) You'd see that, right?
Well, it happened back in 2015. They got together in a 16-minute film for Crown Casinos in Manila and Macau that finds De Niro and DiCaprio both arriving at the Manila casino and beginning a competition to win a part in a new Scorsese movie — that doesn't actually exist. (It continues in Macao and, finally, Tokyo, where Scorsese runs into Brad Pitt.)
The most interesting thing about the project? It allegedly cost $70 million. As the Hollywood Reporter noted, "the line between art and advertising gets even blurrier, if if hasn't already been erased."
The short film was supposed to premiere in Venice but was taken off that slate and ignominiously shown, hidden in the program, at the film festival in Busan, South Korea, instead. At the time, the fact the film was an ad and not a real movie felt particularly disheartening (at least, for those who heard about it), as De Niro hadn't worked with Scorsese in 20 years.
"The Fantastic Four"
Rights retention. What better reason could there be to make a movie?
German producer Bernd Eichinger was afraid his film rights to the Fantastic Four characters would revert to Marvel, so he rushed a movie into production in 1992, under the guidance of the B-movie master Roger Corman — one that was never released because, again, it was just about rights retention. (Bootlegs are out there. As is the case with most things in our world, if you search the internet, you will find it.)
This bit of cinematic contractual obligation inspired the 2015 documentary "Doomed!: The Untold Story of Roger Corman's The Fantastic Four."
The Plain Weird ****
"Dune"
This isn't the 2021 Denis Villeneuve "Dune." Or the 1984 David Lynch "Dune." Nope, this is the 1970s Alejandro Jodorowsky "Dune."
An artist and cult filmmaker who managed to have something approaching a hit with 1970's "El Topo" (John Lennon was a big supporter), Jodorowsky had a vision for Frank Herbert's classic sci-fi novel that included the artist H.R. Giger (who went on to do the designs for the "Alien" series), music by Pink Floyd and a cast that included Orson Welles, Mick Jagger, Salvador Dali and Jodorowsky's own son.
Needless to say, this didn't happen, but the 2013 documentary "Jodorowsky's Dune" suggests it would have been at least as watchable as either of the adaptations we did get.
"The Day the Clown Cried"
It was to be "Life Is Beautiful" before "Life Is Beautiful," as a celebrated comedian takes on the Holocaust. Only in this film, as Vanity Fair put it back in 2017, you get to watch as the clown "distracts the children with jokes and pratfalls as he leads them to the gas chambers, ultimately joining them inside." Jerry Lewis starred in and directed the film starting back in 1972.
Never completed, rough cuts have been viewed occasionally over the years, including by "Spinal Tap" and "The Simpsons" star Harry Shearer. His verdict: "a painting on black velvet of Auschwitz."
Lewis died in 2017. He actually donated a print to the Library to Congress, with the proviso it couldn't be screened until 2024. So in these strange times, know we've got that coming for us, too.
historynet magazines
Our 9 best-selling history titles feature in-depth storytelling and iconic imagery to engage and inform on the people, the wars, and the events that shaped America and the world.