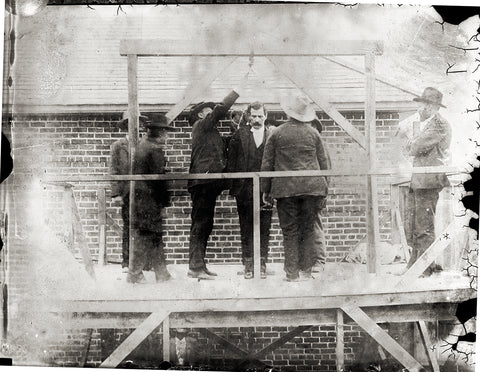 The 10 Most Interesting Wild West Characters … Some May Surprise You
Davy Crockett
No, not that Davy Crockett. A reputed bully in Cimarron, this Davy — either a grandson or grand-
nephew of the Alamo legend — gained infamy for having murdered three U.S. 9th Cavalry buffalo soldiers at the bar
of the St. James Hotel in 1876. Acquitted, but fined $50 for having carried a gun in town, he rampaged through Cimarron, often riding his horse into saloons and firing into the ceiling. Townspeople soon tired of his antics. On Sept. 30, 1876, Sheriff Isaiah Rinehart and posse shot and killed Crockett after the bully refused to surrender.
Billy the Kid
Orphaned at 13, William Henry McCarty struggled to live in the adult world. Slight in stature,
he compensated with his pleasing personality, charming wit and, when pushed, his gun. A natural leader, he hung around Lincoln and became a Regulator. The Kid's short life ended on July 14, 1881, when shot by Lincoln County Sheriff Pat Garrett.
GET HISTORY 'S GREATEST TALES—RIGHT IN YOUR INBOX
Subscribe to our HistoryNet Now! newsletter for the best of the past, delivered every Wednesday.
Close
Thank you for subscribing!
Email
Submit
**[Clay Allison](https://www.historynet.com/clay-allison-good-natured-holy-
terror/)**
Known for extreme violence, and implicated in many vigilante jail break-ins and lynchings,
the notorious gunman reportedly once rode through Mobeetie, Texas, wearing nothing but his six-shooter and gun belt. Allison homesteaded near Cimarron, where on Nov. 1, 1875, he prevailed in a shootout at the St. James Hotel, killing Francisco "Pancho" Griego.
**[Black Jack Ketchum](https://www.historynet.com/tom-ketchum-and-his-
gang/)**
Outlaw Tom "Black Jack" Ketchum partnered with older brother Sam, robbing businesses and trains. The brothers later joined the notorious Hole-in-the- Wall Gang. In 1899 Tom foolishly attempted to rob the same train at the same spot brother Sam had held it up weeks earlier (to Sam's demise). This time the engineer recognized Tom and shot him from his horse. Captured and convicted, Black Jack went to the gallows on April 26, 1901, in Clayton, which had never hanged anyone before. The rope proved too long, and as Ketchum had gained weight in prison, his head snapped off when his body dropped through the trap. All of him is buried in Clayton's cemetery.
Recommended for you
**[Pat Garrett](https://www.historynet.com/death-of-billy-the-kid-as-pat-
garrett-tells-it/)**
Best known as the Lincoln County sheriff who killed Billy the Kid, Garrett was also a buffalo hunter, bartender, Texas Ranger captain, promoter of irrigation schemes near Roswell and U.S. customs inspector. Appointed Doña Ana County sheriff in 1896, he was tasked with tracking down the murderers of Colonel Albert Jennings Fountain and his 8-year-old son, who'd gone missing earlier that year. He never did — officially, anyway. Garrett himself was murdered en route to Las Cruces on Feb. 29, 1908. His killer(s) were never brought to justice.
**[Lew Wallace](https://www.historynet.com/lew-wallaces-river-
redemption/)**
Author of the bestselling 1880 novel Ben-Hur: A Tale of the Christ, Wallace was also the governor of New Mexico Territory (1878–81) who promised Billy the Kid a pardon and then reneged. Wallace then served (1881–
85) as U.S. minister to the Ottoman empire. The only fond memories he had of New Mexico, he admitted, was the time he devoted to painting landscapes in an alley behind the Palace of the Governors when not busy writing.
Doña Tules
A woman of refinement and fashion, María Gertrudis Barceló was a prominent saloon owner and professional gambler in Santa Fe. Known as Madame La Tules, she was charming with a sharp business acumen and became an influential member of society during the Santa Fe Trail heyday. Tules reportedly contributed freely to families in need, the Catholic Church, charities and the government. She still died with a fortune on Jan. 17, 1852.
**[Colonel Albert Fountain](https://www.historynet.com/book-review-the-
stolen-pinkerton-reports-of-the-colonel-albert-j-fountain-murder- investigation/)**
An attorney in Mesilla, Fountain was perhaps best known for having rep-
resented Billy the Kid in 1881 — though he lost, and the Kid was convicted of murder. Following a stint in the Union Army during the Civil War, Fountain settled in Texas where he served in the state Senate and as lieutenant governor. In 1873 he moved to Mesilla, where he served as a lawyer, probate judge and court clerk. He founded the Mesilla Valley Independent newspaper and the Mesilla Valley Opera House, known today as the Fountain Theater. On Feb. 1, 1896, he and son Henry disappeared near White Sands. They had been ambushed, but their bodies were never found, and no one ever paid for the crime.
Juan Maria (Giovanni) Agostini-Justiniani
This eccentric son of Italian nobility left home in his late teens to wander France and Spain and later trekked all over South, Central and North America. At age 62 he walked with a wagon train from Kansas to Las Vegas, New Mexico Territory, and then south to Mesilla. Considered a mystic by many, El Ermitaño ("The Hermit") reportedly healed people and prophesied. Living in a cave in the nearby Organ Mountains, he promised Mesilla residents he would light a fire every Friday evening to signal he was fine. On April 17, 1869, not seeing the fire, investigating villagers discovered he'd been killed. His murder also remains unsolved.
**[Sadie Orchard](https://www.historynet.com/wild-west-book-review-red-
light-women/)**
Strong-willed Sarah Jane "Sadie" Creech Orchard (1859–1943) wore many hats in the gold and silver mining camp of Kingston in the 1880s. Flamboyant Sadie established a brothel on ironically named Virtue Street, owned and drove a stagecoach line, ran a hotel and restaurant, and rode horses as well as any man. A philanthropist, she helped build a church and aided those stricken during a smallpox epidemic.
historynet magazines
Our 9 best-selling history titles feature in-depth storytelling and iconic imagery to engage and inform on the people, the wars, and the events that shaped America and the world.