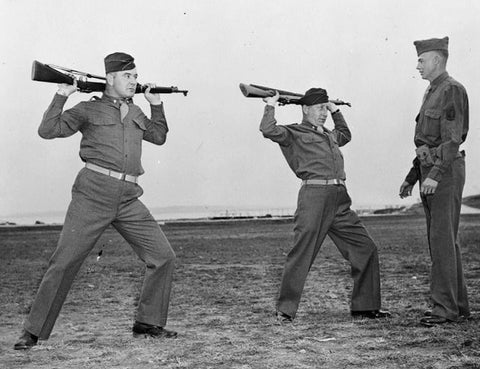 That Time Beloved 'Cinderella Man' Boxer and His Manager Enlisted in WWII — Together
In 2005 boxing legend James J. "Jimmy" Braddock once again punched his way into American hearts.
Dramatized in Ron Howard's film "Cinderella Man," the director tells Braddock rose from an impoverished dock worker, hit hard by the Great Depression, to a nationwide celebrity after his defeat of heavyweight champion Max Baer in the Madison Square Garden Bowl in Long Island City, Queens.
Braddock, with his "Iron Chin" and indominable spirit, defeated the cocky, well-off Baer with the help of his diminutive yet colorful manager Joe Gould, played by actor Paul Giamatti
It was the definition of pulling oneself up from their bootstraps, and the American public — then and now — ate it up.
"Whether it goes one round or three rounds or ten rounds, it will be a fight and a fight all the way… When you've been through what I've had to face in the last two years, a Max Baer or a Bengal tiger looks like a house pet. He might come at me with a cannon and a blackjack and he would still be a picnic compared to what I've had to face," heavyweight champion Jimmy Braddock once relayed of his famous 1935 title fight against Baer.
This is how Howard's movie ends — David slaying Goliath. Yet for the boxer and his manager, it would only be the beginning.
Suffering from arthritic hands due to his years in the ring, Braddock retired from boxing in 1938 after losing his title to Joe Louis the previous year. But never a man at ease with idleness, the 37-year-old enlisted in the U.S. Army in 1942 soon after the American entry into World War II.
Enlisting right beside him was Gould, Braddock's manager of 17 years.
"I've been behind Jimmy Braddock ever since he started fighting," Gould told Yank, the Army Weekly in 1942. "And when those bullets start flying I'll still be behind him."
Gould — who had also served in the U.S. Navy during World War I — didn't exactly stick to his promise.
The Cinderella Man went on to serve honorably in the Pacific, training soldiers in hand-to-hand combat in Saipan, while Gould was commissioned as a lieutenant and assigned to duty at the New York Port of Embarkation.
He was later promoted to captain and directed athletic activities at Camp Shanks, N.Y., which is where he ran into trouble.
On Sep. 29, 1944, The New York Times reported that Gould had been arrested on charges that he conspired "to defraud the Government by accepting money to influence the award of contracts for the manufacture of Army equipment."
Gould was dishonorably discharged from the Army and sentenced to three years of hard labor, which was later reduced to a year in prison and a $1,000 fine.
At least we'll always have Long Island City.
historynet magazines
Our 9 best-selling history titles feature in-depth storytelling and iconic imagery to engage and inform on the people, the wars, and the events that shaped America and the world.