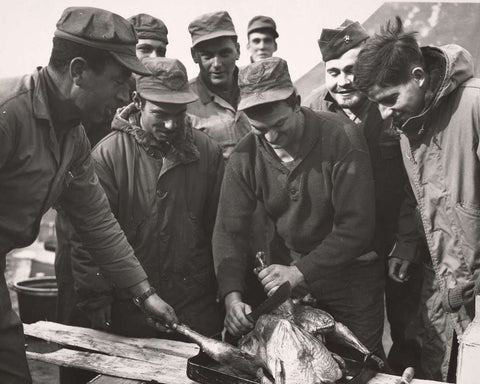 Thanksgiving in the Frozen Chosin
These cheerful men of the 5th U.S. Marines, far from their homes, are getting ready to enjoy a Thanksgiving turkey in a very unlikely place — at the notorious Chosin Reservoir in Korea in November 1950.
If you are familiar with the Korean War, and likely even if you are not, you have probably heard of the Battle of the Chosin Reservoir. One of the most famous — and desperate — battles of the Korean War. It saw United Nations Command troops make a fighting withdrawal against numerically superior Chinese forces. The battle is notorious for its hellish conditions, including subzero temperatures, ice, rocky chasms and sufferings endured by the men who fought in it, including hypothermia and the effects of starvation.
Despite their superior numbers, the Chinese were unable to eradicate the UNC forces and sustained heavy losses. The particular resilience shown by the U.S. Marines in the direst situations at "Frozen Chosin" has made the battle the subject of particular reverence among members of the Marine Corps.
In this photo, taken sometime between November 21-25, Marines are enjoying a happy moment as they prepare to dig into a holiday meal that doubtlessly reminded them of scenes they were missing back in the States.
"The holiday menu, accomplished by strenuous effort on the part of many hands, included shrimp cocktail, stuffed olives, roast young tom turkey with cranberry sauce, candied sweet potatoes, fruit salad, fruit cake, mincemeat pie and coffee," wrote Brig. Gen. Edwin H. Simmons of U.S. Marines in an official Marine history of the battle. "Even the Marine infantry units got at least the turkey."
Things would take a turn for the worse for these troops in the matter of only a few days. Yet the gladness felt by these Marines in this Thanksgiving moment lives on forever in this image, highlighting the appreciation of fighting troops in extreme circumstances for some semblance of ordinary life.
historynet magazines
Our 9 best-selling history titles feature in-depth storytelling and iconic imagery to engage and inform on the people, the wars, and the events that shaped America and the world.