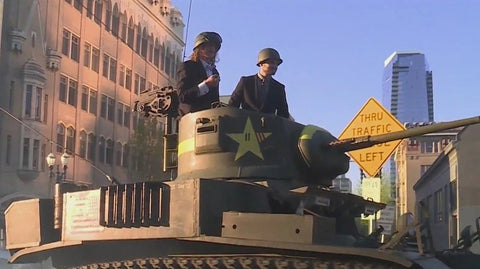 Teen Drives WWII Tank to Prom Escorted by Flaming Bagpipe Unipiper Dressed As Darth Vader
Listen close, fellas. If you want to woo your significant other, know that limos and boutonnieres are out — tanks are in.
Sherman Bynum, a junior at Washington State's Camas High School and long-time tank enthusiast hatched up a plan with his friend Sam Tetro to go big for their upcoming prom night at the Portland Art Museum.
"I have had the goal to ride a tank for years now, and with the opportunity of prom around the corner, it is only natural that the two mix," Bynum wrote on his GoFundMe page.
While Bynum missed the opportunity to make the ultimate pun of Sherman riding a Sherman, the teen did manage to arrange to rent a M3A1 Stuart tank from a private collector.
According to KOIN 6 News, Bynum had originally called a group in Minnesota in February that rents out battle tanks for films, but that came with a Hollywood price tag of $20,000.
After reaching out to a museum in Oregon, Bynum had found his solution. While the museum didn't have what Bynum wanted, a curator knew someone who did.
For $1,000 — the cost for shipping and the night's rental — Steven Greenburg, a private collector of military gear and accoutrements — agreed to loan the teen his tank.
"[I called] the guy and within about 15 minutes we had a deal worked out," he told KOIN.
Taking to TikTok to advertise their GoFundMe page, the friends managed to raise the funds in just three days.
Although a self-described "thrill-seeking, adventurous person," Bynum still followed protocol, receiving permission from school administrators and local authorities to drive the tank to prom.
I spoke to Sherman Bynum, one of the high school kids who turned up to prom in Portland, Oregon, in a tank. A surprisingly heartwarming story to follow. pic.twitter.com/eVz4jfsXQx

-- Joshua Zitser (@mrjoshz) May 3, 2023
Another hurdle to overcome? Bynum didn't initially have a date to the dance.
The teen soon improvised, adapted and overcame when he invited fellow Camas student, Mycah Chala, with a sign that read: "I'd be tank-full if you went to prom with me!"
After doing two laps around the art museum with "local Portland celebrity known as Unipiper who wore a Darth Vader mask as he rode his unicycle while playing flaming bagpipes," writes Insider, it was time to dance.
But the stunt was much more than fulfilling a lark and gaining a date to prom.
According to Insider, Bynum's father, a "history buff who loved tanks," suffered from Parkinson's disease and Lewy body dementia.
When Bynum told his father in February about his idea, "He just thought it was the funniest thing he'd ever heard," Bynum told the outlet.
His father passed away only a few days later.
"I knew that if I did this, whether he was right there in front of me or holding my hand from somewhere else, I knew that I would be honoring that spirit of adventure and doing good things," Bynum added.