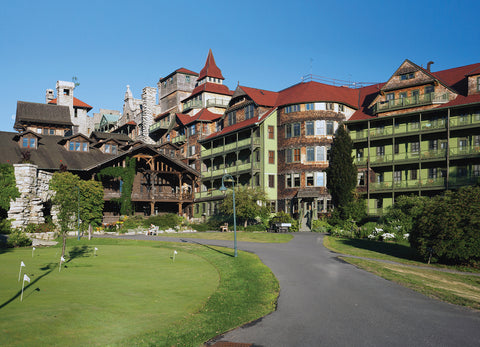 Rock Steady
Lake Mohonk Mountain House ad poster. (Heritage Image Partnership LTD./Alamy Stock Photo)
In 1869, after several summers vacationing in the highlands west of New Paltz, New York, Albert Smiley paid $28,000 for a lake and 300 rocky, often vertiginous acres there. The parcel, which included a hotel, occupied a slice of the Shawangunk Mountains, a bedrock spine stretching theatrically for 50 miles through the Hudson River Valley between New Jersey and the Catskills.
On their chunk of the "Gunks," later enlarged through additional purchases, Albert and identical twin Alfred created a resort reflecting their family's rigorously austere Quaker values. Those values led the Smileys to sponsor decades of conferences studying Native Americans' wellbeing and the pursuit of world peace at what they called Mohonk Mountain House.
Ever since, beneath the rubric of Smiley Brothers Inc., generations of descendants have operated the beloved facility, adjusting the austerity but retaining the rigor, expanding the calendar from five months to year-round, and developing an enviable farm-to-table gustatory experience. Guests can hardly name an activity that is not on the resort's schedule, from dancing to archery to ice skating to hiking to swimming to kayaking and on and on — but habitual television watchers are out of luck unless they bring their own digital devices.
This article appeared in the Autumn 2022 issue of American History magazine.
GET HISTORY 'S GREATEST TALES—RIGHT IN YOUR INBOX
Subscribe to our Historynet Now! newsletter for the best of the past, delivered every Wednesday.
Close
Thank you for subscribing!
Email
Submit