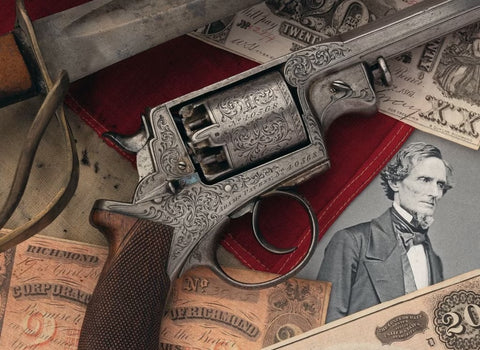 Revolver of Confederacy's Jefferson Davis Fetches $470K at Auction
A revolver worn by Confederate States of America President Jefferson Davis on the day of his surrender fetched a pretty penny at an auction Saturday, which, by the time the final item sold, brought in a whopping $22 million in revenue.
On its own, the silver-plated pistol — and a slew of authenticating paperwork, including military records, first-hand accounts, newspaper articles, family letters and chain-of-ownership records — settled for an astounding $470,000.
The weapon's primary significance dates back to May 10, 1865, when Davis was captured by U.S. Cavalry troops in Irwin County, Georgia. Present for Davis' surrender, which came approximately one month after Robert E. Lee surrendered to Union Gen. Ulysses S. Grant in Appomattox, Virginia, was Michigan 4th Cavalry Cpl. John Hines, who took possession of the revolver but would claim ownership of the item for an unusually brief period, according to the pistol's records.
Moments after Davis presented Hines with the pistol, friendly fire erupted just up the road as troops from Wisconsin and Ohio confused the Michigan detachment for enemy personnel.
"Just as we got into the road bang, bang went the guns … and they kept a going all excited," recalled 4th Michigan soldier William Linsley in an 1886 eyewitness account published in the Michigan-based Alma Record.
"I fell in behind a pine tree," Linsley continued. "I had fired two shots and was putting a load in my gun when they hollered, 'Cease firing. You are firing on your own men.' We had two killed and three wounded."
One of the deceased was John Hines.
"He was shot in the mouth, come right out the back of his head," recalled Linsley. "Captain Hudson just rode up and he says take out what things he has in his pockets. We took out Jeff Davis' revolver, the one Jeff gave him when he surrendered, and his pocket book and some other trinkets."
Select reports note that Davis, who was accompanied by family, attempted to escape during the commotion, with some of the more sensationalized accounts suggesting he took flight disguised in women's clothing.
"The story was heavily embellished in the press, with some going so far as to suggest Davis was actually wearing a woman's bonnet and a full hoop dress," the auction documents note.
An 1865 cartoon depicts Jefferson Davis' alleged escape attempt in a hoop skirt. (J. L. Magee via the Library of Congress)
Linsley's first-hand account corroborates elements of those stories.
"Mrs. Davis stepped out of the tent [and] asked if they would allow her mother to go down to the brook and get a pail of water. … As he (Jeff) walked out he had on a riding dress and shawl over his head, he looked like an old woman. [But] his spurs picked up his dress behind him and showed his boots and the guard stopped him and made him back to the tent."
Davis' revolver, meanwhile, which had briefly been in the possession of John Hines, was taken by the deceased soldier's brother, Edwin, and passed down through subsequent generations of the Hines family — most recently by Edwin's great granddaughter Linda Lee Hines Inman — until its May 20 auction.
"This revolver is one of the most historic and important American artifacts ever offered at public sale and is perhaps the most important Confederate artifact known to be privately held," the auction note accompanying the pistol reads. "It was his personal revolver of choice under the most dire conditions and is similar in historical scope to The War Pistols of Hamilton, The Bull Moose Colt of Theodore Roosevelt and the President U. S. Grant Remington Revolvers, all previously sold by Rock Island Auction."
Also among the most profitable items auctioned Saturday was a World War II German Krieghoff FG42 Type I paratrooper rifle, which sold for $411,250.
---
Originally published by Military Times, our sister publication.