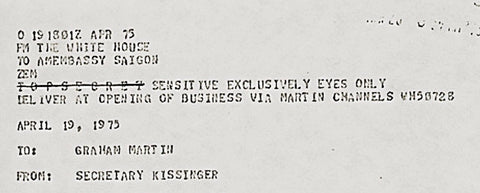 Read Henry Kissinger's Secret Message On the Fall of Saigon
This cable from April 19, 1975, was sent by U.S. Secretary of State Henry Kissinger to Graham Martin, U.S. Ambassador to South Vietnam about the impending evacuation of Saigon. It also contains advice about interactions with President Nguyen Van Thieu of South Vietnam. This very candid document is one of many that have been made available to the public by the National Archives.
FM THE WHITE HOUSE
TO AMEMBASSY SAIGON
SENSITIVE EXCLUSIVELY EYES ONLY
DELIVER AT OPENING OF BUSINESS VIA MARTIN CHANNELS WH50728
April 19, 1975
TO: Graham Martin
FROM: Secretary Kissinger
1. Thanks for your 0715.
2. My ass isn't covered. I can assure you I will be hanging several yards higher than you when this is all over.
3. Now that we are agreed that the number of Americans will be reduced by Tuesday to a size which can be evacuated by a single helicopter lift, the exact numbers are completely up to you. That having been decided, I will stop bugging you on numbers, except to say that you should ensure that the embassy remains able to function effectively.
4. You should go ahead with your discussion with Thieu. In your soundings relative to his possible resignation, however, the matter of timing is also of great significance. In any event any resignation should not take place precipitately but should be timed for maximum leverage in the political situation. You should know, although you should not intimate this to Thieu, that we this morning have made an approach to the Soviet Union. We should not be sanguine about any results but, if there are any, they could easily involve Thieu as one of the bargaining points.
5. You should also know that the French have approached us with the idea of reconvening the Paris Conference. We told them we were opposed and felt it would be counterproductive.
Warm regards.