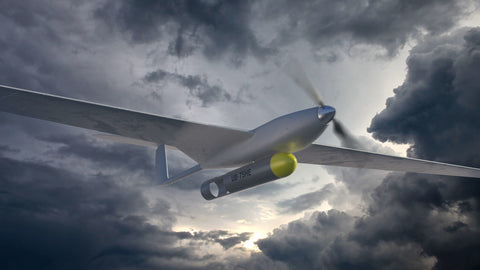 Punisher: Ukraine's Stealthy, Home-Built Drone
Unmanned aerial vehicles have played a significant, if peripheral role, gathering intelligence and attacking enemy targets where conventional piloted warplanes cannot reach. In the first 100 days of Ukraine's struggle against invading Russian forces, Turkish-supplied Bayraktar TB-2 and TB-3 UAVs have acquired a mystique in helping to counterbalance Russian air superiority.
Since then, however, a small indigenously produced drone has been taking its place alongside the Bayraktars. With 60 successful missions logged thus far, it is living up to the sobriquet given it by its Ukrainian builders: The Punisher.
Made to FIGHT RUSSIAN INVADERS
In 2016, in response to the Russian-backed separatist risings in eastern Ukraine, a consortium of military engineers, three-quarters of whom were veterans of the fighting, set to work on a small attack drone that they later described as "reusable, fast, unexpected, precise, lethal." The aircraft designed to achieve that goal would rely on stealth at low altitude, rather than high altitude, to make its way to the target.
By the time Russia itself invaded Ukraine in 2022, the Ukrainians claimed that their invention had carried out hundreds of missions without any being destroyed or captured. It was only in mid-February that the builder was formally registered as UA Dynamics, which declared its mission to be "solely at defeating the occupation forces."
GET HISTORY 'S GREATEST TALES—RIGHT IN YOUR INBOX
Subscribe to our Historynet Now! newsletter for the best of the past, delivered every Wednesday.
Close
Thank you for subscribing!
Email
Submit
SMALL, FAST and Deadly
Looking more like the work of a hobbyist than a warplane designer, the Punisher has a wingspan of only 7.9 feet. Its rechargeable electric motor can keep it flying up to 1,300 feet for up to three hours. Cruising at 39 knots, it has a maximum speed of 125 mph and a range of up to 30 miles.
Its payload is one to four high explosive, shrapnel or incendiary bombs totaling 4.4 pounds, which can be dropped all at once or singly on different target such as trains, supply lines, fuel depots or munitions dumps. Guided by a laptop computer, the drone's cameras can record the bombs' impact and accuracy for after-action assessment. Upon its return, it can be serviced and rearmed in as little as five minutes.
Recommended for you
Punisher's Buddy
Uniquely, the Punisher cannot punish anything without the help of a Spectre, a helicopter drone that accompanies it on its missions, gathering the intelligence and transmitting it to the aircraft and its user. If the Punisher has an Achillles' heel, it is its interdependence with the Spectre — if either craft is brought down, the other is useless until a replacement turns up.
On the asset side, besides evading enemy radar with its small size and low profile, the Punisher-Spectre weapons system can be transported to wherever it is needed in four small boxes. Adding to the enemy's frustration, in comparison to the $2 million price tag on each of the 20 Bayraktar medium-size drones the Turks furnished to the Ukrainian forces — one of which has recently been shot down — the little Punisher costs only one-tenth that price to produce.
On the other hand, the main factory is in Kyiv, which has recently been subjected to bombardment by the Russians, leaving open the question of who is punishing whom.
historynet magazines
Our 9 best-selling history titles feature in-depth storytelling and iconic imagery to engage and inform on the people, the wars, and the events that shaped America and the world.