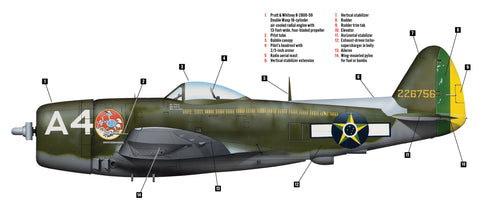 P-47D Thunderbolt: The Plane Brazilian Pilots Flew in WWII
Republic P-47D Thunderbolt
Wingspan: 40 feet 9 inches
Wing area: 300 square feet
Length: 36 feet 1 inch
Height: 14 feet 2 inches
Empty weight: 10,000 pounds
Maximum takeoff weight: 17,500 pounds
Crew: One
Power: Pratt & Whitney R-2800-59 Double Wasp 18-cylinder air-cooled radial engine delivering 2,000 hp at takeoff and 2,300 hp at altitude using exhaust-driven turbo-supercharger and WEP with water injection
Maximum speed: 429 mph at 30,000 feet
Cruise speed: 350 mph
Climb rate: 1,575 feet per minute
Service ceiling: 42,000 feet
Maximum range: 1,260 miles
Armament: Eight .50-caliber AN/M2 Browning machine guns in wings, plus up to two 1,000-pound bombs and 10 HVAR 5-inch rockets
---
The genesis of the Republic P-47 Thunderbolt fighter-bomber stemmed from efforts by expatriate Russian aircraft designer Alexander Kartveli, chief engineer for Republic Aviation Corp., to satisfy a U.S. Army Air Corps requirement for a lightweight fighter. Improving on the P-35, designed in partnership with his onetime boss and fellow Georgian Alexander P. de Seversky, Kartveli developed a series of fighters, including the P-43 Lancer and the AP-10, that evolved in size and scope into the P-47 "Jug," the heaviest single-seat fighter of World War II—a problem compensated for by its Pratt & Whitney R-2800 Double Wasp 18-cylinder radial engine.
The P-47's power plant could take a lot of punishment, while its eight wing- mounted .50-caliber machine guns could dish it out. Midway through the war, as longer-range North American P-51 Mustangs replaced P-47s as bomber escorts in Europe, the Jugs were reassigned to bombing, strafing and ground-support operations. Even then, the first and second ranking American aces over Europe, Francis S. "Gabby" Gabreski (28 victories) and Robert S. Johnson (27) scored all their victories in P-47s.
Although the P-47 suffered from a limited range, the P-47N variant had a range of 2,000 miles when fitted with drop tanks and could escort Boeing B-29s from Iwo Jima to Japan. The total of 15,636 P-47s produced represented the most of any American single-seat fighter before or since.
Among other storied Thunderbolt pilots was 2nd Lt. Alberto Martins Torres, the Brazilian pilot of a P-47D-25-RE. He was already a combat veteran by the time he shipped to Italy in 1944 with the Primeiro Grupo de Aviaçao de Caça —though not in a Jug. On July 31, 1943, he'd piloted a Consolidated PBY Catalina that sank the German submarine U-199 with depth charges off Rio de Janeiro. Between Nov. 6, 1944, and May 1, 1945, Torres flew 99 combat sorties in the P-47D-25-RE depicted above.
Master Sergeant Robson Saldanha poses by the cockpit of his P-47D of the Brazilian 1st Fighter Group in northern Italy in late 1944. The group insignia bears a slang cock-fighting motto: "Fight With a Spur." (National Air and Space Museum, Smithsonian Institution)