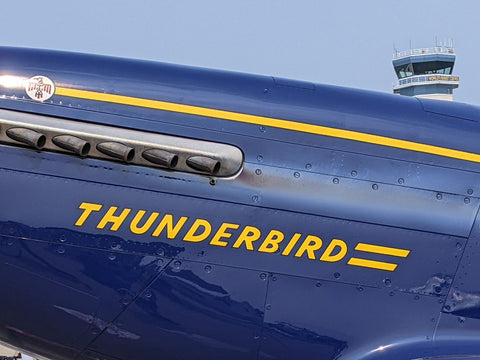 Newly Restored P-51C Mustang Wows at Oshkosh
You will see lots of great airplanes at the Experimental Aircraft Association's AirVenture in Oshkosh, Wisconsin. At the 2023 event, one of the highlights was the P-51C Mustang Thunderbird, which had just returned to flyable status after a restoration by AirCorps Aviation of Bemidji, Minnesota, for the airplane's owner, Warren Pietsch. The newly restored Mustang made its first flight on June 5, less than two months before it flew to Whittman Regional Airport in Oshkosh.
The airplane has a remarkable story. Its wartime history remains cloudy, but it may have been constructed in 1943. After the war, the airplane was purchased as surplus by actor, pilot, and Air Force veteran James Stewart in partnership with racer Joe DeBona. It won the Bendix race in 1949 with DeBona at the controls, setting the Bendix speed record for piston-engine aircraft of 470 mph along the way. That record still stands. Aviator Jackie Cochran, who broke a few records of her own, later owned the airplane. Now restored to pristine status, Thunderbird was a star attraction at the AirVenture, both on the ground and in the air, where it thrilled audiences at the event's airshows.
Here we have an interview with owner Pietsch, as well as a walkaround of the airplane and some photographs of one of the most beautiful airplanes to attend the AirVenture this year.
---
It required 48 coats of primers and the cobalt blue paint to give Thunderbird its dazzling appearance.
An informational placard by the airplane touted its connection with actor (and Air Force brigadier general) James Stewart.
The real James Stewart could not be present, so a cardboard cutout has to suffice.
Another placard at the airplane touts its connection with Jackie Cochran.
Turning the propellers is a Rolls-Royce Merlin engine fueled by 150-octane gasoline.
The fuselage bears witness to the airplane's illustrious history.
Other air racers got used to seeing Thunderbird from the rear.