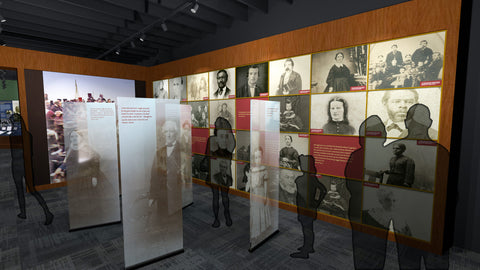 New Gettysburg Museum Offers Immersive Experience of the Chaos of Battle
For years, the Adams County Historical Society has been housed in a cramped Victorian house on Seminary Ridge, unable to display its rich horde of artifacts or offer access to researchers. But this April, the ACHS will open a new 29,000-square-foot complex just north of the Gettysburg battlefield. The expansive building will feature 12 galleries of immersive exhibits that showcase the county's deep history.
No matter how much has been written, displayed, or filmed about the Civil War's largest engagement, the appetite for more information about the Battle of Gettysburg remains insatiable. The ACHS will help satisfy that hunger with its revolutionary Beyond the Battle Museum, featuring some of Gettysburg's rarest artifacts and using media and special effects technology to take visitors on a journey through time.
"Beyond the Battle will push the boundaries of a traditional museum experience to deliver a new perspective of the fight," says Andrew Dalton, ACHS' energetic executive director. "What was it like to live through the battle? To hear Abraham Lincoln's immortal words? These questions and more will be answered and help visitors expand their knowledge of this remarkable town and its people."
Caught in the Crossfire, a 360-degree re-creation of a home trapped between Union and Confederate lines, will be a unique feature of the museum. This immersive experience uses light projections, surround-sound speakers, and special effects to transport visitors back to the battle. Guests will enter a family's home shortly after their rush to safety in the cellar below, hear their hushed conversations, split-second decisions, and life-or-death encounters with Union and Confederate troops. Visitors will hear the whizzing of bullets through the home, the hiss of shells overhead, the shaking of floorboards and furniture, and the family's frightened reaction from below.
The new museum will also include a spacious library and archives where visitors can access rare archival holdings, including civilian accounts from the Battle of Gettysburg and Lincoln's Gettysburg Address.
To learn more, visit achs-pa.org or follow the ACHS on Facebook and YouTube. Advanced tickets go on sale starting March 1, 2023.