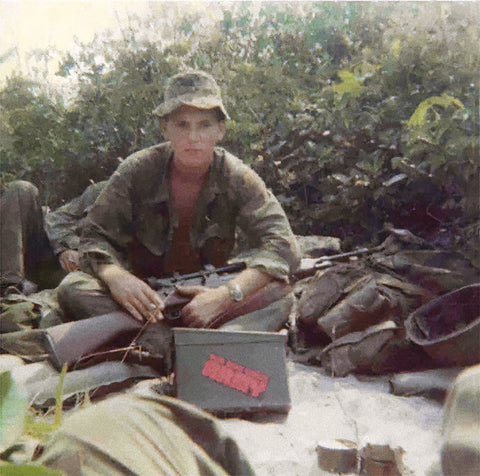 Meet the Highest-Scoring Sniper of the Vietnam War
Distinguished Service Cross with oak leaf.
U.S. Army Staff Sgt. Adelbert F. Waldron III was the highest-scoring American sniper of the Vietnam War, with 109 confirmed kills. He was also the most highly decorated, earning the Distinguished Service Cross twice, the Silver Star, and three Bronze Star Medals. Born in Syracuse, N.Y., in 1933, Waldron served in the U.S. Navy from 1953 to 1965, leaving the service as a petty officer 2nd class. In 1968 he enlisted in the U.S. Army and at age 35 completed airborne school to earn his jump wings. In late 1968 he was assigned to the 9th Infantry Division in the Mekong Delta. Upon arriving in-country, Waldron attended the 9th Infantry Division's sniper school, established by the division's legendary commander, Maj. Gen. Julian J. Ewell.
Waldron was assigned to the 3rd Battalion, 60th Infantry Regiment (3-60), part of the Mobile Riverine Force (MRF) operating on the waterways of the Mekong Delta. Waldron's better-known U.S. Marine sniper counterparts, Carlos Hathcock (93 confirmed kills), Eric R. England (98), and Charles Mawhinney (103), used bolt-action rifles. Waldron, however, used the semiautomatic M-21 sniper rifle—a 7.62mm M-14 rifle fitted with an optical scope and accurized by the Rock Island Arsenal. He frequently operated at night using a starlight scope. On several occasions he made his kills from a moving boat platform, in one case at a range of more than 900 meters.
As a Specialist 4, Waldron earned the Silver Star in January 1969 while on a reconnaissance mission in Kien Hoa Province. After establishing a night outpost, Waldron spotted enemy movement to his front. For more than three hours he engaged the VC force from his concealed position, killing 11. He withdrew only after the enemy finally detected his firing position.
As a sergeant, Waldron earned his first DSC for a combined series of 14 sniper missions during the period from Jan. 16 to Feb. 4, 1969, while serving with Company B, 3rd Battalion, 60th Infantry. On Jan. 19, while his company was being resupplied near Ap Hoa, Kien Hoa Province, they were attacked by a force of some 40 VC. Under a heavy barrage of small arms and automatic weapons fire, Waldron engaged the attacking force from an exposed position, killing a number of the VC and forcing them to break contact.
this article first appeared in vietnam magazine
Three nights later, on the night of Jan. 22, Waldron's unit was moving through an area heavily infested with booby traps. Pinpointing a VC probing force, Waldron engaged them, moving through open rice paddies from one firing position to another. By skillfully deceiving the communists as to the actual strength of the American unit, Waldron prevented a night assault by the main enemy element. Eleven days later, on the night of Feb. 3, a nearby South Vietnamese Army unit came under attack. Moving to the sound of the guns, Waldron spotted a VC element attempting to flank the ARVN soldiers. He broke up the attack with deadly accurate fire. Later that night he killed a VC who was collecting the weapons of his dead comrades.
Waldron received his second DSC for another combined series of 18 sniper missions in Kien Hoa Province from Feb. 5 to March 29, 1969. On Feb. 14, while his squad was on a night patrol near Ap Phu Thuan, Waldron observed a numerically superior VC force maneuvering to assault a nearby friendly unit. Moving rapidly from one position to another to deceive the enemy as to the strength of his squad, Waldron killed several VC and broke up their attack. On Feb. 26, near Phu Tuc, Waldron killed a VC rocket team preparing to fire on MRF boats. At Ap Luong Long Noi on March 8, when his company was attacked by a large VC force, Waldron killed many of the attackers and forced them to withdraw. As the official citation for his second DSC reads, "Despite adverse weather conditions, poor illumination and the pressure of arduous missions night after night, he repeatedly located and engaged many hostile elements, killing a number of the enemy."
After returning from Vietnam Waldron served briefly as an instructor for the U.S. Army Marksmanship Unit. He left the Army in 1970 and worked as a firearms instructor at a private paramilitary training school operated by former Office of Strategic Services operative and mercenary Mitchell WerBell. Waldron died in 1995 and is buried in Riverside National Cemetery in Riverside, California.
This story appeared in the 2023 Autumn issue of Vietnam magazine.
historynet magazines
Our 9 best-selling history titles feature in-depth storytelling and iconic imagery to engage and inform on the people, the wars, and the events that shaped America and the world.