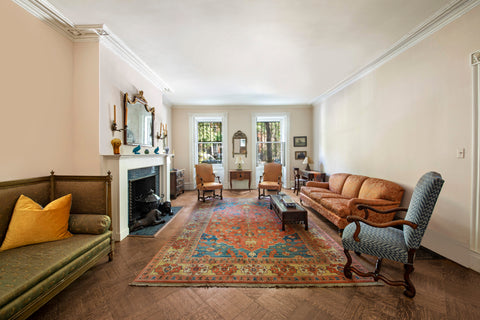 Manhattan's Oldest Home Is for Sale — Got $8.9 Million?
Want to live like historic New York City royalty? It'll only cost you a shade under $9 million.
The Federal-style building at 44 Stuyvesant Street in what's now New York City's East Village neighborhood is for sale on the open market for the first time ever. The oldest building in Manhattan used continuously as a residence, it was built in 1795 for a couple from families that bore two of the city's most illustrious names.
Recommended for you
Nicholas William Stuyvesant was the great-great-grandson of Peter Stuyvesant, the last director-general of what was then called New Netherland, and, through his mother, a member of the noted Livingston and Beekman families. His bride, Catherine Livingston Reade, was a descendant of both Joseph Reade, a prominent merchant who was a member of the governor's council and played a role in the 1765 Stamp Act (one of the events that eventually led to the American Revolution), and Robert Livingstone, a colonial assemblyman who was himself the son of the inimitable Alida Schuyler. (If you live in or ever visit New York, these names will all sound familiar to you as the names of streets and landmarks.)
Both were cousins to some of the most influential and important people in New York City and all the way up to Canada. Through Alida Schuyler, Reade was a member of the powerful Schuyler family (as in the sisters from "Hamilton"), through whom she shared ancestry with the Van Rensselaer family, Teddy Roosevelt and Eleanor Roosevelt and George H.W. Bush and George W. Bush — among many others. Stuyvesant's relatives, dead and living, include Revolutionary War Gen. Nicholas Fish, New York City Mayor Nicholas Bayard, writer Loudon Snowden Wainwright Jr. and singer-songwriter Rufus Wainwright.
Stuyvesant built the home specifically for the family he would have with Reade, on farmland originally owned by his great-great-grandfather, the 17th-century Dutch director-general. It was a big family, too: six sons and three daughters, who inhabited 44 Stuyvesant's many rooms — it is 3,300 square feet and three stories and now has five bedrooms, four and a half bathrooms and eight fireplaces. (New York City has banned the construction of new fireplaces since 2014, so if you're a New Yorker who's really into making s'mores indoors, this is the place for you.) It has many of the original features from when it was built in 1795.
In 1969, 44 Stuyvesant was among the first buildings added to the list of protected buildings by the newly created New York City Landmarks Preservation Commission, becoming part of the St. Marks Historic District, and is one only three residential buildings from the 18th century still standing in Manhattan — and the only one used continuously as a residence. The house eventually left the Stuyvesant family and was sold privately from family to family until now.
historynet magazines
Our 9 best-selling history titles feature in-depth storytelling and iconic imagery to engage and inform on the people, the wars, and the events that shaped America and the world. Sale! Save $7.99 on your subscription today!