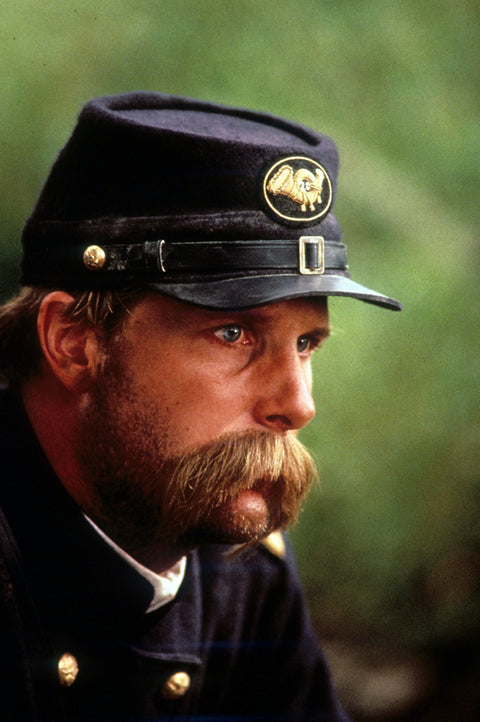 Joshua Chamberlain and Me
In the Autumn 2022 issue of America's Civil War , Thomas A. Desjardin, Ph.D. — former historian and archivist at Gettysburg National Military Park — writes about how popular culture and modernBattle of Gettysburg histories have dramatically transformed the true story of the 20th Maine Infantry's heroic bayonet charge on Little Round Top on July 2, 1863. Desjardin, who is currently working on two books focusing on the life of Medal of Honor winner Joshua L. Chamberlain, sets the record straight in our article. Among Desjardin's impressive bona fides is that he was actor Jeff Daniels' historical adviser on the 1993 movie "Gettysburg." Here, he shares his experiences working then with Daniels and the friendship they continue to enjoy nearly 30 years later.
Watching passengers disembark from the small plane out on the runway of the Portland International Jetport, I scanned each one, wondering who among them might be the personification of Civil War hero Joshua Lawrence Chamberlain. Was he tall? Did he have a profoundly overblown mustache? Would I know him by his upright military bearing? In a moment or two, I would meet the man who would become for all to see the famed Col. Chamberlain.
I had known of the actor Jeff Daniels because, several years earlier while a student at Florida State University, I had read the newspapers about a movie being filmed in town in which Daniels starred. Tallahassee was still small enough then that even a relatively modest film production made the daily papers, and one could follow along where they had shot on a given day. Seven years later, I had been in correspondence with a producer in Hollywood who was intent on bringing to film a mostly unknown novel, Michael Shaara's "The Killer Angels," that gave Mainers like me reason for great pride. The star of this production, as with Shaara's novel, would be the fellow I had been studying since I was 10 years old, having grown up 19 miles from his home nearly on the campus of Bowdoin College, my father's alma mater.
GET HISTORY 'S GREATEST TALES—RIGHT IN YOUR INBOX
Subscribe to our Historynet Now! newsletter for the best of the past, delivered every Wednesday.
Close
Thank you for subscribing!
Email
Submit
Meeting Jeff Daniels
A week or so before the plane arrived in Portland, my phone rang and upon answering I heard a voice say, "Hi, I'm Jeff Daniels and I have just been cast as Joshua Chamberlain." I briefly recalled the Tallahassee filming and wondered if he was the guy in that spider movie "Arachnophobia." I couldn't quite conjure the image of his face, but we chatted for a while, and he asked if I would show him around the best Chamberlain sites in Maine and help him prepare for his role.
Somewhere in the middle of the passengers walking across the tarmac he came into view. He was tall, no mustache, and wore plain tan khakis, a ball cap, and one of those loud, Hawaiian, flowered print shirts. We had some work to do.
From the Portland International Jetport — so named because of the one flight to Canada each week — we drove the 30 or so miles to the Bowdoin campus, the epicenter of most of Chamberlain's life. Our first stop was at the former home of Harriet Beecher Stowe, a block or two from campus, which was then an inn and restaurant. Since it was lunchtime, I figured I would make him buy me a sandwich.
HISTORY WITH HIS MEAL
But I had other motives. For one, I wanted to make "Hawaiian shirt" guy understand that the character he was playing and knew little about was more than just a local legend, little known outside the Pine Tree State. On the drive, I had dropped a few hints about Chamberlain's relationships with Mark Twain; the time Abraham Lincoln admired his horse; or how Teddy Roosevelt, with Chamberlain next to him on the platform, once told a crowd how envious he was of the Maine hero who had received his Medal of Honor in combat, whereas Roosevelt always considered his own Medal of Honor more of a symbolic gesture.
"I was greeted here by you, General," Roosevelt had said. "[T]o him it was given, at the supreme moment of the warm to win the supreme reward of a soldier. All honor to the man and may we keep ourselves envying because to whom came the supreme good fortune of winning the medal of honor for mighty deeds done in the mightiest battle that the nineteenth century saw — Gettysburg."
"Wait. He won a Medal of Honor?" Daniels asked. To which I replied: "Well, you don't 'earn' them, they are awarded, but yes he did, and you're going to play him doing it."
In July 1992, actor Jeff Daniels flew to Maine to visit historian Desjardin for his role as Joshua Chamberlain in "Gettysburg," The next month, the two met again in Pennsylvania for filming — and to take this picture. (Credit: Ned Smith)
As his expression grew more and more concerned with the challenge ahead, we stopped at the parlor just inside the Stowe House so I could lay it on a little thicker. In the small room, the owners had placed a few antiques to depict its importance.
"In this room, as a student at Bowdoin, Chamberlain sat cross-legged on this floor with his classmates and listened while the wife of their professor, Calvin Stowe, read aloud from the book she was writing in this room.
"You probably know it as 'Uncle Tom's Cabin,'" I said. "Chamberlain heard the author read it right in this room before it was published. Let's get some lunch."
Hearing a "Wait, what?" as we moved toward the dining room, I realized I had set the hook. This was not just another paying gig. He was preparing to play a very significant historical figure and in his first-ever attempt at portraying someone who had actually existed.
Over lunch, I remember sizing Jeff up and snickering a little.
"What?" he asked, almost a bit annoyed. "Well," I replied, offering my first real assessment, "You're about a foot too tall. Chamberlain was 5 foot 7, perfectly average for his time."
He did not hesitate before shooting back, "Well, he's gonna be 6-3. Some things even Hollywood can't fix."
This was an important moment because it helped me understand that Jeff was not preparing to create the real, historically perfect depiction of Chamberlain, but rather the larger than life — literally — character that existed only in the pages of a novel. The role he had been hired to play was blonde-haired, blue-eyed, 6-foot-3, and handsome because that is what the average reader conjures in their mind when they read "The Killer Angels."
Chamberlain's flaws
Over lunch, Jeff explained that he was the fifth "guy we always wanted" for the role, and that the previous five included the latest popular names like Tom Selleck, Don Johnson, even Kevin Costner before he wore the same uniform and mustache in a movie about wolves that won seven Academy Awards just two years prior. That film had priced Costner out of the "Killer Angels" market.
In numerous conversations and letters over the next several months, including some time on the set near the battlefield in Pennsylvania, Jeff and I tried to merge my thoughts about the historical Chamberlain with his knowledge of acting and filmmaking. During his trip to Maine, for example, the only people he had met were those who adored Chamberlain, but as an actor he needed some kind of flaw in his character to focus on, something that made him human. To this, I provided some background on the very complicated relationship between Chamberlain and his wife.
Chamberlain had grown up with a stammering problem that had badly affected his personality. Well into his 50s, he wrote an autobiography that included a description of how the stammer created "nervous anxiety" in him that he never completely shed even as he mastered several foreign languages and taught speech as a college professor. His wife, Fanny, on the other hand had essentially been abandoned by her parents and sent to be raised by her uncle in Maine, far away from the arts and music she loved in her native Boston. The merger of these two troubled and needy personalities was bound to have its difficulties.
"The two would have been great guests on Oprah together," I told Jeff. "Talk about issues."
Soldiers posing in a scene from the film 'Gettysburg,' 1993. (Photo by New Line Cinema/Getty Images)
HOllywood vs. broadway
While he formulated a strategy for his role, I learned a lot about filmmaking. There were New York stage actors, he explained, and there were Hollywood film actors — two very different methods. Also, he was taking a risk shifting from feature films to a television production, because "The Killer Angels" was shot as a miniseries. In television, he explained, you get two, maybe three chances at getting a scene right, then the budget says it is on to the next scene. If you have a few bad moments and the takes aren't just right, you don't get a do-over and it stays in the final product, not on the cutting room floor. In making films, the budget generally allows as many takes as are needed to get a shot just right. This four-hour epic had a budget smaller for the whole production that was about what a single major actor gets for a lead role, so the pressure was on. He would have to nail every take.
This mixture of my historical research and Jeff's professional background and approach seemed to flow — almost entirely because of the latter — especially when I was careful to not reveal certain realisms about Chamberlain that would never fly with audiences looking for the novelized hero. For example, it was probably two decades after the film aired that I finally revealed to Jeff that the real Chamberlain most likely suffered from malarial fever and dysentery at Gettysburg, as did many of his men. The primary symptom of the latter disease was violent diarrhea, something audiences just weren't ready for in their heroes in 1993. The following year, however, Jeff starred in the film "Dumb and Dumber" which included the scene for which he is now probably most well- known — and he is OK with that — "the bathroom scene" where his character endured an explosive attack of diarrhea.
After finally revealing Chamberlain's real-life Gettysburg illness, I told him, "You played the right scene, just two movies later."
New Line Cinema
CHamberlain Stayed with him
Always appreciative of the chance to portray Maine's most heroic character, Jeff did not simply move on to the next role and forget about his experience. When the movie aired in theaters in 1993, he arranged for a copy of it to be sent to Brunswick, Maine, to be shown to local audiences the night before the actual premiere in Washington, D.C. At his own expense, he flew to Brunswick and appeared at a fundraising reception between airings. The money raised that night paid for the restoration of the two-story glassed-in porch on the side of Chamberlain's historic home, now a museum.
Jeff's skills as an actor shined in the final cut of the movie, and his portrayal is perhaps the most memorable and well-liked of any among the large cast over four hours. The Academy of Motion Pictures did not give him an Oscar nod for the role, but he did get something close: Roger Ebert, one-half of the famed Siskel & Ebert duo who made reviewing movies popular, recommended him for a nomination. With a tough role to play, "Hawaiian shirt guy" did a nice job.
historynet magazines
Our 9 best-selling history titles feature in-depth storytelling and iconic imagery to engage and inform on the people, the wars, and the events that shaped America and the world.