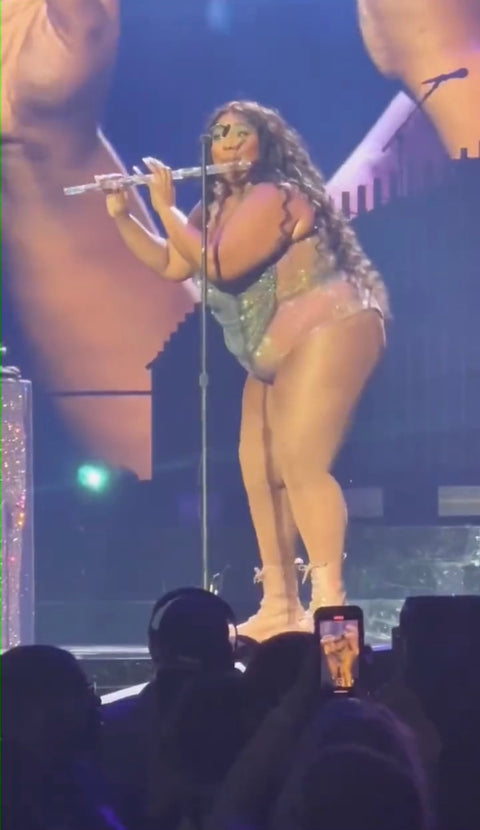 James Madison's Crystal Flute Hadn't Been Played in Centuries — Then Pop Star Lizzo Came Along
What does James Madison — the 4th president of the United States and a writer of the Constitution and the Bill of Rights — have in common with Lizzo, the pop star whose 2022 song "About Damn Time" hit no. 1 on the Billboard Hot 100 charts?
Flutes, apparently.
The backstory : Lizzo had been scheduled to play a September 27 show in Washington, D.C., so Carla Hayden, the Librarian of Congress, offered the singer and flautist the experience of a lifetime, via Twitter: the opportunity to see — and "even play" — James Madison's 1813 crystal flute.
The @librarycongress has the largest flute collection in the world with more than 1,800. It incl Pres James Madison's 1813 crystal flute. @lizzo we would love for you to come see it and even play a couple when you are in DC next week. Like your song they are "Good as hell." pic.twitter.com/2FkUFZfIYh

-- Carla Hayden (@LibnOfCongress) September 23, 2022
What is this crystal flute? It's a glass instrument devised by the Parisian mechanic Claude Laurent in the early 19th century. According to the Library of Congress, "Laurent patented his 'flute en cristal' in 1806 in France, winning a silver medal at the Paris Industrial Exposition the same year for his invention. Known for their intricate cut patterns and ornate jeweled keys, the instruments — which are functional — soon became very popular. They were owned by emperors, kings and other heads of state, including Madison."
What makes this flute in particular so distinctive is that Laurent made it specifically to honor "Madison's second inauguration. Its glass is styled in a way that Laurent seems to have reserved for especially illustrious figures, and its silver joint is engraved with James Madison's name and title and the year the flute was made: 1813," the Library of Congress continued.
It had also never been played. Until now.
During the concert, at the Capital One Arena, Lizzo — flanked by security and by curator Carol Lynn Ward-Bamford — was handed the crystal flute. To a cheering crowd, Lizzo, a famed flautist in her own right, admitted to the audience that she was "scared" to be holding a delicate piece of American history.
NOBODY HAS EVER HEARD THIS FAMOUS CRYSTAL FLUTE BEFORE

NOW YOU HAVE

IM THE FIRST & ONLY PERSON TO EVER PLAY THIS PRESIDENTIAL 200-YEAR-OLD CRYSTAL FLUTE— THANK YOU @librarycongress pic.twitter.com/VgXjpC49sO

-- FOLLOW @YITTY (@lizzo) September 28, 2022
After gingerly adjusting her fingering she began to play. Lizzo hit several notes and "trilling" — adding her own flair — her signature twerk, before carefully returning the artifact to Ward-Bamford,
"We just made history tonight!" she exclaimed. "Thank you to the Library of Congress for preserving our history and making history freaking cool! History is freaking cool you guys!
"How I should like to be in Washington this winter and play for you upon that sweet cristal flute."

Thomas Ludwell Lee Brent, a friend of the Madisons
How Did the Flute Survive the War of 1812?
Just a year after receiving the gift from Laurent, First Lady Dolley Madison faced a problem: The British were burning the new capital city during the War of 1812. She famously rescued the now-iconic portrait of George Washington on August 24, 1814, but what's less known is what else she managed to take with her.
"At this late hour a wagon has been procured, I have had it filled with the plate and most valuable portable articles belonging to the house," the first lady wrote to her sister, Lucy Payne Washington Todd.
Perhaps along with the plates, Dolley Madison managed to pack along the crystal flute?
While it's impossible to trace the location of the flute during this time, signs point in that direction.
pic.twitter.com/abm5yPoD5G

-- Library of Congress (@librarycongress) September 28, 2022
Thomas Ludwell Lee Brent, a friend of the Madisons, wrote to Dolley in 1842, "How I should like to be in Washington this winter and play for you upon that sweet cristal flute."
What is known is that the instrument ended up in the hands of John Payne Todd, Dolley Madison's son from her first marriage.
Known as a "bad boy," according to the White House Historical Association, the heavy drinker, gambler and womanizer bequeathed the flute to a one Dr. Cornelius Boyle. At the time of his death, Todd had racked up considerable debt, and it is likely that the flute was given as payment for medical services, according to Wendi Maloney for the Library of Congress.
The flute then found itself in the hands of several others throughout the turn of the century, before finding its permanent home at the Library of Congress in 1941.
For more than 80 years it has sat there, untouched. That all changed last night.
To quote Lizzo, it was "about damn time."