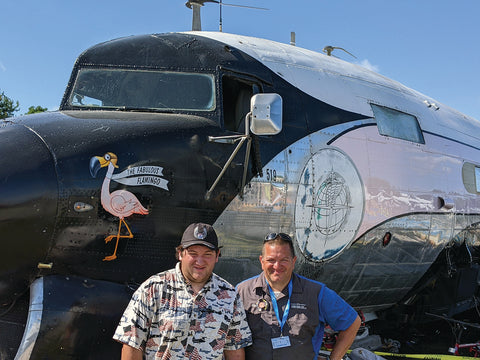 It's a Plane, It's a Van, It's the Flying Flamingo
Gino Lucci is used to getting double takes when he hits the road in his custom motorhome. After all, how often do you see the nose of a Douglas DC-3 driving down the highway? Lucci, an Air Force veteran who salvages airplanes and sells their parts through his company, Round Engine Aero, says an airplane motorhome had been a dream of his since he saw something similar on a TV show as a kid. The dream began coalescing after his son, Giacinto Jr., found the DC-3 (actually an R4D, the Navy version of the Army's DC-3-derived C-47) in Missouri, where the retired Federal Aviation Administration airplane had suffered damage from a tornado, and the elder Lucci spent about a year and a half persuading the owner to sell it. Sale completed, Lucci and his son got to work in May 2019 to mount the severed nose section onto a truck chassis so that the slightly twisted fuselage would be stable on the road. Lucci calls the process "hillbilly scientific." He says, "Okay, so it's not on the frame straight, but aerodynamically, she's about as good as you're going to get." It took 14 months of work, but the Luccis had the hybrid vehicle ready for its "shakedown" cruise in 2021, when Lucci drove it from Michigan to Texas, back to Michigan and then all the way to Maine and back. Sometimes dreams do come true.
Here are some photos of the "Flying Flamingo" as it appeared at the EAA's 2022 AirVenture in Oshkosh, Wisconsin. Click on a photo to see the full image. (Photos by Tom Huntington)
The van at Oshkosh, surrounded by artifacts Lucci has for sale.
Front view.
Not your average front seat.
More detail from the "cockpit."
A faded logo, probably from the airplane's days with the FAA.
The current logo.
The port side.
Gino Lucci (right) and his son Giacinto Jr.
this article first appeared in AVIATION HISTORY magazine
Facebook @AviationHistory | Twitter @AviationHistMag