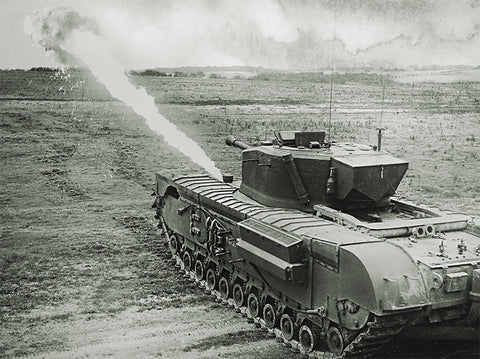 Is It a Tank or a Flamethrower? Answer: It's Both
The British first began experimenting with armored flamethrowers as early as 1915, but didn't fully develop the weapon until just before World War II. After several early efforts, they finalized the Churchill Crocodile, a variant of their standard Churchill VII tank and one of Major-General Percy Hobart's specialized armored vehicles known as "Hobart's Funnies." Production began in October 1943; the flamethrowing tank was available for D-Day the following June and was used extensively by Britain's 79th Armoured Division in support of the Allied march to Germany.
The Crocodile's distinctive wheeled trailer pumped thickened fuel through a hinged coupler to the main tank; the ignited flame shot out from a nozzle on the front of the hull. While it may at first look cumbersome, the mobile Crocodile soon emerged as a highly feared weapon. Although this helped elicit quick surrenders, it also made the tank a primary target for enemy gunners, and reports emerged of Germans summarily executing captured Crocodile crews in retaliation for the terror the tank inspired. The Crocodile was withdrawn from service in 1951.
this article first appeared in world war II magazine