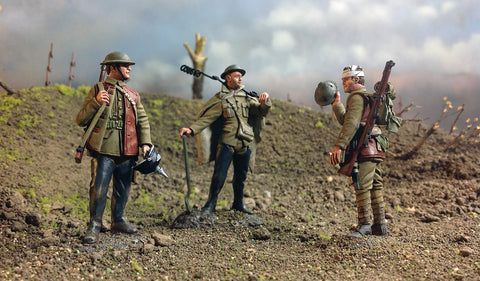 How W.Britain Has Been Making Model Soldiers—For 130 Years
As time marches onward, some people might be tempted to think that military history lives increasingly in the world of books and old photographs. Yet the ingenuity of W.Britain Model Figures allows people to literally grasp history in three-dimensional form.
"For us at the creative end, it's the research for evidence, accuracy, and when it's about historical items, use," said Ken Osen, company president. "What technology brought it about? How was it made? How often was it used? What color was it? How heavy was it?"
Together with his wife Ericka, company co-owner and manager of sales and marketing, Ken gave MHQ an inside look at the magic that has been transporting military history into people's homes for 130 years.
"Ericka and I both have had a long history since our teenage years with historic sites and a lot of our friends are museum professionals," said Ken. "Seeing real things, handling real items, working with museums and private collectors, even doing a little collecting ourselves, making reconstructions for living history or museum exhibits—we've had a lot of hands-on experience."
"Some people like to look at what we do as being almost anachronistic, but it's amazing—we have incredibly young collectors. Some of them start with their grandparents giving or buying something for them," he said. "Our collectors range from age 8 to 80 plus."
Two World Wars And Transatlantic ties
A household name in the military figure industry and arguably the most well- known toy company in the history of the United Kingdom, the company became famous after William Britain Sr., a former brass clock maker, began producing hollowcast soldier figures in London, England in 1893.
Using the hollowcasting technique, W. Britain created military figures with hollow centers as opposed to ones completely made of lead, which made the toys less expensive to produce and gave W.Britain an advantage over German toymakers who dominated the industry at the time.
W.Britain pioneered the hollowcasting technique in making toy soldiers to become a household name in military models. (Courtesy W.Britain)
The small family-owned business persisted despite two World Wars and, after changing hands a few times, is now a small family-owned business based in the United States. "Things have changed," said Ken, an admirer of W.Britain figures since he was young. "I never dreamt as a little boy that I would actually have some ownership in the brand."
The company still has close ties with the United Kingdom and continues to produce figures reflecting British military regiments and traditions. The figures are sold in many British museums and historical institutions, and the Osens travel to England every year. Ericka herself, who grew up in Canada, appreciates the British tradition—one of her favorite figures produced by the company is a glossy figure of King George III on horseback in 1798. "It's the only figure that sits on my desk," she said.
However, having gained an American perspective, the company has created a harmonious blend of military history across the Atlantic. "We're recognizing things beyond the British colonial experience," said Ken. "We start our own British colonial experience in the 18th century when this was British North America, but we fast forward all the way up to into the Vietnam period and will probably go beyond."
Materials and methods
Toy soldiers have been a common thread throughout both of their lives. Ken was a longtime hobbyist and military history enthusiast and Ericka was a longtime museum professional. "We met because of toy soldiers," Ericka said. "I first met Ken when I was 16 years old working at a historic fort in downtown Detroit. My boss was Ken's best friend, and Ken met him through toy soldiers." After running into each other again after many years had passed, they got married and now work as a team to make history come alive in colorful miniature figures. They have mastered the extremely ambitious goal of recreating world-famous battles and commanders in miniature form.
"Although we're moving into the digital age, even in our own designs, most of what we do is still in a very traditional way that would be familiar to an 18th or 19th century craftsman sitting on a bench," said Ken.
Ken and Ericka Osen are the driving creative force behind W.Britain's collectible figurines. They and their team faithfully recreate historical scenes and figures from across the span of world and military history.
The company was known for over a century for its classic glossy toy soldiers sold in red boxes. "When the company was still in England, they still did the traditional technique of engraving directly into a steel mold, which was great for a stylized toy," said Ken. "Metal is durable. It allows a lot of figures to balance and stand up on surfaces that may not be perfectly flat like glass. It's a traditional material."
Plastic toys overtook metal in the mid-1960s, but 30 years later, new stylized metal figures were released—no longer toys for children, but aimed at adult collectors. "For a collectible, versus a toy, it's a mixed media," said Ken.
Materials like photo-etched brass, stainless steel, injection-molded plastic, and hand-cast resins can be used in combination to create figures and objects to accompany them. Although W.Britain offers a selection of plastic safety- tested toys today, the majority of miniatures are made primarily of metal and designed for collectors.
The Creative Process
Creating each figure is a complex process which requires in-depth research and painstaking attention to detail. "It starts with the books, looking at real things, miniaturizing everything, then of course producing it," said Ken. "A good research library or feeling comfortable going to an institution to do a little bit of digging in primary sources is probably most important."
He and Ericka noted that the creative process is a team effort. "We're blessed with a very creative staff," said Ken. "We have long relationships with most of the people we work with."
Generals George S. Patton, Dwight D. Eisenhower, and Omar Bradley in minature.
Their research work brings them into contact with a vast array of historical experts across different cultures and continents, such as archaeologists, anthropologists, Native American tribes, artists, museum curators, historical reenactors, and other researchers. It is time-consuming, but essential.
"Research equals respect," said Ericka. "We do the research because we respect the work that the soldiers themselves did. Every figure we do, be it a soldier or civilian, reflects someone who lived their life, and we're trying to show that and be respectful of that."
Historical accuracy also requires a lot of books—the couple has a combined library of about 6,500 reference books, and counting. But, as with most history lovers, books are not a problem for them. "We're museum junkies and bookaholics!" said Ericka.
Artifacts prove very useful in studying historical time periods, especially from eras when photography was nonexistent. They examine artifacts from both public and private collections whenever possible. Sometimes artifacts are nonexistent or inaccessible, which makes research more arduous.
Making the Figures
"In some cases, either original or reprinted manuals need to be referenced to understand basic infantry drill and tactics to properly pose figures in 18th and 19th century collections," according to Ken. "Although it can be fairly dry reading, it often removes any mystery and dissolves misconceptions about why things were done the way they were in the past."
After research is done, the next step is to create the figure. Sometimes reenactors in period clothing assist with modeling. In other cases, historical photographs, such as from World War II, provide inspiration.
"The more dynamic a pose is, the more we need to think about how it will be molded in production," said Ken. He also improvises based on his own creative vision.
Historical scenes and photographs can serve as inspiration for particular figures, such as these recreations of Waffen-SS troopers during the Ardennes offensive of 1944.
"It's a real tactile hobby. Most of what we design is either sculpted in wax or epoxy putty over a little armature of wire," said Ken. "I've been using that for 30-plus years. It was originally developed for repairs in industry and it's a really great material."
Layers of two-part, self-curing epoxy putty are applied over substructures of wire or shaped plastic. Sometimes clay is also used. At times, parts of figures from earlier projects are used and adapted when possible to speed up the process.
"Each layer can be built up with dental tools as the first layer hardens creating crisp and durable details," said Ken, who usually works on several figures at a time as various layers harden.
"Ken never works on just one figure alone. He usually has a group of about seven. Because the epoxy putty hardens over time, and he usually has a 45-minute window where he can work with the epoxy putty, he will have a little assembly line of soldiers in front of him," said Ericka.
Heads and faces are a special art form unto themselves. Many hours are needed to capture an individual likeness, especially of famous personalities. "These small personality heads take almost as long to sculpt as a complete figure," said Ken. Sometimes the figures turn out differently than planned as a result of creativity and imagination. "It is not unusual to have a figure take on a personality," he said, "and that often means that the finished item is a bit different than originally envisioned."
Engineering and Molding
After completing a sculpted figure, the next step is to engineer it—meaning to cut it up into small parts to prepare it for the molding process. Afterwards they create molds from silicone. "If you've had dental work done, then you know what an impression is where they take a mold of your teeth. We use the same material to make a mold of our figures," explained Ken. "Once we have that mold, we pour some resin into it, which is like a plastic. Once that cures, we can take exact duplicates of each one of those parts out of the mold, clean it up, put it together, and then we'll paint it exactly the way we want."
Each figure comes to life with the touch of a human hand. "We still hand- paint, and not just the control pieces. Every single piece that a collector acquires has been hand-painted by an artist at some level, whether in a factory level, studio level or individually here if it's one of a kind," said Ken.
The silicone molds allow for duplicates to be made for engineering into smaller components for manufacturing. "One set is usually painted by one of our artists to use as a paint master for production," said Ken.
All W.Britain figures are still hand-painted by artists.
After more copies are made, the soldiers are transformed into metal. This process requires a different kind of mold made of vulcanized rubber. "The reason we use material like that is to withstand the heat of the metal being cast into it over and over a few hundred times," said Ken. "The hard rubber mold is then used to make metal copies of all the same parts. They are again cleaned up, assembled—often by soldering—and then those are primed and hand- painted."
A clear protective coating is applied after the figures are hand-painted. The team also designs boxes and informational cards, and the newly created figures are captured through photography. Figures can be produced from a few hundred up to many thousands. After being manufactured offshore, they are returned for quality control before being distributed to wholesalers and directly to collectors.
Vast improvements with vulcanized rubber molding beginning in the 1980s revolutionized the way the metal figures were made. "We were able to do much better detail in the figures," Ericka said. It also opened doors for a new look for the soldiers. "The more realistic sculpt required a more realistic paint, and that's where the matte ranges have come in."
Types of ModelS
However, the shiny figures that W. Britain originally became famous for have not gone out of vogue—they are still extremely popular and in demand today. "We've made our ceremonial figures, diecast in metal molds, for decades now. Those are predominately a souvenir. They can be bought in London at royal palaces and souvenir shops," said Ericka.
"The next most traditional type is our regiment range. These are metal figures with a gloss finish. All early toy soldiers were glossy because they used an enamel paint, and enamel is usually high gloss paint."
The soldiers continue to capture the hearts of collectors, from history lovers looking for representations of a certain person or time period to those who want to recreate or reimagine specific battles or scenes in time.
In addition to soldiers, more civilian figures are being offered to appeal to new types of collectors—including women—and to enrich existing collections with realism and diversity. "We've added a female reservist for the U.S. Marines in World War II, Rosie the Riveter, and Civil War nurses. We'll continue on that trajectory and add more females, because they are relevant, in every part of history, and not just in a civilian capacity," said Ken.
There are also endless opportunities to recreate famous figures from all across history. "I could go down a list of superstars," said Ken, noting that George Washington, Winston Churchill, Teddy Roosevelt, Napoleon Bonaparte and Civil War leaders are among the most highly popular historical figures. "We recently licensed a likeness of George S. Patton from the family, so we're doing Patton."
W.Britain started out with glossy figures of British soldiers, which remain popular.
Another extremely popular figure is Queen Elizabeth II. "Sadly, the day that we heard the news that Queen Elizabeth II had passed, we had just finished painting the master [figure] of her as Princess Elizabeth in her Army Territorial Service (ATS) uniform as a young woman in World War II," said Ken. "That figure will be introduced really soon. We're going to go back and respectfully visit her at later points in her reign, too. There'll be more Queen Elizabeths cropping up."
Sharing a love of history
As to how they get ideas for new figures and sets? "We sometimes have collector requests. Sometimes popular culture will drive interest. A good example would be when the movie Gettysburg came out, a whole lot of people were interested in the battle of Gettysburg," said Ken. "When Saving Private Ryan came out, there were a lot of young people that were really introduced to World War II in Europe. Same thing with the great HBO miniseries The Pacific, or Band of Brothers. Those films and shows really resonate. It passes the torch visually and through personal stories to a younger generation versus the firsthand accounts that were often related to us by veterans."
One highly rewarding part of their work, according to the couple, is positive feedback from military veterans—especially those who have served in conflicts represented.
"We had a pretty touching letter from a recipient of a figure a few years ago. It was unexpected," said Ken. "It was a former Marine who had served in Chosin Reservoir in Korea from 1950-51. His granddaughter had bought him one of our Marine figures dressed in the parka and with the heavy boots and such. He admitted he would never have bought it for himself. When he opened it up and took the figure out of the package, he said he looked at those boots and that they were exactly right, and he remembered how much he hated them—and that he looked at the shelter half and backpack and could hear it frozen and flapping in the wind above his foxhole. I thought, 'Wow! There is a vote of confidence in our research and why we do it.'"
Ken said that the lovingly crafted miniatures, each touched by a human hand, can do much to educate people about the human experience in wartime and at different points in history.
"The most important lesson we would project to anyone is that history is just us in a different time. People felt the same. They had the same needs and desires," he said. "They may have emotionally or psychologically processed things differently, for religious, cultural reasons or lack of understanding—but someone was cold at some far-flung outpost. Hunger is hunger, and so is a desire to do better, or be happy, or comfortable or safe. All that's the same. History is just us over time with different technologies and in different places."
In keeping with their long tradition, W.Britain hopes to pass on their passion for history to future generations as collectors continue to pursue their interests in history and share them with others in their lives.
"It's an incredibly small group of people, really, in the world that still have the hand skills and desire to invest the time, and have the passion to do this kind of work as far as fulltime careers," said Ken. He noted that young people are being drawn into the world of creating figures through models for fantasy and wargaming. "There are some people that are moving into it. We're always looking for young people to embrace this sort of thing, and they're out there."
Although he imagines that technology will change the process of creating model soldiers in the future, Ken believes that it will always require a human touch—whether through research, design, or decoration. "At the end of the day, the end user will pick it up and hold it," he said. "The experience at the end will always be the same—someone opening a box, or whatever it may be in the future, holding this thing in their hand, turning it around, looking at the colors, shapes and tiny elements, and trying to imagine what it was like."
this article first appeared in military history quarterly