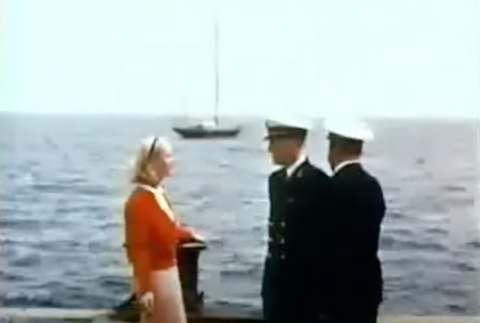 How to Date a Blond (According to the Navy in the 1960s)
Blonds have more fun.
Yeah, yeah, yeah, we know. But according to this U.S. Navy training film, they also prefer gentlemen.
Shocked, I tell you.
The 1968 film came off the back of the Navy's previous year's smash hit, "How to Succeed with Brunettes."
This time the Navy was back and better than ever — and perhaps even saucier — with leading comments about how young midshipman Charlie would "very much like to know the blond better … much better."
Will he succeed? Only time would tell.
Charlie's smarmy character is pleasantly offset by gentlemanly Jack, who also has designs on the young, attractive blond — Jack just has a different game plan.
The blond in question — the producers never deigned to give her an actual name — attends not one, but two separate dinner parties hosted by the exact same people.
The dinner parties are like the hometowns in "The Bachelorette," only much, much worse.
From there we learn the do's of etiquette from Jack and the very-much-don'ts by Charlie, whose initial gregariousness turns noxious as he stuffs his gullet with more tea sandwiches than one would think possible.
The only time in the night one might be Team Charlie is when the voiceover mocks him for his love of butter. Despite the fact that 68% of the world is lactose intolerant, we don't know Charlie's life. Let the man eat his dairy.
From ignoring the blond (OK, that tactic might actually work on this particular woman) to openly talking with his mouth open (OK, nope. Never mind. Nix that), Charlie rounds all the bases on what to do if you don't want a second date.
But who knows, he might not actually want to get to know "the blond better … much better" at this point.
So, who does the blond pick? Stick around and find out:
We may never learn the true impact that "Blondes Prefer Gentlemen," had on young sailors. But in a 1981 "60 Minutes" piece on waste in government filmmaking, "How to Succeed with Brunettes," along with this 1986 gem, won the show's award for most unnecessary and wasteful film — at a cost of $64,000 to taxpayers, which is $567,513 today.
Either way, not a cheap date.
historynet magazines
Our 9 best-selling history titles feature in-depth storytelling and iconic imagery to engage and inform on the people, the wars, and the events that shaped America and the world.