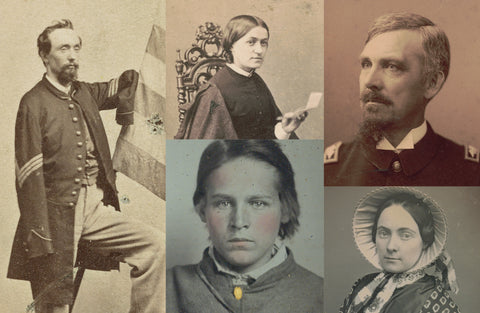 How This Digital Map is Connecting Civil War Faces to Places
The Library of Congress in November debuted an online exhibit mapping hundreds of portrait photographs from the Liljenquist Collection to events of the Civil War, including images of soldiers linked to the battles where they fought and died. The interactive map encompasses more than 100 battles, from Gettysburg and Antietam to lesser-known skirmishes. The faces of nurses are connected to the sites where they cared for the wounded. Prisoners of war are associated with the camps that confined them.
Some of the portraits are mapped to more than one location, if, for example, the person was present at more than one battle. Likewise, there might be more than one portrait of the same person mapped at a location if multiple photographs of them exist in the collection.
The Liljenquist Collection at the Library of Congress features more than 3,000 portrait photographs, including ambrotypes and tintypes, and small card photos known as cartes-de-visite of the men and women who served during the war for both the Union and Confederacy. Among those represented are African Americans, sailors, nurses, veterans, and soldiers posed with family members.
The Liljenquist family began donating its collection to the Library of Congress' Prints & Photographs Division in 2010 with an initial gift of more than 700 ambrotypes and tintypes. Since then, Liljenquist and his three sons—Jason, Brandon, and Christian—have continued to build the collection to include albumen photographs and cartes-de-visite, manuscripts, patriotic envelopes, letters, and artifacts related to the Civil War.
The interactive map allows users to zoom in to view locations in more detail and click to see associated portraits. Locations on the map show places where people in the images were and not where the photographs were taken, in most instances. For more information about each photograph, users can click on the thumbnail image to view details about the item.
This article first appeared in America's Civil War magazine