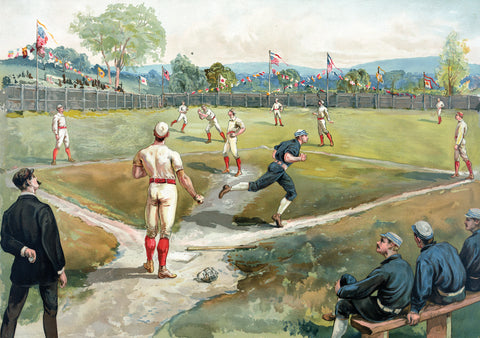 How Team Owners Played Dirty Trying to Thwart Player's Unions
In 1892, Andrew Carnegie's steel plant at Homestead, Pennsylvania, across the Monongahela River from Pittsburgh, was booming while thousands of steelworkers were toiling there seven days a week 12 hours a day and enduring unsafe conditions and a 22 percent pay cut. The Homestead workers went on strike, leading to a 12-hour gun fight with 300 armed Pinkerton agents that killed nine workers and three guards.
On Strike, Shut It Down. Steelworkers at Homestead, Pennsylvania, took up arms as they tried to close the Carnegie works. (Bettmann/Getty Images)
Shortly after the Homestead battle, the Brooklyn Grooms baseball team arrived to play the Pittsburgh Pirates. Led by John Montgomery Ward, charismatic leader of the sport's first players union, the Grooms were visiting Homestead to show solidarity with the strikers. Their escort was Pirate star pitcher Mark Baldwin. City and state authorities arrested strike leaders, charging them with conspiracy, riot, and murder. Alleging similar crimes, officials soon rounded up another 160 individuals, including Baldwin, who admitted having been present during the steelworks violence but only as a spectator. The Pittsburgh Dispatch printed rumors that Baldwin had "furnished his fellow citizens with two Winchester rifles on the memorable morning of the battle." For lack of evidence, Baldwin avoided trial. A week later, Pennsylvania Governor Robert Pattison declared Homestead under martial law, and 8,000 state militiamen arrived to back Carnegie, who staffed his factory with non-union workers and broke the strike.
The Homestead strike showcased a new class of worker activist amid the labor turmoil of the Gilded Age: professional baseball players. Baldwin's roots were in Homestead, where he grew up a steelworker's son and steadfast labor supporter. At Pennsylvania State University and then with amateur teams, he pitched and played shortstop. In 1886 he signed with the Chicago White Stockings of the National League, becoming a star until he demanded a raise and owner Albert Spalding fired him. Blackballed by every team in the league, Baldwin joined the Columbus Solons of the rival American Association. He bolted again in 1890, when ballplayers themselves formed the Players League, made up of teams jointly owned by its athletes and at least one investor. Baldwin became the key recruiter for the Chicago Pirates, encouraging fellow players to jump from other leagues. In 1890, he led the Players League in wins (33) and strikeouts (206).
To the Victors, the Spoils. John Montgomery Ward, right, presents a championship cup to Roger Bresnahan as New York NL players look on. (FAY 2018/Alamy Stock Photo)
Throwing Hard. Player-activist Mark Baldwin, son of a steelworker, grew up in Homestead and embraced the union cause from an early age, putting him in diametric opposition to team owner Spalding. (Library of Congress)
Baldwin was among players who recognized the exploitation in professional baseball, which emerged in the Gilded Age, an era marked by the rise of corporate monopolies, the concentration of wealth and power in elites, and the proliferation of urban factory work. Those on the well-upholstered side of that divide regarded the imbalance between industrialist and wage earner as "social Darwinism," with survival going to the fittest. Steel titan Carnegie and fellow robber barons felt entitled to use force against those who resisted. Control over baseball players would follow but in a more legalistic guise. A handful of players, sensitive to labor struggles, fought back.
In 1866 theNational Labor Union (NLU) became the first large- scale organization to reach across industries and unite skilled and unskilled laborers, farmers, and factory workers. Against blacklists, lockouts, goon squads, and yellow-dog contracts that required workers, on penalty of dismissal, to promise not to join a union, the National Labor Union fought for higher wages, shorter hours, better conditions, and pro-labor legislation. Another union, the Knights of Labor, organized workers across lines of race, ethnicity, gender, and occupation. The Knights campaigned for an eight-hour day, restrictions on child labor, and worker-run cooperatives.
In 1877, during a depression, West Virginia railroad workers, in response to wage cuts, struck. The West Virginia walkout spread to Maryland and Pennsylvania; strikes multiplied nationwide. The Great Railroad Strike—the first mass action involving so many different workers—was violently suppressed, but union membership grew. In 1886, Knights membership was 750,000 when a bomb thrown at a labor rally in Chicago's Haymarket Square killed several workers and policemen. Labor's reputation sank. Union ranks declined. A new organizing approach emerged with the American Federation of Labor (AFL). Led by Samuel Gompers, the AFL dropped the cooperative party line to focus on skilled, White, male craftsmen. For its fraction of America's working class, the AFL won significant victories in pay, hours, and working conditions.
Albert Spalding (GL Archive/Alamy Stock Photo)
First-generation baseball owners viewed themselves as entrepreneurs exploiting an increasingly lucrative industry. Spalding claimed that between 1895 and 1889, the eight NL teams made a total of at least $750,000. That translates into an annual $562,900 profit per team in 2022 dollars. Emulating the robber barons, baseball owners saw their profits as rooted in controlling wages set by skinflint contracts. Owners colluded and incorporated the reserve clause, which bound ballplayers to teams, into every contract. Pocketing triple their profits in the 1880s, owners in those years nevertheless skimped on salaries, required players to perform unpaid duties such as taking tickets, cleaning stadium seats, and grooming the field. Teams also charged players for meals. The leagues were no different from other industries, fighting attempts to organize ballplayers with penalties, intimidation, blacklists, Pinkerton spies, and docking pay.
Players initially went along. But, realizing their worth and chafing at managerial mistreatment, ballplayers, galvanized by John Montgomery Ward, began to organize. Born in Bellefonte, Pennsylvania, in 1860, Ward attended Penn State and in 1875 helped that school develop its first baseball team. Pitching for semi-professional teams in Pennsylvania towns hot with pro-labor sentiment, Ward joined the National League's Providence Grays in 1878. Immediately a star, Ward pitched Providence to the 1879 pennant, that year going 47–19 with 239 strikeouts and a 2.15 earned-run average. In 1880 he pitched a perfect game and in 1882 an 18-inning complete game shutout. An arm injury took him off the active roster, and in 1884 the Grays traded him to the New York Gothams. Throwing left-handed, Ward became the club's starting centerfielder. In 1885, the Gothams, renamed the Giants, had Ward, right arm healed, starting at shortstop and batting left-handed to be closer to first base. He was the only major league player to win more than 100 games as a pitcher and to get more than 2,000 hits. He stole 540 bases and drove in nearly 1,000 runs. He managed the Giants, played on two more championship teams, and became a successful baseball executive.
Half a World Away. Above, Spalding, center in suit, with the Chicago White Stockings in Melbourne, Australia, as National League teams were circling the globe in the off season. (Photo by Mark Rucker/Transcendental Graphics/Getty Images)
Ward also learned five languages, wrote for newspapers and magazines, published a book, and completed a B.A. and a law degree at Columbia University—all while suiting up. His legal training alerted him to the standard baseball contract's unfairness. The American Association set out to rival the National League, but by 1883 both leagues were cutting pay, imposing terrible working conditions, and undermining player value and mobility. In 1885, Ward organized the Brotherhood of Professional Baseball Players, the first athletes' union. In his 1887 Lippincott's article "Is the Base-Ball Player a Chattel?", he accused owners of "wage slavery" and likened players' situation to the recent days of chattel bondage. The reserve clause in all player contracts was "an inherent wrong, for by it one set of men seized absolute control over the labor of another," Ward wrote. "And the blacklist was waiting for any man who dared assert the contrary."
John Brush ( Library of Congress)
Following the 1888 season, de facto National League president Spalding organized a World Baseball Tour by a team of star players, including Ward, to spread "America's game"—and expand Spalding's sporting-goods empire. While Ward was barnstorming abroad, the league imposed the Brush Classification Plan, named for its creator, baseball team owner John T. Brush. The plan capped and lowered players' wages, set salary classes to stir jealousy among players, ranked players by off-field conduct as well as abilities, and allowed their release on only 10 days' notice. The Brush plan infuriated Ward. His rage grew when he learned the Giants had sold him to the Washington Nationals for a record $12,000. His threat to quit if he wasn't paid a portion of the proceeds nullified the deal. Ward began organizing fellow players while leading the Giants to their second straight championship in 1889.
Ward reasoned that since players, not owners, produced the game's profits, players should share equally in the proceeds and control their destiny. Rather than strike, in July 1889 he and other players founded a league of their own. Codifying the Players League's ethos, Ward issued "The Brotherhood Manifesto," observing that owners' eyes "are upon the turnstile. Men have come into the business for no other motive than to exploit it for every dollar in sight . . . Players have been bought, sold and exchanged as though they were sheep, instead of American citizens."
this article first appeared in American history magazine
Facebook @AmericanHistoryMag | Twitter @AmericanHistMag
In Players League clubs, players shared in managerial duties and profits. Eight-member boards comprised of four players and four investors ran the league's eight teams, and a senate, equally representing players and investors, governed the league. Players owned team stock and clubs divided revenue evenly. Contracts included no reserve clause; there was no classification plan. Player contracts ran three years and trades required a player's consent. Three-quarters of all National League players and the top stars in both leagues jumped to the Players League.
In 1890, the new league's first year, Congress enacted the Sherman Anti-Trust Act to restrain corporate monopolization. The Sherman Act outlawed curbs on free competition and commerce across state lines—until a conservative U.S. Supreme Court voted to exempt corporations from trust busting and instead targeted unions.
Triple Threat. Outfielder, catcher, and lawyer James "Orator" O'Rourke in 1894 after his Giants again won the world championship. (Photo by Mark Rucker/Transcendental Graphics/Getty Images )
Though corporations operated across state lines, the Court claimed these enterprises to be engaged primarily in in-state manufacturing, putting them outside Congressional authority over interstate commerce. Unions, according to the Court, were "combinations" whose work protests limited production and limited goods crossing state lines, thus subjecting them to the Sherman Act.
Ward ran the union , recruited investors and players, rented ballparks, created a league schedule, handled press relations, and battled the baseball establishment's counterattack—all the while serving as player-manager for Ward's Wonders, the Brooklyn Players League team. In the 1890 season, he hit .335, stole 63 bases, led league shortstops in assists, and piloted his club to second place.
Ward had crucial support. James O'Rourke, son of Irish immigrants, had joined the Boston Red Stockings in 1873. After returning with the team from a European tour, owner Arthur Soden charged each player on the tour $100 to cover what Soden claimed were his losses on the trip. O'Rourke balked but paid—the last time he gave in to an owner.
In 1876, the Red Stockings joined the National League. O'Rourke would not sign the proffered contract, protesting a three-year freeze the deal would have imposed on his salary. Prevailing despite the risk of a blacklisting, he doubled his pay. When Soden tried to dun players for meals on the road, O'Rourke refused. Soden relented. In 1878, O'Rourke protested Soden's policy of housing the team in fleabag hotels, slashing meal allowances, making spouses pay to attend home games, and charging to wash uniforms. In September 1880, trying to avoid having to pay October salaries, Soden disbanded the team. O'Rourke sued and won a settlement.
O'Rourke's older brother John was also a gifted baseball player. The brothers enjoyed playing together on the Red Caps, but John eventually dropped out of baseball to work as a railroad baggage handler. He continued the O'Rourke activism as an organizer with the Brotherhood of Railway Trainmen, which represented 20,000 brakemen, switchmen, yardmasters, conductors, and baggage handlers, hundreds of whom died each year on the job. To reduce that human cost, John O'Rourke helped lobby Congress to mandate automatic brakes and couplers on freight trains. In 1910, the brothers joined a protest march by 800 rail union members through the streets of Los Angeles, California.
James O'Rourke's resonant self-representation helped other players see that owners weren't deities. In 1885, O'Rourke agreed to join the New York Giants—if he were exempt from the reserve clause and if the team paid for his off-season legal education. Enrolling in Yale Law School, he coached the Yale baseball team to a winning season. The eloquence that had gotten him dubbed "Orator" only improved. O'Rourke's Yale studies intensified his activism. He helped Ward form the Brotherhood of Professional Baseball Players in 1885 and took the lead in recruiting players and campaigning for the Players League through his ties to civic organizations.
Another Ward lieutenant , Tim Keefe, was born in 1857 to Irish immigrants in Cambridge, Massachusetts. He followed his father into carpentry as an apprentice, in his spare time playing ball. He began playing professionally in 1878 and in 1880 joined the Troy Trojans. Keefe and Ward met playing winter ball in New Orleans, Louisiana, where they discussed pitching strategy and their ire at the reserve clause, which the Trojans invoked against Keefe for the 1881 season, forcing him to accept $1,500 for two seasons.
"I was considered a robber because I tried to hold out for $2,100," Keefe recalled. He jumped in 1883 to the New York Metropolitans in the new American Association, which had not yet adopted the reserve clause. In time Keefe became one of baseball's most dominant pitchers. He wrote two pitching manuals and, during the off-season, mentored pitchers at Harvard University, near his home, eventually doing likewise for teams at Amherst, Dartmouth, Williams, Princeton, and Tufts.
O Say Can't You See… Shut out of the stadium grandstands, masses of New York area baseball fans crowd the margins of the Polo Grounds during an 1890 Players League game. A man at right uses a wagon to gain an edge. (Photo by Mark Rucker/Transcendental Graphics/Getty Images )
In 1888, Keefe led the National League in victories, winning 19 games in a row, still a single-season record. He held out again for a raise for the 1889 season; the Giants finally relented. When owners capped salaries and refused to negotiate with the union, Keefe attacked "the arrogant despotism of these dictators," insisting that "the players will revolt against the contemptuous disregard for their rights as men and laborers."
Ward and Keefe were earning large salaries—$4,250 in 1889; today, $133,000—but as sons of the working class both men identified with the average player. Ward became Brotherhood president. Keefe served as the union's secretary and treasurer, overseeing recruitment. He also drafted the 1890 Players League profit-sharing plan, coordinated ballpark building, and handled the press.
Timothy Keefe (Library of Congress)
The union's nemesis was White Stockings owner Spalding. When the Players League recruited National League players and began outdrawing the establishment league, Spalding and other owners sued jumpers for breaking their contracts. Judges found the contracts unfair, whereupon Spalding formed a "War Committee" whose members bribed reporters and circulated anti-union propaganda. Owners labeled the Players League "hot-headed anarchists," "socialists," and "ultra-radicals." Renowned sportswriter and Spalding employee Henry Chadwick called unionized players "terrorists" and condemned Ward as the mastermind of the "secessionists," invoking the Confederacy's treason.
Labor leaders, including AFL president Gompers, backed the league; some member unions fined workers caught attending nonunion games. Although the maverick league was outplaying and outdrawing the establishment leagues, owners had deep pockets. Spalding appealed to Players League investor-directors' avarice, promising them outright ownership of new teams in a reconfigured National League. Enough investors went for the bait that the Players League, overly dependent on outside capital, folded after one season.
Spalding and other team owners quickly killed off the American Association, effectively reinstating the National League's monopoly.
Between 1891 and 1893, owners slashed player salaries 40 percent, blacklisted labor agitators, broke long-term contracts, reinforced the reserve clause, and commandeered minor league teams for replacement labor to intimidate players and discourage activism. Debuting in 1901, the American League initially challenged the established order, but the two leagues soon joined forces to reinforce the reserve clause and other player restrictions.
Having foiled the Players League challenge , baseball owners in 1922 tightened their grip, thanks to a ruling by the U.S. Supreme Court that exempted professional baseball from anti-trust laws, characterizing the sport not as a business but as an "amusement" that focused on "giving exhibitions of baseball, which are purely state affairs" outside of interstate commerce. As a legal monopoly, the leagues could and did block creation of new teams, increasing existing clubs' value and profits.
O'Rourke returned to the Giants, ending his ballplaying career in 1893 as the Washington Senators' player-manager. He batted .311 over 21 seasons playing outfield and catcher. His 2,678 base hits rank second among all 19th-century players. O'Rourke returned to his hometown, where he created the minor-league Bridgeport Victors, as well as the Eastern Association (née Connecticut State League). He was the Bridgeport club's player-manager for eight years while practicing law and overseeing his real estate interests. In 1895, he lost a close election running as a Democrat for the Connecticut state legislature.
We Are the Champions. The 1888 National League champion New York Giants included Tim Keefe, Roger Connor, James O'Rourke, Buck Ewing, Monte Ward, and Mickey Welch. (Photo by Mark Rucker/Transcendental Graphics/Getty Images)
In 1902, O'Rourke helped found the National Association of Professional Baseball Leagues, formed to ward off raids on minor league rosters by the major leagues. In 1904, he returned at 54 to the Giants to catch in a crucial, pennant-winning game. For many years, O'Rourke remained the oldest man to play in a major league game. In 1912, at age 62, O'Rourke played in his last professional game, for the New Haven minor league club—his 51st season playing professionally. He was voted into the Hall of Fame in 1945; his plaque mentions none of his battles on behalf of players.
Keefe ended his playing career with 342 wins, a 2.62 earned-run average, and 2,562 strikeouts. He was the first pitcher to log three seasons of 300-plus strikeouts and won games in 47 major league ballparks—still the record. Yet in the first Cooperstown election for entry into the Baseball Hall of Fame in 1936, Keefe got only one vote. Long after his death in 1933, he was ushered into the Hall by a Veteran's Committee vote in 1964.
With the demise of the Players League, Mark Baldwin joined his hometown Pittsburgh Pirates. He won 47 games the next two seasons, but after the Homestead strike, the Pirates released him, ending his major league career in 1893.
Even in death Ward drew the owners' ire, denied a spot in the Hall of Fame until 1964, his labor activism not getting a lick of attention.
Baldwin played minor league ball until 1896, when he enrolled in the University of Pennsylvania's medical school, also coaching the university's baseball team. He transferred to New York's Bellevue Medical College to study dermatology and trained in surgery at Roosevelt Hospital. In fall 1898, he moved to Baltimore Medical College, where he played baseball and football, completing his medical degree in 1899.
Baldwin opened a practice in Homestead but also assisted a New York City coroner and studied advanced surgical techniques at Minnesota's Mayo Clinic. In 1914 he joined the Johns Hopkins University Medical School faculty. Ballplayers were among his surgical patients. He died in Pittsburgh in 1929.
John Ward reluctantly returned to the role of player-manager, now with the National League's Brooklyn Grooms, leading that team to two second-place finishes. In 1893, he managed the New York Giants and played second base, hitting .328, scoring 129 runs, and stealing base 46 times. In 1894, he led the Giants to sweep the Baltimore Orioles in four games to win the postseason Temple Cup and, after 17 seasons, retired to practice law. His first clients were players being sued by owners. In 1909 he pursued the National League presidency; the owners killed his candidacy. In 1911, Ward became part-owner and president of the Boston Braves and in 1914 business manager of the Brooklyn Tip-Tops, in the upstart Federal League, which revived the fight against the reserve clause. Ward retired from baseball in 1915 to farm, run businesses, and win several high-profile golf tournaments. He died in 1925. A seeming lock for the Baseball Hall of Fame, Ward was inducted only in 1964, seven decades after his final professional game and four decades after he died—his penance for challenging the baseball establishment. Ward's plaque at Cooperstown ignores his labor activism. Two years after Ward was inducted into the Hall of Fame, another players union—the Major League Baseball Players Association—hired Marvin Miller as its first full-time executive director. Though not a professional athlete, Miller had been an official with the United Steelworkers of America. He was steeped in the history of the Homestead strike and the labor movement as well the Players League and baseball's early labor wars. Under him, the union in 1968 negotiated the first collective bargaining agreement in professional sports and in 1972 staged the first strike among pro ballplayers. In 1975, 88 years after Ward called the loathed reserve clause "wage slavery," Miller helped the union bring an end to the clause, leading to dramatically better salaries, working conditions, and benefits. Treating him as it had Ward, baseball's establishment, ignoring endorsements by Hank Aaron, Tom Seaver, and other stars, blacklisted Miller, keeping him out of the Hall of Fame until 2021, 39 years after he retired and nine years after he died.
This article appeared in the Autumn 2022 issue of American History magazine.
GET HISTORY 'S GREATEST TALES—RIGHT IN YOUR INBOX
Subscribe to our Historynet Now! newsletter for the best of the past, delivered every Wednesday.
Close
Thank you for subscribing!
Email
Submit