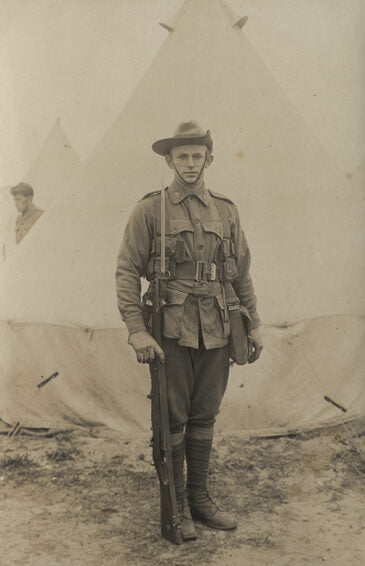 From Gallipoli to Beyond the Grave — Hear the Oldest Surviving Voice From World War I
"Well, dear mother and father, Ethel, Edie and Basil… this is rather a novelty to come to Australia this way," comes the crackling voice of Henry Miller Lanser. "The past week, training is getting heavier every day. My word, the Germans or Turks, as we hear, they are making for Egypt. Whatever happens we will stop them — from laughing anyhow — when we do start."
His words, recorded sometime between December 1914 and January 1915, are believed to be the oldest surviving recording in the world of an ordinary soldier in wartime.
Born in 1890 to Edward and Bertha Lanser of Paddington, New South Wales, the 24-year-old Lanser enlisted in the Australian Imperial Force on Sept. 2, 1914, shortly after the outbreak of the First World War.
Posted to the 1st Battalion, Lanser arrived in Egypt that December in preparation for the now infamous Gallipoli campaign.
According to the Australian War Memorial, Lanser took the opportunity during some down time to make a recording of his voice at a small record manufacturing business. He sent the pressed shellac disc and metal stamper home to his family.
"These recordings were being sold at 10 shillings a pop … that's an extraordinary amount of money, the equivalent of nearly $60 on a novelty, so he must have really wanted to do it," Stephanie Boyle, a senior curator at the Australian War Memorial, told The Guardian.
The audio is unique, according to Boyle, as it is the only surviving voice of a young soldier from the Great War. The War Memorial's archives only consist of oral histories taken from WWI soldiers from the 1970s onwards.
"Their story is only recorded in their voice decades later, when they are very elderly veterans," Boyle continued.
Lanser's War Begins
"I don't know that I can say a great deal more now, mother, as this is a time- limited sort of affair, but all I can wish is, I hope you all had a real jolly good Christmas — we did, I know — and of course, it's was the first — not really the first time I've been away for Christmas, but I was very anxious to get back for this one. But here I am here now, I am really enjoying myself and that's the main thing, and I hope everyone at home are doing the same thing," Lanser assured his family.
That happiness would be fleeting, however.
On April 25, 1915, Lanser's battalion was among the second and third waves to storm ashore at Gallipoli. Within a few days of that chaotic landing, Lanser was wounded with a gunshot to his left knee.
Evacuated from the peninsula in early May, Lanser's respite was short-lived as he re-joined his battalion on Gallipoli by the end of July that year.
Lanser was once again wounded during an ANZAC (Australian and New Zealand Army Corps) assault on Lone Pine on Aug. 6.
According to the War Memorial, Lanser received gunshot wounds to the chest and arm and was once more evacuated. He was not fit to return to his battalion — which was by now stationed in France — until March of 1916.
Fighting on the Western Front, Lanser — now commissioned as a second lieutenant — went on to survive the Somme in July and spent the rest of the year in training over Stokes trench mortars and Lewish machine guns.
Unfortunately, like his three-and-a-half-minute recording, Lanser's life was brief.
He was killed on November 5, 1916, after being hit by machine gun fire while leading his men into no man's land near the French village of Flers.
For four months, Lanser's body lay where he fell in no man's land, before he was eventually buried in Grevillers British Cemetery in Grevillers, France.
His last words to his family? "Well, goodbye everybody, and good luck."
Listen to the full recording here: