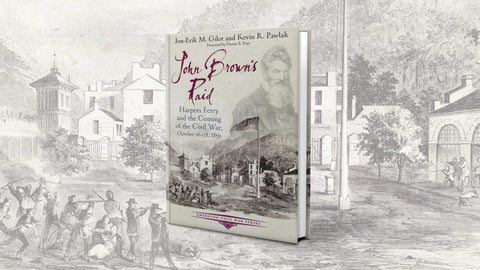 Follow in the Footsteps of Firebrand John Brown
John Brown's body had almost no time to molder in the grave before the first biography of his life appeared in 1861. Since then he has been the subject of full-length biographies, novels, poems, plays, songs, even an opera. So is there anything new to say about the abolitionist firebrand?
For readers interested only in the history-altering raid and not in the complicated life that led Brown to the picturesque town at the confluence of the Shenandoah and Potomac rivers, this detail-filled and briskly written story adds rich context to an oft-told tale. Of course, readers have to get past Dennis Frye's "Twilight Zone" foreword, an eerily atmospheric sense of place that would make Rod Serling envious. But Frye, the longtime National Park Service historian at Harpers Ferry, understands the power of the landscape and Gilot and Pawlak build on the symbiotic relationship between Brown, the raid, and the town, which culminated in the 36-hour occupation that failed to free any slaves but helped spark the irrepressible conflict that exploded 18 months later.
The authors quickly dispose of Brown's early life and his bloody exploits in Kansas. They explain that Brown carefully chose Harpers Ferry not merely because it was a transportation hub and the site of a federal arsenal with its thousands of arms. "The mountainous topography of the South Mountain range and the Allegheny Mountains farther to the west," they write, "offered Brown the ideal terrain to launch his 'lightning raids'. Believing he could destabilize the slave market in the border South, Brown hoped economics would prove more lethal to slavery than the sword." Throughout the summer of 1859, Brown's "army" arrived by ones and twos, slipping by at night into the nondescript farmhouse Brown had leased about seven miles above Harpers Ferry. Gilot and Pawlak build their narrative with a sense of anticipation and dread that must have prevailed among the raiders as they awaited details of Brown's intentions.
Brown's audacious plans called for "slipping into Harpers Ferry and holding the town and government facilities while slaves and hostages were gathered. From there, they would strike plantations, gathering slaves and retreating back into the mountains, the sort of lightning strikes that had long appealed to Brown." Not all in his irregular army agreed; even his three sons and daughter Annie opposed it. But after a vote was taken, all decided to stay with Brown and his plan, finally launched on October 16, 1859.
The book thankfully includes a number of fascinating anecdotes and a detailed timeline, and some historical myths are dispelled (e.g., Brown kissing a slave child on his way to the gallows). A feature seen in other Savas Beatie "Emerging Civil War" monographs, there is an excellent walking tour of Harpers Ferry as well as a self-directed driving tour of pertinent nearby places, enabling modern-day enthusiasts to follow in the footsteps of Brown and his raiders from their initial hideout to the gallows in Charles Town, where Brown and six of his followers were hanged for treason on December 2, 1859. (Ten raiders died of wounds incurred during the abortive raid, and five escaped.) This is a satisfactory examination of the incursion that sparked the Second American Revolution.
John Brown's Raid
Harpers Ferry and the Coming of the Civil War
By Jon-Erik M. Gilot and Kevin R. Pawlak, Savas Beatie, 2023
If you buy something through our site, we might earn a commission.