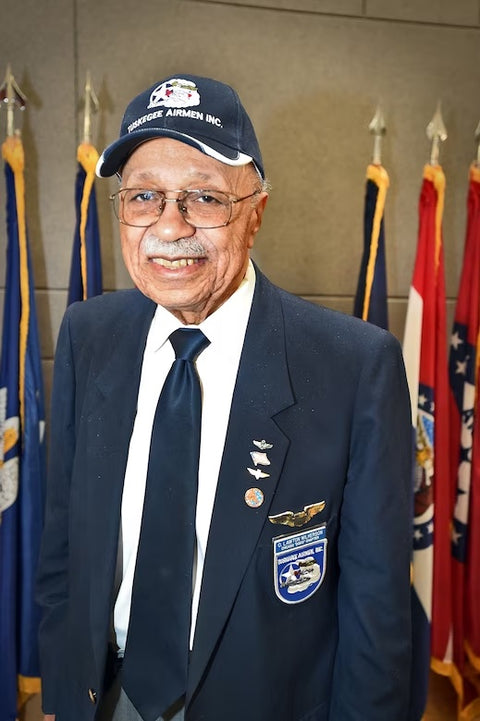 Few Red Tails Remain: Tuskegee Airman Dies at 96
Since the inception in 1907, first as the U.S. Army Signal Corps then designated as the U.S. Army Air Forces, aviation as a whole had been strictly limited to white personnel. It was not until 1943 — a full year after the U.S. entry into World War II — when the first contingent of Black aviators trained at Tuskegee, Alabama.
These men went on to form the 99th Fighter Squadron and shipped out to North Africa. That unit and the 332nd Fighter Group that followed would prove their worth in the last two years of World War II.
Among those men was Oscar Lawton "Wilk" Wilkerson.
According to the Chicago Sun Times, Wilkerson, the last known surviving member of the Tuskegee Airmen in the Chicago area, died on Feb. 8 of natural causes. He was 96.
"A friend of mine and I were in high school and we were both interested in aviation, so we found out that there was availability to receive training in the [Army] Air Forces. We went to take the test, passed and were accepted into the [Army] Air Forces while we were in high school," Wilkerson later said in a ceremony honoring Tuskegee Airmen. "Ten days after [high school] graduation we were on our way to Biloxi, [Mississippi] to join the [Army Air Forces]. When we got to Biloxi, we took the aptitude test and I went to pilot training…"
The rest, as they say, is history.
Wilkerson earned his Wings in 1946 as a B-25 pilot and was assigned to the 617th Bombardment Squadron, 477th Bombardment Group.
Wilkerson was quick to note that although he was a Tuskegee Airman, he was not a combat pilot and that he was "riding their shoulders."
"While I was in training, my motivation was to get these wings and I wear them today proudly," said Wilkerson.
With the end of the Second World War and the rapid drawdown of troops, Wilkerson, as a Black man in America, saw his opportunities dwindle.
Despite his qualifications, Black aviators like Wilkerson weren't allowed to fly commercially.
"After the war, we were not able to go into commercial aviation, Blacks weren't accepted at that time," said Wilkerson. "I couldn't fly commercially, so I became a bus driver in Chicago. Later I got a job in radio and retired in 1988."
In 2007, Wilkerson was among about 300 surviving Tuskegee Airmen awarded the Congressional Gold Medal by President George W. Bush. Despite such accolades, the pilot remained humble.
"He could have walked on water," his friend Maceo Ellison told the Chicago Sun Times in regards to the reverence the Black community held for the Tuskegee Airmen. "There weren't too many Black heroes back then besides the boxer Joe Louis."
historynet magazines
Our 9 best-selling history titles feature in-depth storytelling and iconic imagery to engage and inform on the people, the wars, and the events that shaped America and the world.