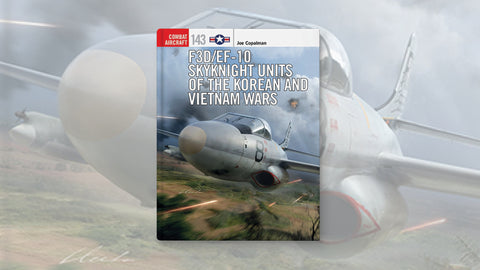 'F3D/EF-10 Skyknight Units of the Korean and Vietnam Wars' Review: An Aircraft of the Cuban Missile Crisis
Entering service in December 1950 as the first carrier-based jet night fighter for the Navy and Marine Corps, the Douglas F3D Skyknight began operations in Korea with Marine night fighter squadron VMF(N)-513, whose nickname, "Nightmares," could well be applied to the protracted training and delays that held up its use in combat until August 1952.
In the months that followed, however, the crews of the improved F3D-2s mastered their radar and learned how to deal with enemy threats as varied as MiG-15 jet fighters, low, slow and elusive Polikarpov Po-2 biplanes and Yakovlev Yak-18 trainers used by the North Koreans to harass United Nations positions at night.
By the end of the war, VMF(N)-513's "Whales" were credited with downing six Soviet, Chinese and North Korean aircraft without a loss of their own. Those shoot downs had a big benefit: From February through July 1953 the Air Force did not lose a single Boeing B-29 night bomber to enemy aircraft.
With its straight wings, the F3D was obsolete by the end of the Korean War. Yet, upgraded with more sophisticated electronics, the Skyknight saw use during the Cuban Missile Crisis of October 1962. That was just the beginning, as Marine air expert Joe Copalman describes in intimate detail in his first contribution to Osprey's "Combat Aircraft" series, F3D/EF-10 Skyknight Units of the Korean and Vietnam Wars.
Redesignated EF-10Bs, Skyknights of composite reconnaissance squadron VMCJ-1 accompanied bombing raids over North Vietnam and greatly reduced American aircraft losses by jamming the enemy's radar.
That technology was applied to a variety of situations, including deadly cat- and-mouse games with the radar that directed North Vietnamese anti-aircraft artillery and surface-to-air missiles before the U.S. Air Force developed its specialized "Wild Weasels," a code name for aircraft that could home in on SAM sites and destroy them with missiles.
After the first six of the vastly more up-to-date Grumman EA-6A Electric Intruders arrived at Da Nang on Oct. 28, 1966, those planes initially suffered maintenance and readiness problems. Therefore, during 1967-68 the obsolete but reliable Whales conducted operations alongside their intended successors.
Finally retired by the Marines in 1970, the Skyknight is, in the author's opinion, the most unsung hero of its two major wars. A look through the many firsthand experiences that accompany the wealth of photographs and profiles should convince anyone interested in the air war that it was the most valuable warplane in proportion to the few that flew in both Korea and Vietnam.
This book review appeared in the Winter 2023 issue of Vietnam magazine.
F3D/EF-10 Skyknight Units of the Korean and Vietnam Wars
By Joe Copalman
Osprey Publishing
Bloomsbury USA, 2022