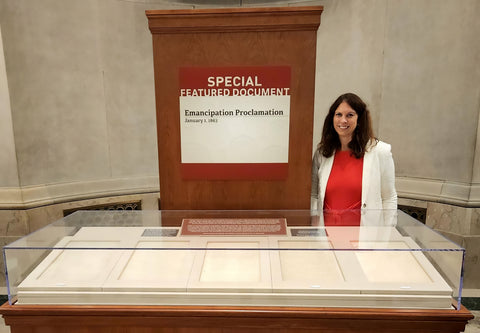 Emancipation Proclamation, One of America's Most Important Documents, On Display
Archivist of the United States Dr. Colleen Shogan announced in June that the National Archives will place the Emancipation Proclamation on permanent display in the Rotunda of the National Archives Building in Washington, D.C.
The intent is for the Emancipation Proclamation to be permanently displayed in the Rotunda along with the Declaration of Independence, the Constitution of the United States, and the Bill of Rights.
"When President Abraham Lincoln issued the Emancipation Proclamation on January 1, 1863, he wrote that 'all persons held as slaves within said designated States, and parts of States, are, and henceforward shall be free,''' Shogan quoted. "Although the full privileges of freedom were not immediately bestowed upon all Americans with Lincoln's order, I am proud that the National Archives will enshrine this seminal document for public display adjacent to our nation's founding documents. Together, they tell a more comprehensive story of the history of all Americans and document progress in our nation's continuous growth toward a more perfect Union," she said.
The National Archives will commence an assessment to determine the best display environment considering the condition and importance of the original document. The current plan for display calls for showing one side of the Emancipation Proclamation, a double-sided five-page document, alongside facsimiles of the reverse pages. The original pages on display will be rotated on a regular basis to limit light exposure.