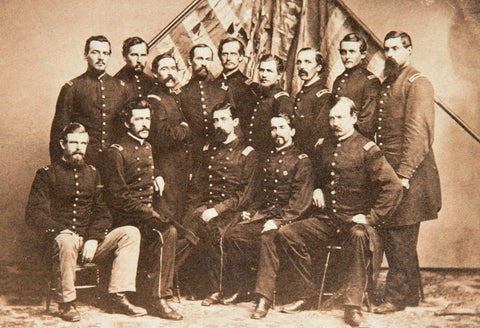 Ellsworth's Avengers: Call of Duty
The 44th NY Vols., or "Ellsworth's Avengers," were so called as they were recruited in response to the death of Col. Elmer Ellsworth, the aide to President Abraham Lincoln who was the first Union casualty of the war. He died when he was gunned down trying to remove a large Confederate flag that was visible from the White House from the roof of an inn in Alexandria, Virginia.
The regiment saw some of the toughest fighting of the war, experiencing heavy casualties in the Seven Days Battles, the Second Battle of Bull Run, the Battle of Fredericksburg, Gettysburg and the Battle of the Wilderness. Only 184 of the 1,061 who mustered in returned to Albany for mustering out on Oct. 11, 1864, when this photo was taken. The flag in the background of the photo was itself quite famous for having 12 of its bearers killed and another 18 wounded.
historynet magazines
Our 9 best-selling history titles feature in-depth storytelling and iconic imagery to engage and inform on the people, the wars, and the events that shaped America and the world.