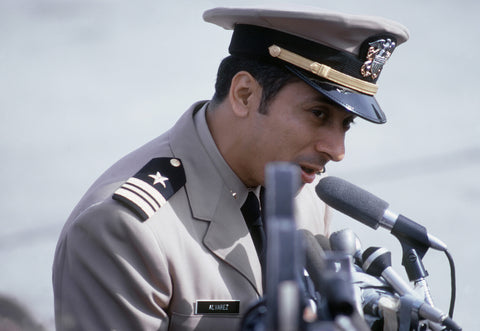 Edward Alvarez Jr., Imprisoned in Vietnam For 3,113 Days, Is Nominated For Congressional Gold Medal
On Aug. 5, 1964, a 26-year-old Hispanic combat pilot of the U.S. Navy dropped among a small fleet of Vietnamese fishing boats. He had just ejected from his Douglas A-4 Skyhawk and had literally fallen into an uncertain future. "I'd lost a wing, there was a lot of smoke, the plane was on fire, and every emergency indicator went off all at once," Edward Alvarez Jr. later recalled. "I knew if I stuck with it I was definitely not going to make it."
He was promptly dragged off to prison, and would spent a total of 3,113 days in grueling captivity as the second-longest-held POW of North Vietnam before finally being brought home on Feb. 12, 1973 in Operation Homecoming.
Nearly 50 years later in December 2022, U.S Rep. Jimmy Panetta (D.-Calif.) has introduced legislation seeking to honor Alvarez with the Congressional Gold Medal.
"In the face of severe mistreatment during his captivity in the Vietnam War, including torture and starvation, Commander Everett Alvarez, Jr. not only served and sacrificed, he also set an example for fellow POWs and inspired them to return home with honor," Panetta said in a statement.
Alvarez spent year after year with almost no hope of release. He suffered from the effects of starvation and malnutrition in addition to abuse and attempts at political coercion from his captors. "Any time they found something we'd made to entertain ourselves, they would punish us," he later said.
Yet despite the darkness all around him, Alvarez found it within himself to set an example for other POWs and encourage them not to give in to the coercion of the enemy. He refused to give up hope.
Alvarez returned home physically weakened after nearly a decade of being held captive, and his marriage did not outlast his imprisonment. However, he built a new life for himself and has continued to be an inspiration to others.
"I recognized the resiliency of the human spirit and that physically we'd been in a situation that very few people encounter," he later said. "Thank God that I had my faculties. I've got my problems physically, but that's minor compared to others who lost a lot. So I consider myself very fortunate."
In response to his nomination for the Congressional Gold Medal, Alvarez says he is "humbled beyond belief." "There is no way I am able to express my profound appreciation for this recognition," he said, adding that he accepts the honor on behalf of others in his life.
The legislation will now require 290 signatures from members of Congress to make the award a reality for Alvarez. "I think people need to learn more about his attitude while he was a prisoner of war and that he encouraged not just himself but his fellow POWS, to return home with honor," Panetta told KSBW news, adding that "based on who Alvarez is, what he's done and what he's sacrificed, what he's been through, it should be a little bit easier to get 290 for a Congressional Medal to recognize him than it would be for other bills."