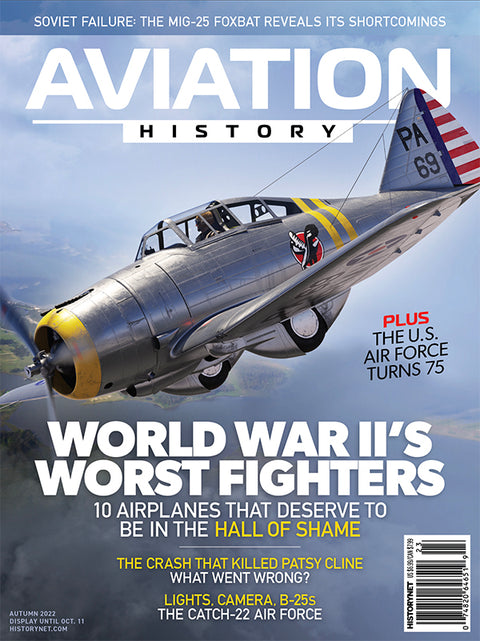 Did you see Aviation History in Succession? (We Didn't Either)
They say there's no business like show business. Maybe one day we'll find out.
The story begins back in September 2022, when Aviation History 's editorial offices received an email from an employee at HBO Max (since renamed simply Max). Would Aviation History give HBO permission to use the cover of the magazine's Autumn 2022 issue in an episode of the fourth and final season of its series "Succession"?
Our answer: Yes.
For those not aware of "Succession," the acclaimed series focuses on the Roy family, led by patriarch Logan Roy (Brian Cox), the ill-tempered and foul- mouthed founder of a global media empire called Waystar Royco. As ill health forces Logan to contemplate his own mortality, his children begin jostling to take over once he steps down. Kendall (Jeremy Strong) seems in the best position to assume the crown, but siblings Shiv (Sarah Snook) and Roman (Kieran Culkin) also have ambitions, while their half-brother Connor (Alan Ruck) aims at running for president of the U.S. Through the show's four seasons, the Roys engage in back-stabbing, skullduggery and scheming to gain control of the family business. And they do some of that on aircraft, especially private jets and helicopters. Why not make Aviation History part of the cast?
Well, when the season ended with the series finale on May 28, none of us here managed to pick out the cover. Turns out, it made its very tiny cameo appearance in episode three, "Connor's Wedding." Look closely at the back wall in the airport during the Roy children's press conference and you can see it on the magazine rack. (Take our word for it.)
Blink and you miss it.
We think Aviation History acquitted itself well onscreen, and don't blame us if viewers found their attention straying from the activity in the foreground as they wondered, "How can I get my hands on that magazine?" To quote "the father of modern acting," Konstantin Stanislavski, "There are no small roles, only small actors."
We just hope that if "Succession" ever returns to the screen, it will tell the story of how the new owners of Waystar Royco try to gain control of a group of history magazines that fights against its acquisition.
Now, that's a show we would watch.