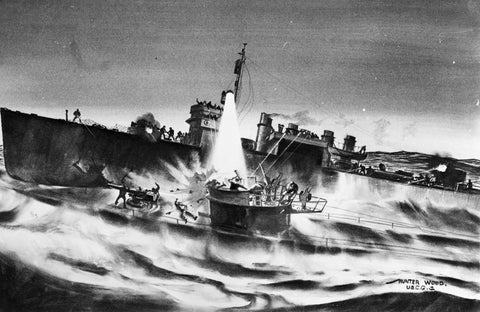 Destroyer vs. U-boat in a Fight to the Death
In his new book Duel in the Deep (Naval Institute Press), author David Sears tells a story that he subtitles "The Hunters, the Hunted, and a High Seas Fight to the Finish." The central incident is the tale of an outmoded four- stack destroyer, the USS Borie, and its intense fight with the German U-405 on October 31, 1943, a "swashbuckling, no-holds-barred brawl of cannons, machine guns, small arms, and even knives and spent shell casings." Sears builds up to that that epic struggle by outlining the ebbs and flows of the Battle of the Atlantic, when Germany 's submersible craft attempted to starve Britain into submission and keep the Allies reeling by sinking the ships carrying necessary food and supplies across the Atlantic. In a high-stakes game of technological cat and mouse, both sides attempted to gain the upper hand in the contest with advanced technology and, on the Allied side, intensive codebreaking work.
Sears, who served in the U.S. Navy aboard a destroyer himself, uses diaries, letters, and contemporary newspaper interviews to bring his story to life. In this interview with World War II editor Tom Huntington, Sears talks about his book.