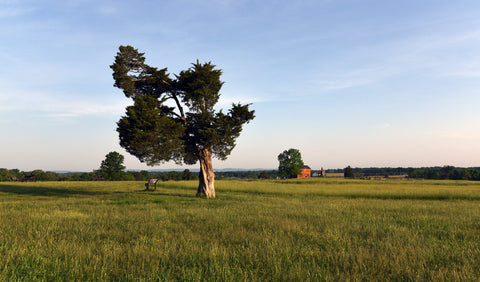 Data Center Threatens Manassas
On May 10, 2022, Preservation Virginia designated Manassas National Battlefield Park one of Virginia's "Most Endangered Historic Places." The organization releases a list of the most endangered historic sites every May, National Historic Preservation Month, as an effort to raise awareness and spur action to advocate for preserving the spots.
The National Park Service and preservationists have successfully fought off commercial development threats to Manassas National Battlefield Park for decades, but a new proposal threatens to put millions of square feet of data centers against the western and northern boundaries of the park. The park encompasses nearly 5,000 acres of the land on which the First and Second Battles of Manassas were fought in July 1861 and August 1862.
The proposed PW Digital Gateway would slate more than 2,100 acres of agricultural land bordering the battlefield to allow for data centers—large, box-shaped buildings that house computer systems.
A Prince William County archaeologist, Justin Patton, said the rezoning effort allowing for the development of numerous data centers would have negative consequences for both the natural and historic resources within and adjacent to the battlefield.
Local residents and opponents of the plan held a news conference in May to voice their opposition to it. "It's a total and complete change of the character," said resident Kathy Kulick. She told reporters she's worried about the local watershed, the loss of the park's historic feel, and quality of life concerns. "People who are going to live next to that are afraid," she said. "They didn't move out here to live next to the world's largest data center industrial zone. Nobody did." 
QTS, the company developing the data centers, said it has been working with stakeholders "to identify and preserve green space, shared space, possible park and cultural landmark enhancements, as well as future trail and wildlife crossing areas, in a manner that aligns with the long-term land management goals of each entity." 
A coalition of groups, including the Manassas Battlefield Trust, the National Parks Conservation Association, the Prince William Conservation Alliance, Piedmont Environmental Council, and the American Battlefield Trust have been advocating for alternative plans.
"We see industrial development of this location, historically part of the battlefield and teaming with wildlife, as the worst possible fate for this largely pristine landscape," the ABT said in a statement released in January. "Data centers in this area are incompatible with a National Park and State Forest. We urge the county to consider another location, more suitable for such development."
More information about this new fight at Manassas can be found at growsmartpw.org.
This article first appeared in America's Civil War magazine