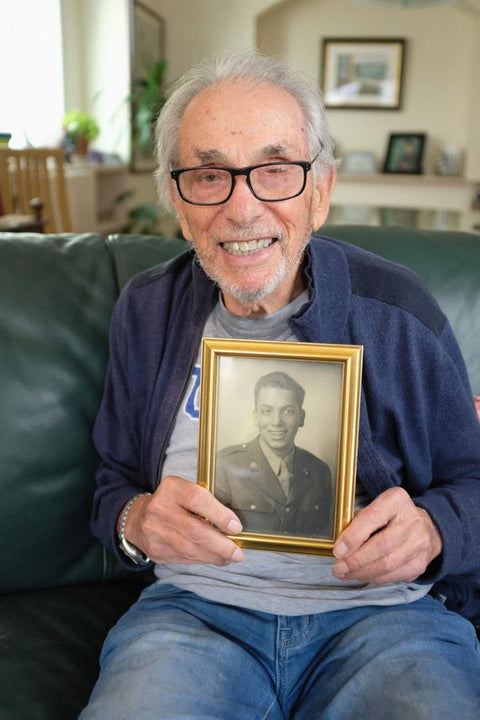 D-Day Survivor Who Escaped Nazi Capture Awarded Purple Heart 78 Years Later
It was an escape so improbable that it seemed impossible — even by Hollywood standards. Captured in the fight for Normandy on July 4, 1944, Pfc. William Kellerman's daring escape included dodging snipers, a "fortuitous stolen bicycle, followed by a serendipitous flat tire, gun-wielding members of the French Resistance and a classic disguise that included a jaunty beret," wrote the Wall Street Journal.
The escape appeared so much like a tall tale – the result of a soldier's heightened imagination — that Kellerman's superior officer deemed it dubious and subsequently never bothered to submit the appropriate paperwork.
Now, after 78 years, the Army believes him and is correcting its mistake.
On June 28, 2022, Gen. James C. McConville, the Army chief of staff, traveled to Fort Hamilton in Brooklyn, New York, to award the 97-year-old veteran the Prisoner of War Medal and the Purple Heart that had for decades been denied to him.
"This has been annoying my brain all these years. I know it sounds like a crazy story, but it is all true," Kellerman told the WSJ.
Born in the Bronx, New York, the then 18-year-old was drafted into the U.S. Army in late 1943, and hit Utah Beach on June 11, 1944, with the 79th Infantry, 315th Regiment, Company D.
William Kellerman (third from left on the top row) with fellow members of the 79th Infantry Division. (U.S. Army)
"The more experienced guys, they sent them in first. A lot of them were killed on the first day," Kellerman told the WSJ. "I was lucky."
That luck would soon run out as Kellerman and his company battled in, as Ernie Pyle once described, "this weird hedgerow fighting."
After heaving fighting, gunfire took out the company's radio. With no communications, the private was ordered to notify battalion headquarters.
As Kellerman dodged, dipped, ducked and dived through hedgerows and open fields he was soon stopped short by a German tank bearing down on him.
"I was not going to fight a German tank," he sagely recounted.
Captured by the tankers, Kellerman was held with 50 to 60 other Americans who had been taken prisoner during the breakout fighting.
Soon they were told to walk.
Subsisting on a single piece of bread each day, the POWs only marched at night, out of sight of American planes and their strafing.
Kellerman was drafted into the U.S. Army in late 1943. Month later he would storm the Normandy beaches. (U.S. Army)
After several weeks of grueling marching, Kellerman saw his chance to escape.
During a brief respite from the slog, he found himself next to a bank of bushes.
"He literally stepped out of line, rolled under a hedge," his daughter, Jean Kellerman-Powers, told ABC News.
To the surprise of Kellerman, his daring act was successful.
"As soon as they were out of sight, I ran like hell in the other direction. I kept on going until it got light," Kellerman recounted in a 2020 interview with Patch.
Kellerman found refuge with a sympathetic Frenchman who fed the soldier, burned his uniform and gave him a fresh set of civilian clothes — including, unironically, a beret.
The Frenchman told the American private to move on, however, as his presence risked the life of the farmer and his family.
First sticking to the woods, Kellerman attempted to make his way to neutral Switzerland. Soon, though, he got bold and began to walk along main roads, tipping his cap and murmuring "Bonjour" to any German soldier he encountered.
On his journey east, the private came across an untended bike that he surreptitiously stole — but not without a pang of regret for the thievery.
Kellerman managed to walk and bike nearly 600 miles into the Loire Valley before a flat tire forced him to seek help from a bike shop — which, unbeknownst to him, was a secret headquarters of the French resistance.
Resistance fighters were immediately suspicious of Kellerman's lack of ability to speak French and drew guns on him, wary that he was a German spy. Despite soon convincing them otherwise — he correctly named the winner of the 1943 World Series — Kellerman endangered the cell.
"They said, 'We can't let you go. If the Germans catch you, they'll get it out of you,'" he said.
Kellerman seen here in 1943. (U.S. Army)
Kellerman remained hidden in the Freteval Forest, France, at a camp codenamed Sherwood, until Allied forces liberated the region at the end of August.
But instead of being sent home, as was typical for freed POWs, he was sent into combat and took part in the retaking of Chames, France, according to the U.S. Army.
In April 1945, Kellerman's luck ran out once again when he was hit by sniper fire in both the hand and the leg. He was still being treated for his wounds when V-E Day was announced. He was discharged in 1946 — without his medals. ~~~~
Now, after years of lobbying from Kellerman's family, the administrative oversight is no more.
"I'm so overwhelmed it's hard to find words," Kellerman told the crowd gathered in the Fort Hamilton Community Club at the 2022 ceremony. "But your presence is my best present. It's like I've been in the shadows all my life, and someone turned a light on and I can really see who I am."