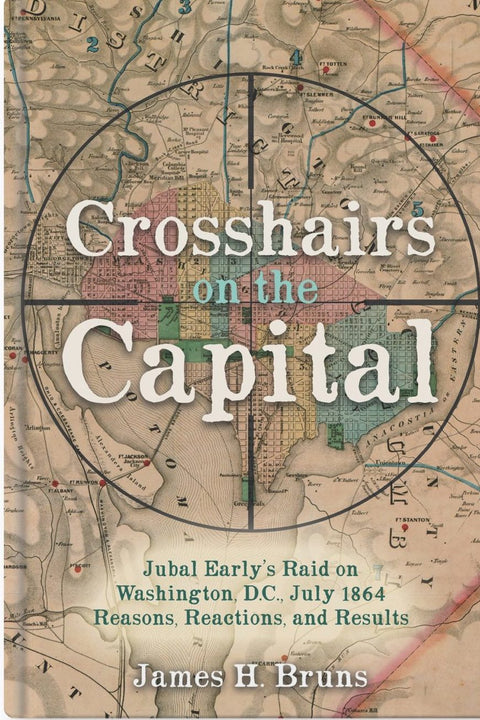 'Crosshairs on the Capital' Review: The Third, Final, and Failed Invasion of D.C.
The Confederacy's third and final invasion of the North in June-July 1864 culminated with a ragtag collection of about 9,000 or so tired and thirsty soldiers under Lt. Gen. Jubal Early in front of Fort Stevens, a mere seven miles from the U.S. Capitol. Did Early really have a chance to capture, plunder, and ransack Washington D.C., and perhaps change the outcome of the war? Probably not. Why then did Robert E. Lee send his "bad old man" on what would be an almost 900-mile jaunt when two previous excursions into Union territory by Lee in 1862 and 1863 had ended in defeat?
James Bruns, an independent historian, sets out to answer these questions and offers new insights and reasoning not explored in-depth by previous chroniclers. His robust narrative commences with the stealthy withdrawal of Early's Army of the Valley from the trenches in front of Petersburg, and then follows it up the Shenandoah Valley to the lightly manned defenses of Washington, and concludes with its seemingly preordained retreat back to the Old Dominion. As Bruns points out, quoting Early, "Lee never expected his troops to enter Washington." According to Early, Bruns notes, "Lee was satisfied with him merely threatening the Federal City," that capturing it "would be impossible.'"
Bruns writes that Lee intended this incursion primarily as a food raid on the rich agricultural bounty of Northern farms, but he also maintains that Lee wanted to turn the tables on the Federals for the Kilpatrick-Dahlgren Raid of Richmond in February-March 1864. Although that raid failed, Bruns maintains that Lee considered Early's raid "worthy pay back" and asserts that "Early's action outside Washington likely prolonged the war by as much as a year and a half because of the food he rustled up."
There was purportedly another objective to the raid. Early was to detach most of his cavalry under Brig. Gen. Bradley Johnson to Point Lookout, Md., site of a Union prison camp holding 10,000 or so Confederates captured at Gettysburg. This would be a joint operation with a naval component headed up by John Tyler Wood. The combined Confederate forces would free the prisoners, arm them with rifles brought by Wood, and march them back to Washington to join up with Early's army in attacking Washington. The raid never materialized, aborted by Jefferson Davis himself. Bruns' detailed analysis shows that this aspect of the raid would have been impossible to fulfill, that it was doomed from the start.
In Bruns' opinion, Early's raid was a success, stressing that "he'd done what he came for." Other historians and readers might disagree; nevertheless, Bruns' monograph has added new fuel to a long smoldering story.
This article first appeared in America's Civil War magazine