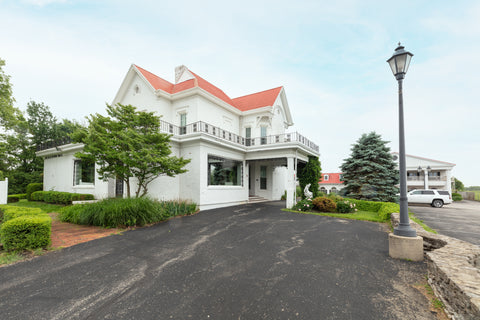 Colonel Sanders' Home Is for Sale — With His Fried Chicken Recipe
Most real estate comes with closing costs and the occasional leftover furniture. This Kentucky property comes with a historic restaurant and a coveted recipe for fried chicken.
Colonel Harland Sanders — yes, that Colonel Sanders — and his wife's former estate and Shelbyville restaurant are for sale — and, yes, it comes with their recipes for everything from their locally famous yeast rolls to their signature fried chicken. Well, technically, it's not that recipe for fried chicken, but we'll get to that in a minute.
The Colonel's 5,000-square-foot home, built in 1866 and known as Blackwood Hall (after a Nancy Drew novel), was his home for over 25 years. It comes with the 25,000-square-foot Claudia Sanders Dinner House restaurant and banquet hall, as well as more than 3 acres of land. He and his wife, Claudia, moved into the home in 1959. Claudia Sanders sold Blackwood Hall to the current owners, who were close friends and employees, in 1984.
GET HISTORY 'S GREATEST TALES—RIGHT IN YOUR INBOX
Subscribe to our Historynet Now! newsletter for the best of the past, delivered every Wednesday.
Close
Thank you for subscribing!
Email
Submit
WHAT does the Colonel Sanders home come with?
Besides the home and the attached commercial property at 3202 Shelbyville Road, the sale would include Sanders's memorabilia, including his original Kentucky Colonel certificate, a happy birthday letter from President Richard Nixon, Sanders's monogrammed Bible, his first pressure cooker, the stove he used to teach new franchisees how to cook chicken, and one of the original Kentucky Fried Chicken buckets.
The restaurant, which is still popular, can seat over 700 guests and comes with all the necessary equipment and everything else needed to keep the place running smoothly through the ownership transition. That includes all the recipes — and here's where we get to that technicality: The fried-chicken recipe for the Claudia Sanders Dinner House is not the same as the famed "11 herbs and spices" KFC recipe. Nor is the handwritten recipe that was found by Sanders's nephew in a family scrapbook to much to-do in 2016, according to Yum! Brands, the current owner of KFC. There are other recipes handwritten by Sanders that the current owners keep in a safety deposit box and are not part of this real-estate sale — those physical, handwritten recipes aren't part of the sale.
And no, there is no secret vault of recipes hidden on the site, according to representatives of the family and co-listing agents for the property.
Recommended for you
HOW DO I BUY THE COLONEL SANDERS HOUSE?
There's no publicly listed asking price for the property, but you need to be able to show you have at least $5 million in liquid assets to start. You'll still be additionally vetted — and priority will be given to those people who are interested in preserving the business, keeping on its long-term employees and maintaining the legacy of Claudia Sanders.
THE LIFE OF COLONEL SANDERS
Sanders was a pioneer in the fast-food industry, from using what was then the new technology of pressure cooking to speed up food preparation to establishing fast-food standards to enrolling business partners in an early form of the franchising model that's standard in the industry today. He was also a marketing wizard, coming up with the mystique of the chain's "11 herbs and spices" recipe and the "finger lickin' good" slogan, and adopting a signature white suit and becoming the very energetic and very public face of the brand.
Sanders was actually born in Indiana and was involved in everything from steamboat ferries to natural-gas lamp manufacturing — he even practiced law — before he moved to rural Kentucky and opened a gas station. He got into the food busienss when he attached a restaurant to it to serve people waiting for their cars to be serviced. (The famously hot-tempered Sanders got in a fatal gunfight with the owner of a rival gas station who was painting over his signs — Sanders was arrested but released without charges, since he shot the other gas-station owner in self-defense.)
Sanders's restaurant grew bigger and became part of a motel complex, gaining even more popularity once it was written up by the roving restaurant critic Duncan Hines. (Yes, there was a real Duncan Hines.) World War II and then the new interstate highway system doomed his restaurant, however, so he went on the road to instead develop a network of franchisees who sold chicken made with his recipe and used his image to attract customers. In 1948, he married a waitress in the Sanders Cafe, Claudia Ledington, who became a key player in his growing empire.
In 1964, Sanders sold the business, now known as Kentucky Fried Chicken, to an investment group for $2 million but stayed on as a brand ambassador for $40,000 a year. In 1968, Sanders and his wife opened the Shelbyville restaurant, originally called the Kentucky Inn and later The Colonel's Lady's Dinner House, which he and his wife, Claudia, planned to franchise as a business completely independent of Kentucky Fried Chicken.
In 1971, however, another group bought Kentucky Fried Chicken — and Colonel Sanders began publicly disparaging them and the food they were selling under the Kentucky Fried Chicken name. The new owners got wind of Sanders's new franchising plans and sent lawyers to stop them. Sanders responded with a $122 million lawsuit. The result? A settlement in which Sanders got $1 million, the restaurant was renamed Claudia Sanders Dinner House, and Sanders stopped badmouthing Kentucky Fried Chicken — once he gave the new owners a personal cooking lesson. (Potential franchising rights for Claudia Sanders Dinner House would be part of the current sale, by the way.)
Harland Sanders was 90 when died of leukemia in 1980. Kentucky Fried Chicken was rebranded KFC in 1991.
WAS COLONEL SANDERS A REAL COLONEL?
Though he served in the military and was stationed in Cuba during the U.S. military intervention on that island in 1906 — as a private — the rank Sanders was most known for wasn't military. He was a Kentucky Colonel, an honorary title bestowed by the governor of Kentucky in recognition of philanthropic achievements.
Claudia Sanders was also a Kentucky Colonel and thus the other Colonel Sanders, by the way, but she preferred to go by her regular name.
Andrew Kung Group
Andrew Kung Group
Andrew Kung Group
Andrew Kung Group
Andrew Kung Group
Andrew Kung Group
Andrew Kung Group
Andrew Kung Group
Andrew Kung Group
Andrew Kung Group
Andrew Kung Group
Andrew Kung Group
Andrew Kung Group
Andrew Kung Group
Andrew Kung Group
Andrew Kung Group
Andrew Kung Group
Andrew Kung Group
Andrew Kung Group
Andrew Kung Group
Six Degrees Real Estate
historynet magazines
Our 9 best-selling history titles feature in-depth storytelling and iconic imagery to engage and inform on the people, the wars, and the events that shaped America and the world.