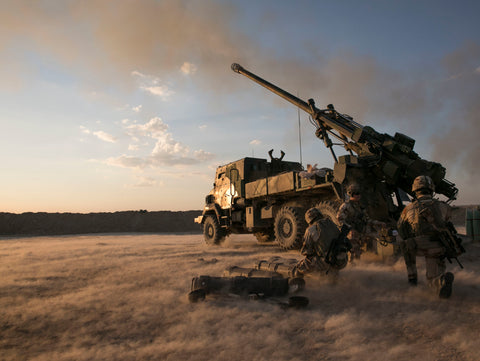 CAESAR Howitzer: Next-Gen French Artillery Helping Ukraine Fight Russia
For all the high-tech weaponry that has accompanied the warring forces in Russia's 2022 "special operation" against neighboring Ukraine, the essential element in its outcome — and the cause of much of the misery of those civilians caught between the two sides — is artillery, either from cannons, howitzers or the tanks whose own big guns supplement them.
Although the Russians hold the overall numerical advantage, the Ukrainians have proven astonishingly effective in making the best use of what they have and what they get from sympathetic Western nations. In what seems often to amount to a duel of quantity versus quality, a recent arrival on the battlefield has stood out, both on its merits as a weapon and as a representative of France's commitment to the Ukrainian cause.
Recommended for you
ENTER CAESAR
Developed by GIAT (now Nexter) Industries in Versailles with assistance from Lohr Industries, the CAESAR was first unveiled to the public in 1994. Testing began in 1998. Its purpose is revealed in a dissection of its Latinate acronym: "CAmion Equipé d'un Système d'ARtillerie" (truck equipped with an artillery system).
That semi-automatic, fully computerized system is built around a wide variety of shells of the 155 mm, 52 caliber North Atlantic Treaty Organization standard, capable of sustaining six to eight rounds per minute to a range of 26 miles with extended range full-bore shells, or more than 31 miles with rocket assisted shells. The weapon itself was 32 feet, 10 inches long, 8 feet, 4 inches wide and 12 feet, 2 inches tall.
When it was accepted by the French army in 2003, it was mounted on Mercedes- Benz Unimog U2450L six-wheel, six-wheel drive chassis. It was subsequently adapted to the Renault Sherpa 5 six-by-six chassis. Both vehicles could carry 18 shells and the five or six troops who normally operated the gun, although three could work it if need be.
As NATO and other countries began ordering CAESARs, the gun proved equally adaptable to the Czech-produced Tatra 815-7T3RCI eight-by-eight chassis with 410-hp engine — in fact, in 2008 France ordered 32 CAESARs on the Tatra chassis, an order to be completed by 2030. In turn, on Sept. 16, 2015, the Czech Republic bought 52 Tatra-mounted CAESARs for 200 million euros. Besides its versatility as a self-propelled gun, the CAESAR is air-transportable, either in the C-130 or the Airbus A400M Atlas.
REAL-WORLD TESTING
Since replacing the TRF-1 in France's artillery arsenal, the CAESAR has been combat-tested. During Operation Serval in Mali from 2012 to 2014, the CAESAR- equipped 68 e Régiment d'Artillerie d'Afrique helped Malian government forces defeat Salafist jihadists in the Battle of Ifoghas from Feb. 18 to March 31, 2009. In 2013, the French sent eight CAESARs to support their troops in Afghanistan, and in the Battle of Baghuz Fawqani, from Nov. 8, 2018, to April 2019, CAESARs assisted Syrian Democratic Forces in decisively defeating the Islamic State forces.
From the experiences of these campaigns, Nexter developed an armored cab to protect the crew from improvised explosive devices, roadside bombs and enemy shells and missiles. Though effective to an extent, the armor added 880 pounds to the overall weight and 4% to 5% to the cost. In February 2022, Nexter introduced a next-generation artillery system on a new chassis and powered by a new 460-horsepower engine, which as of this writing is still undergoing development and testing.
CAESAR IN UKRAINE
On April 22, 2022, the CAESAR entered a new conflict when President Emmanuel Macron of France announced the gift of 12 of the artillery systems to Ukraine and the arrival of 40 Ukrainian service personnel to train on them in France. Soon afterward, the first six CAESARs, mounted on Arquus-built Renault Sherpa 5 chassis, and their newly trained crews were assigned to the Zaporizhia-based 55th Artillery Brigade, one of Ukraine's oldest units, dating back to fighting the Germans in 1942.
On May 28, the Ukrainian government revealed that the first CAESARs were in the field and credited the guns with destroying two Russian tanks, two BMD airborne infantry fighting vehicles and some trucks, using just five rounds fired in 55 seconds at a distance of 22,110 meters (over 13.7 miles). Although that claim has yet to be confirmed by other sources, it represents an encouraging start, from the Ukrainian viewpoint. The months of fighting ahead will undoubtedly determine whether or not the Ukrainians are justified in hailing CAESAR.
historynet magazines
Our 9 best-selling history titles feature in-depth storytelling and iconic imagery to engage and inform on the people, the wars, and the events that shaped America and the world. Sale! Save $7.99 on your subscription today!
subscribe today—and save up to 30%