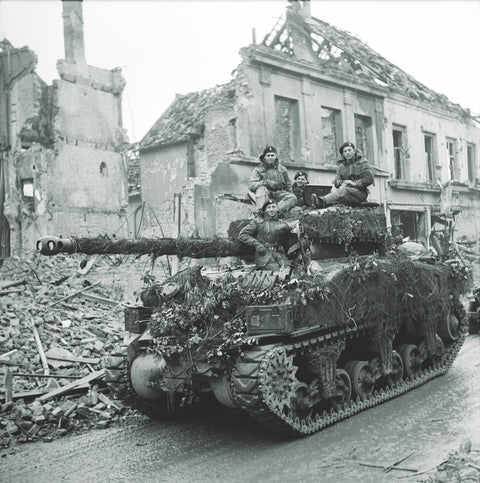 Book Review: 'Brothers in Arms' by James Holland
brothers in arms
One Legendary Tank Regiment's Bloody War from D-Day to V-E Day
By James Holland. 592 pp. Atlantic Monthly Press, 2021. $32.
"I hope to be laughing at life with you again before so many months," English lieutenant Bill Wharton wrote to his pregnant wife Marion, "[and I'm] looking forward with so much anticipation to seeing that smile of yours when we next meet." This reads like a typical soldier's wartime letter, but the dateline is particularly poignant: it was written on June 1, 1944. Five days later, on D-Day, Wharton's tank regiment, the Sherwood Rangers Yeomanry, made an assault landing on the coast of Normandy.
The vast bulk of the British Army of World War II consisted of men like Wharton, who had worked in his father's printing business before the war. They were not professional but temporary solders, who wanted nothing more than to see the job through to the end, be "demobbed," and go home to their families. In "Brothers in Arms _" _ James Holland skillfully tells the story of a quintessential British regiment of civilians in uniform.
Prewar, the Sherwood Rangers had been a Territorial Army unit of part-time "Saturday Night Soldiers," the British equivalent of the National Guard. But as Holland makes clear in this engrossing book, the Rangers evolved into a highly effective instrument of combat. Originally horse-mounted cavalry, the regiment converted to tanks and learned the hard way how to fight in the desert; it suffered badly at the Battle of El Alamein in 1942 but emerged as a tough and tested unit. Its 1944-45 campaign, which began on Normandy's beaches and ended deep inside Germany, was bloody, but successful.
Holland's story concentrates on D-Day onward, recounting the Sherwood Rangers' battles in Normandy; their drive into Belgium and the Netherlands, with a particularly tough fight at Geel, Belgium, in September 1944; and then, in early 1945, the invasion of Germany itself: Operation Veritable and the Rhine crossing. He follows a group of characters including the Rangers' commanding officer, Stanley Christopherson; their chaplain, Leslie Skinner; and troopers and lieutenants such as Wharton. In doing so he gives a human face to a complex story.
Holland, author of World War II magazine's "Need to Know" column, is a historian at the height of his powers with an enviable mastery of his subject. For this book he conducted deep archival research and interviewed the regiment's veterans and their families, gleaning a wealth of new information and anecdotes. For me, his greatest insight is how the Sherwood Rangers developed from a mere military unit into a community—even a family. Readers also learn much about tank warfare, the British Army, and the bitter fighting in northwest Europe during World War II.
And Bill Wharton? On D-Day he narrowly escaped death when his amphibious Sherman capsized in the rough sea off Gold Beach. Later in the campaign he was wounded, but he survived the war, came home to Marion, and died in 1986. "Brothers in Arms" __ is a wonderfully readable tribute to him and his comrades and, by extension, to all the citizen soldiers of the Allied armies.
—Gary Sheffield is a military historian at England's University of Wolverhampton. He is currently writing Civilian Armies , a comparative history of the experience of soldiers from Britain, Australia, Canada, New Zealand, and South Africa in World War I and World War II.
Originally published in World War II in February 2022.
this article first appeared in world war II magazine
Facebook @WorldWarIIMag | Twitter @WWIIMag