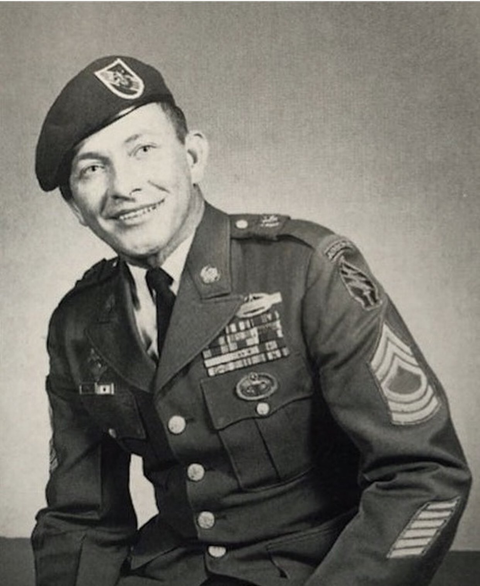 Billy Waugh, Famed Special Forces Warrior and CIA Legend, Dies At 93
Billy Waugh, a fabled Special Forces Green Beret and CIA military operative who served in Korea and Vietnam and helped hunt for Osama Bin Laden and other terrorists, died on April 4 at the age of 93.
Waugh's 50-plus-year military and intelligence career reads like the script for a Hollywood biopic. After joining the Army in 1948, he trained as a paratrooper and served in Korea as part of the 187th Airborne Regiment. His lengthy special forces career began in 1954 when he became a Green Beret with the 10th Special Forces Group.
Waugh deployed to Southeast Asia during the Vietnam War, conducting numerous counterinsurgency operations against the Viet Cong and North Vietnamese Army. He trained Vietnamese and Cambodian forces and took part in the Vietnam War's first HALO (High Altitude, Low Opening) combat jump into enemy territory.
In 1965 he was shot several times after a raid in Bong Son before being dragged to safety by his special ops unit commander, Paris Davis—who, on March 3, 2023, was belatedly awarded the Medal of Honor for his actions. Waugh himself was awarded the Silver Star and the Purple Heart for his actions in the Battle of Bong Son.
After Vietnam, Waugh joined the CIA. He helped track Libyan military installations in the 1970s; disrupted Soviet attempts to steal U.S. weapons technology in the Pacific in the 1980s; and worked in counterterrorism against Carlos the Jackel, Osama bin Laden, and other targets in the 1990s and 2000s. Many of Waugh's missions over the decades are still classified.
In a statement following Waugh's death in Florida on April 3, 1st Special Forces Command noted that he was a "true warrior" who had "inspired a generation of special operations…. He will be missed."