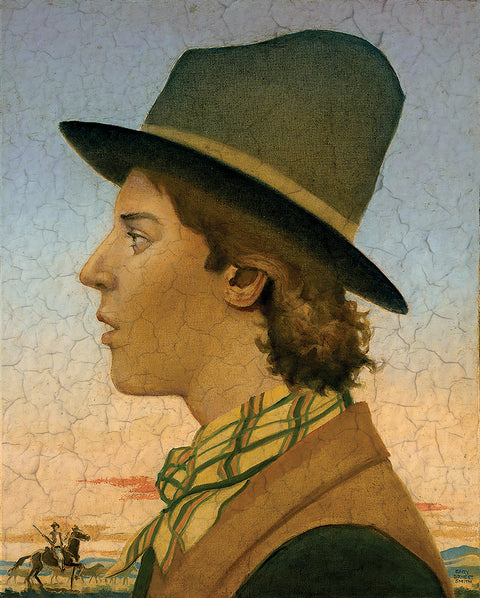 Billy the Kid's Mother is Not to Blame: The Life of Catherine Antrim
Catherine McCarty sang along to the popular tune "La Paloma" and twirled around the wooden dance floor, her 12-year-old son's hands in hers. Surely the tune resonated with other women like her who'd left Ireland long ago. Words to the two-step jig, in Spanish and English, flowed together this day in 1873 in the Southwestern town of Silver City, New Mexico Territory.
The music, courtesy of a squeezebox, fiddle and guitar, reached a crescendo and then ended. Billy bowed to his mom, and she curtsied to him. She and Billy often sang and danced together, making quite the pair. The crowd clapped enthusiastically as Catherine laughed, her smile infectious, her love of music and dancing shared by her son.
While little is known about Catherine's early life, a few facts have emerged, thanks to relentless researchers. She appears to have left Ireland aboard the steamship Devonshire during the Great Famine of the mid- to late 1840s and arrived in New York City in 1846. Born around 1829 (a fairly reliable guess, as her 1874 obituary lists her age as 45), she was around 17 when she stepped foot on American soil. Prior to 1855 immigrants would have disembarked on the docks on the east side of Manhattan, where little processing took place. (Through 1890 people were welcomed at the Emigrant Landing Depot, popularly known as Castle Garden, in Battery Park, while the famed Ellis Island didn't open until 1892.) Passenger records list Catherine's occupation as "servant." Common in that era, indentured servants typically worked for wealthy families up to seven years before earning the freedom to make their own way, as Catherine did.
There is no known photograph of Billy's mother, Catherine McCarty Antrim. The images are often presented as picturing the Kid's mother, but neither has been authenticated.
After arriving in America, immigrants of many nations, particularly the Irish, chose to band together in close-knit communities. Catherine likely did too, at least for a while. As she listed her occupation on arrival, she likely already had work lined up. It's not known where she was first employed, but records indicate that by 1860 she was living in Utica, N.Y., where she worked for the John Munn family. Around 1861 she gave birth to William Henry McCarty, who lives on in infamy as Billy the Kid. That said, despite much research by many people, exactly when and where the Kid was born is not a settled matter. The identity of his father is also anyone's guess, though in an 1868 census in Indianapolis, where Catherine lived for several years, she listed herself as the widow of one Michael McCarty.
GET HISTORY 'S GREATEST TALES—RIGHT IN YOUR INBOX
Subscribe to our HistoryNet Now! newsletter for the best of the past, delivered every Wednesday.
Close
Thank you for subscribing!
Email
Submit
Most historians believe William Henry (aka "Billy") to be Catherine McCarty's older son. Though many give his birth year as 1859, Billy himself claimed to have been born around 1861, and many intriguing hints point that way. Joseph (aka "Josie" or "Joe") Bonney McCarty was born some two years after Billy and cited 1863 as his birth year in census forms. Question is, how did Joe acquire the middle name Bonney, and why did Billy later adopt it as an alias?
A theory that makes sense of the Bonney connection suggests that while living in Utica and working for the Munn family, Catherine engaged in a tryst with a neighbor. In the 1860 census we find that eight doors up the street (according to the 1858/59 city directory) lived brothers John J. and Edward Finch Bonney, who were older and younger than Catherine, respectively. Rumors flew of a liaison, but with which brother is unclear. Was Billy and Joe's father a Bonney? Is that why Catherine gave Joe the middle name of Bonney and how Billy lit on it as an alias?
In that place and time, had 30-something indentured servant Catherine and one of the Bonney brothers produced offspring, what would have happened? The Bonney family probably would have chafed at the potential tarnishing of their upper-class reputation. After all, Catherine was probably Irish Catholic, while they were likely of English Protestant ancestry, a combination akin to fire and gasoline. What then to do with the love child/children? Why not send them and their mother as far west as possible? By then trains ran clear to Indianapolis. That is the probable sequence of events for Catherine and her young sons, for they soon traveled to the edge of the frontier. Though speculation, the Bonneys may have set her up financially, buying her silence.
William Antrim, who married Catherine in Santa Fe in 1873 but didn't commit to raising her boys and rarely spoke of them, lived to age 80.
In any case, Catherine was no average woman of the 1860s. Although she claimed the title of widow, she was not the undereducated, "poor widow woman" of Irish immigrant stereotype. Catherine was smart, likable and educated and had a good eye for business. By all accounts, she was also a good mom, protecting her sons and doing whatever necessary to see they succeeded in life.
By 1868 she had moved to Indianapolis, the exact reason open to speculation. What we do know is in that year's census she listed herself as the widow of Michael McCarty. Why did she identify herself as such? Likely because she was. Moreover, society of the day would have shunned a woman who admitted to having birthed one (or both) of her children out of wedlock. It was far more respectable to claim widowhood, a status all too common after the Civil War.
Recommended for you
Life must have been difficult in booming Indianapolis. In order to support her boys, Catherine operated a laundry and sold baked goods. She may have taken in boarders, another common occupation, as many soldiers had mustered out of service and needed a place to ground themselves while reacclimating to civilian life.
More is known about William Henry Harrison Antrim, the man who became Catherine's husband and her boys' stepfather, than is known about the McCarty clan. Born in Huntsville, Ind., in 1842 (making him a dozen years Catherine's junior), Bill was the fifth of seven siblings. His father, Levi, was a merchant and proprietor of a hotel in nearby Anderson. While in school Bill and siblings washed dishes, hauled wood and waited tables at the hotel.
In June 1862 the 20-year-old Antrim enlisted for three months in the Union Army, mustering in as a private with the 54th Regiment of the Indiana Infantry. After marching the 42 miles to Indianapolis with fellow volunteers, Antrim spent three months on guard duty at Camp Morton before mustering out of service. Remaining in the city, he moved to 58 Cherry St. and became a driver and clerk at Merchants Union Express Co., within a few blocks of the McCarty residence on North East Street.
Housing the steam locomotives bringing goods and people to and from the West, Indianapolis was abuzz with commerce. Coal powered the economic boom. Darkening the sky, the resulting coal smoke made eyes and noses water and breathing difficult. Little thought was given to what effects such particulates in the air would do to people's health. Progress was at hand, and nothing would stop commercial growth.
Was this where Catherine contacted tuberculosis, then known as consumption? In 1870, whether for clearer air or the excitement of moving to a growing frontier town, she and her boys (Billy, around 9, and Josie, 7) shrugged off the gray skies and cold, wet winters and headed west for Wichita, Kan.
Bill Antrim joined them.
In 1869 the government opened the Osage Indian trust lands in Kansas to the general public for homesteading. Requirements? Move onto a 160-acre quarter section of land and within five years perform certain improvements. Catherine's tuberculosis must have been a driving factor in their decision. Doctors knew her only hope—no cure, just hope—was a move to a drier climate with clear air. Wichita had both.
Aware of the potential stigma of cohabiting as unmarried adults, Catherine and Bill took up separate residences. Bill bought a small plot of land 6 miles northeast of town, on which he built a cabin and worked as a farmer, while Catherine and the boys moved into a building on North Main Street, living above the room out of which she ran a laundry service.
In the heart of Wichita's growing business district, her City Laundry attracted a steady stream of customers from the day she opened. Her business did well enough to merit mention in the March 15, 1871, inaugural edition of The Wichita Tribune :
City Laundry
The city laundry is kept by Mrs. McCarty,
to whom we recommend those
who wish to have their linen made clean.
Her hands were in hot, sudsy water from dawn to dusk, drawing from mounds of used sheets from the various brothels and the shirts and trousers of cowhands and businessmen alike.
Since the only school, an abandoned army dugout, had literally fallen in on itself, Catherine set aside time to teach her boys reading, writing and ciphering. Billy became an avid reader and later wrote captivating letters, including several inquiries to New Mexico Territory Governor Lew Wallace about a possible pardon for murders committed during the Lincoln County War. Bucking convention, Catherine also involved herself in local politics. Out of 124 leading citizens to sign a petition for the town's incorporation, she was the only woman. She even attended the board of trustees meeting. The town officially incorporated on July 21, 1870.
Wichita boomed after incorporation, soon boasting the third largest population of any Kansas town. Unfortunately, the bad elements multiplied right alongside the good. Wanting better for her sons, Catherine sought to shelter them from the influences of town rowdies. Turns out, avoidance proved impossible.
Ash Upton, ghostwriter of Pat Garrett's The Authentic Life of Billy, the Kid, noted Catherine's "charity and goodness of heart."
In the spring of 1871, just down the street from the City Laundry, a deputy U.S. marshal engaged in a shootout with a fugitive that left the marshal wounded and the wanted man dead. No doubt the boys heard the gunfire, and they may have witnessed the shooting. Within days Catherine moved herself and the boys out of town and into Antrim's cabin. Public opinion be damned—she wanted her sons safe.
As Catherine's laundry business prospered, she invested in land. Among other parcels, she acquired a vacant lot downtown and a quarter section adjacent to Antrim's property. Bill, meanwhile, bought the property on which the laundry sat, as well as an adjacent plot. He deeded both to Catherine.
In a sworn deposition from the period Antrim noted the McCarty family had moved out of the city and been living on the quarter section adjacent to his since March 4, 1871. For it Catherine had paid $1.25 per acre, or a total of $200 cash (more than $4,600 in today's dollars), and she paid in full. With help from the boys Bill had built the family a cabin "12 by 14 feet, one story high, board roof, one door and two windows."
That summer Catherine and sons, likely with help from Bill, cultivated 7 acres and set out 57 fruit trees. Fencing off one section with split rails, they put in long rows of Osage orange trees. In late summer Billy and Josie picked sand plums along the creek and riverbanks, while Catherine and Bill enjoyed the pleasure of elderberry wine. Life was certainly sweet for the blended family.
Historians have debated how Billy came to be known on period documents as Henry McCarty, but it makes logical sense. When Catherine teamed up with Bill Antrim, that made one too many "Bills" in the household. Thus, to avoid confusion, she may have taken to calling her son by his middle name, Henry. Childhood friends in Silver City later confirmed the Kid's given name was William. Those friends added that while he never liked being referred to by his middle name, he would answer to both Billy and Henry.
Just when things were looking up, Catherine's tuberculosis returned with a vengeance. A stifling hot laundry is far from an ideal workplace for someone battling the disease. There she sat day after day laboring among tubs of dirty clothing boiling in soapy water and a tub of cold water into which she could plunge her hands to prevent scalded flesh. Amid that humid, closed-in environment her tuberculosis took hold, and her health plummeted.
Hospitals were a rarity on the frontier, leaving the sick few options but bed rest, though those suffering from tuberculosis might opt to move to a healthier climate. Such was Catherine's choice.
Catherine Antrim's first name is misspelled on this marker, which was erected in 1950 over her gravesite at Silver City's Memory Lane Cemetery.
In August 1872 Catherine sold her Wichita holdings and made ready to move to Denver. Though members of Antrim's family had recently relocated to Wichita, he followed Catherine and her boys west. Frontier travel in the 1870s was rough. There were no rest areas with toilets, running water and vending machines, no fast-food joints to fill a hungry belly, no overhead lights at night under which to sleep. Far from averaging 60 miles per hour, like today's vehicles, horse- or ox-drawn wagons might make 20 miles a day. Travelers like the McCartys and Antrim had to rely on their own wits and know-how to survive the journey. Although rare, Indian attacks remained a concern, as Cheyennes, Sioux, Kiowas, Comanches and Kaws still roamed the Great Plains and were not welcoming of migrants. In the wake of the Army's 1868–69 winter campaign against the Plains Indians, the worst of the violence was over, and things were relatively calm on the Kansas fronter. But scattered incidents were a reality. As there was safety in numbers, the McCartys and Antrim did not travel alone.
The four stayed awhile in Denver, Bill likely working a stint as a teamster for Wells Fargo. In 1872 the "Mile-High City" was a bustling, hustling town. After the discovery of gold at the confluence of Cherry Creek and the South Platte River in 1858, the camp had grown into a sprawling settlement almost overnight. While mining remained the biggest attraction, people afflicted with tuberculosis and other maladies also flocked to Colorado, drawn by the clear, dry air. Springing up across the region, luxurious resorts for consumptives offered hot baths and other restorative treatments. Catherine, though likely priced out of such exorbitant resorts, was able to partake of the dry, sunny climate and fresh, invigorating mountain air.
For reasons unknown within months the McCartys and Antrim left Denver, heading south on the Santa Fe Trail over Raton Pass. By year's end 1872 they landed in Santa Fe, the capital of New Mexico Territory, amid the aspen-laden Sangre de Cristo Mountains. Beyond its outermost dwellings cornfields hemmed in the city from the west, south and east, while prairie bordered it on the west. Spanish conquistadors had dubbed the city La Villa Real de la Santa Fe de San Francisco de Asis (The Royal City of the Holy Faith of St. Francis of Assisi), a mouthful of a name later residents had reduced to Santa Fe.
Catherine must have enjoyed the life in the dry and dusty Southwestern capital. Horse racing was a big draw, and sporting folk had laid out a course along the road to the mining district of Cerillos. Footraces in town along Lincoln Avenue also drew crowds, promising purses of $100 or more. Some citizens objected to holding such footraces on Sundays, though they didn't seem to mind if it were a race of the four-legged kind.
Hispanic residents held fandango s and bailes almost every night. As more Americans arrived in town, they brought their own homegrown dances, including masked balls and a social "hop" at Fort Marcy. But Billy was immediately, inexorably drawn to the bailes , as an adult often traveling miles to attend one. With music provided by violins, guitarróns, vihuelas and sometimes harps and coronets, the bailes also proved irresistible to his spirited Irish mother.
It was here Catherine married Bill Antrim on March 1, 1873, at the First Presbyterian Church. Her boys signed the register as witnesses.
In search of the perfect place to call home, the newly minted family left Santa Fe, soon landing in the south-central New Mexico Territory burg of Silver City. In it Catherine saw an established town that offered her boys a stable life. Amid a productive district pockmarked by silver mines, Silver City boasted numerous businesses, including a bowling alley, dance hall, apothecary, post office and various commercial stores. Stagecoaches, freight wagons, prairie schooners, wagons and buggies crisscrossed the valley.
Fortunate to find an available small cabin downtown (most families had to settle for tent living), Catherine opened a laundry, sold baked goods and took in boarders. Her charity and largesse were legendary. "Many a hungry 'tenderfoot' has had cause to bless the fortune which led him to her door," wrote ghostwriter Ash Upson in Pat Garrett's The Authentic Life of Billy, the Kid. "In all her deportment she exhibited the unmistakable characteristics of a lady—a lady by instinct and education."
Antrim found work at Richard Knight's butcher shop, but his heart and soul were in mining. The region around Silver City on into eastern Arizona Territory was rife with diggings and men searching for the elusive ore. An obsessed Antrim spent more and more time away from Catherine and her boys. When he wasn't off mining either in Arizona Territory or Mogollon, New Mexico Territory, he frequented the gambling houses in Silver City, often losing at the faro and poker tables any money he'd earned through his labors.
Meanwhile, Catherine and 12-year-old Billy spent many happy hours at the festive bailes. "Mrs. Antrim could dance the Highland Fling as well as the best of the dancers," recalled Louis Abraham, Billy's best friend.
Neighbors remembered Catherine as a jolly Irish lady, her blue eyes sparkling, full of life and mischief. Despite her illness, they recalled, she showed fortitude and good cheer, traits also evident in Billy. Always the doting mom, Catherine baked after-school treats for her sons and friends, who loved their visits to the Antrim home. "She always welcomed the boys with a smile and a joke," Abraham said. "The cookie jar was never empty."
"To those who knew [Billy the Kid's] mother, his courteous, kindly and benevolent spirit was no mystery," wrote Upson. "She was evidently of Irish descent. Her husband called her Kathleen. She was about the medium height, straight and graceful in form, with regular features, light blue eyes and luxuriant golden hair. She was not a beauty but what the world calls a fine- looking woman. She kept boarders in Silver City, and her charity and goodness of heart were proverbial."
Despite outward appearances, the stress of physical labor and emotional strain of her illness continued to take a toll on Catherine's health. Those suffering from tuberculosis are not only plagued with hacking coughs and chest pains but also severe fatigue, making rest and a stress-free lifestyle essential. But Catherine was not getting that. Her husband was often absent, and she had two boys to support.
As the disease ate away at Catherine's sturdy frame, those halcyon days in Silver City ended far too soon. "She was a sweet, gentle little lady," a friend recalled, "as fond of her boys as any mother should be." Toward the end Catherine asked best friend Clara Truesdell to care for her sons when she was gone. Clara agreed. Within a week of their conversation, on Sept. 16, 1874, Catherine, 45, finally succumbed.
As usual, husband Bill Antrim was away mining, which left funeral details to Catherine's friends and her boys. Abraham's father hammered together her coffin, and a stream of neighbors walked with Billy and Joseph behind the casket-laden wagon. Catherine is buried in Silver City's Memory Lane Cemetery.
Set adrift, Billy, 13, and Joe, 11, stayed with the Truesdell family until Antrim found his way home. He placed the boys with Knight the butcher. Then, figuring he was done raising kids, he again skipped town. By late 1874 Henry and Joe had become separated. Knight sent Billy to live with the Truesdells. Surely, Billy clung to that family—people he knew and who had liked his ma—as a lifeline. The family had recently bought the Star Hotel on Hudson Street, renovated the business and renamed it the Exchange (a popular hotel name out West).
Joe was sent to live with Joe Dyer, a proprietor of the New Orleans Club, where the 12-year-old worked for his keep cleaning, serving liquor and running errands. Unfortunately, growing up in such an environment without any parental supervision or guidance, Joe also gambled and drank. He was even spotted by a childhood friend smoking at a Chinese opium den. Within a couple of years Joe was thoroughly submerged in that vice-ridden world.
Unlike Billy, Joe retained Antrim's last name throughout his life. A drifter, opium fiend and alcoholic, Joe worked stints as a card dealer, gambler, miner, room clerk and day laborer. On one occasion, either in Trinidad, Colo., or Albuquerque, he met Pat Garrett, the onetime sheriff of Lincoln County, N.M., who killed brother Billy on July 14, 1881. After a long conversation that went unrecorded, they shook hands and went their separate ways. In 1883 Joe was working as a cook in an Albuquerque hotel, which would have been a convenient place to meet Garrett. He later worked as a bartender in El Paso before wandering back north to Denver. Along the way he fathered a child and then married.
If Joe had any success gambling, he didn't hold onto his money long. He died penniless in Denver on Nov. 25, 1930. His unclaimed body was donated to the Colorado Medical School.
Stepfather Bill Antrim's life continued to center on mining. After living mostly in eastern Arizona and south-central New Mexico, he spent winters in El Paso and eventually moved to Adelaide, Calif., living out his later years with a niece. In the wake of Billy's death Antrim is not known to have spoken about his stepsons. He died at age 80 in 1922.
Catherine's death had left 13-year-old Billy adrift without guidance and security. Had she lived, William Henry McCarty might never have become Billy the Kid.
Award-winning author and New Mexico native Melody Groves writes what she loves most—Westerns, both fiction and nonfiction. For further reading she recommends The Illustrated Life and Times of Billy the Kid: The Final Word , by Bob Boze Bell; Billy the Kid: The Endless Ride , by Michael Wallis; and Antrim Is My Stepfather's Name: The Boyhood of Billy the Kid , by Jerry Weddle.
historynet magazines
Our 9 best-selling history titles feature in-depth storytelling and iconic imagery to engage and inform on the people, the wars, and the events that shaped America and the world.