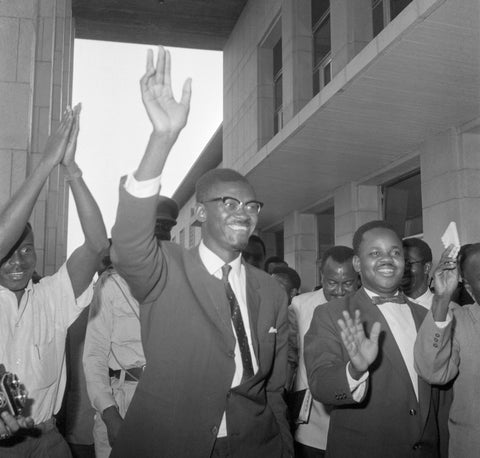 Belgium Murdered This African Leader. Now It's Returning His Gold Tooth.
After 61 years, Patrice Lumumba, the Democratic Republic of the Congo's first democratically elected prime minister, has come home.
The return signifies a closure of sorts for those who survived under the horrors of Belgian rule — and a moral reckoning for the European nation still coming to terms with its colonial past.
The moment was bittersweet for Lumumba's children. All that remains of their father and Congolese independence hero? A single gold tooth.
The charismatic Lumumba first took power in 1960, when Congo first gained independence from Belgium in 1960.
His time in office was short, however: Less than seven months later, Lumumba was assassinated after a Belgian-supported coup in 1961.
On Jan. 17, Lumumba was "[s]hot dead by a firing squad … his body was then buried in a shallow grave, dug up, transported 200km (125 miles), interred again, exhumed and then hacked to pieces and finally dissolved in acid," according to BBC News.
Gerard Soete, the Belgian police commissioner who oversaw and participated in the death and mutilation of Lumumba, took the gold tooth and two of Congolese leader's fingers as gruesome prizes. After Soete's death, the tooth remained in his daughter's possession.
"What amount of hatred must you have to do that?" Lumumba's daughter, Juliana, told the BBC.
"This is a reminder of what happened with the Nazis, taking pieces of people — and that's a crime against humanity," she continued.
In 2000 Belgian Police Commissioner Gerard Soete confessed he chopped up Lumumba's body and dissolved it in acid. In 2016 Soete's daughter showed off a gold tooth she said was Lumumba's. This grotesque ghoulishness led to Lumumba's daughter's request for its return for burial. pic.twitter.com/uxoEFjqMn8

-- James Hall (@hallaboutafrica) July 22, 2020
On Monday, nearly two years after Juliana Lumumba first appealed to Belgium's King Philippe to have the tooth returned to the family, the Lumumba family was presented the tooth in a ceremony that took place in Brussels.
According to NPR, ~~~~ Prime Minister Alexander de Croo said the Belgian government accepted "moral responsibility" for the crime of Lumumba's assassination.
"A man was murdered for his political convictions, for his ideals. As a democrat and a liberal, I cannot accept this," he said, according to The Brussels Times.
historynet magazines
Our 9 best-selling history titles feature in-depth storytelling and iconic imagery to engage and inform on the people, the wars, and the events that shaped America and the world.